For any new business, success and growth is the ideal. But in our turbulent economic times, they're not always guaranteed. At Elite Cleaning of Washington, both goals were achieved in partnership with the help and guidance of the Thurston County Economic Development Council (EDC).
When she opened six years ago, Elite Cleaning of Washington's Scottiejo McNulty admits, "I didn't even know how to read financial statements!" But in 2013 she began meeting with Ron Neilsen, a certified business advisor. Since then, they've met monthly to troubleshoot issues and look for new ways to grow across Western Washington.
This partnership was even featured in an article from Washington State University. It explains that in the beginning, "Nielsen and McNulty spent hours going over spreadsheets and financial statements together, and then she left their meetings with a 'to do' list of additional information to track down. Once she found the information, she said, she began to figure out why it was important and how she could use the information to make her business more efficient."
With the EDC's encouragement, Scottiejo enrolled in the first cohort of the Scale Up Thurston program, described as "a comprehensive business growth training program, which includes in-person classroom training and one-on-one coaching to help small business owners plan and achieve their goals."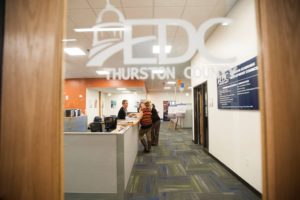 "The EDC is awesome," raves McNulty, who continues to benefit from their resources. Both she and her office manager took classes in profit mastery and since 2012 her revenue has more than tripled.
But growth has not diminished Elite Cleaning of Washington's high standards in staffing, training and job performance. All new clients receive an in-person, free estimate to discuss needs and expectations. Whether commercial or residential, scheduled or as-needed, the job isn't complete until the client is happy.
Call Elite Cleaning of Washington at 360-529-2277 or email elitecleaningofwa@gmail.com.
Sponsored