Dr. Nicole Adamson, president of Adamson Chiropractic Inc. in Lacey, has been selected for inclusion in the upcoming Trademark Women of Distinction Honors Edition. Inclusion is limited to those women who have been nominated or invited and meet certain criteria including years of service, academic background and reputation. The registry is a prestigious resource to highlight the professional accomplishment and stories of professional woman.
According to the selection committee, Dr. Adamson was selected "for demonstrating dedication, leadership and professional excellence. Her compassion and expertise set the standard in the industry. She has truly dedicated herself to her profession. There is a humility and personal touch she adds to her relationship with everyone she does business with, more than the value of her service it's her way of treating everyone like an extended member of her own family that people remember the most."
Her excellence was noticed by professionals while in school. She graduated with her doctorate from the University of Western States and Sports Medicine in 2008, finishing a four year program in just three years. One of just seven woman out of sixty-four graduating students, she received the only "Clinical Excellence Award" (voted on by the entire department of clinical staff and residents) and graduated with top honors ahead of her class. She opened Adamson Chiropractic in 2009.
As a chiropractor, Dr. Adamson is held in high regard by her peers. The Trademark Women of Distinction inclusion says her "positive peer rating" and "exceptional reputation" were among the attributes that awarded her inclusion. She is seen as a poster child in the state of Washington among other chiropractors, as a small-town female doctor who created a profitable private practice without losing sight of quality patient care.
A Self-care Advocate
Dr. Adamson says her favorite part about her job is teaching people to prioritize themselves. At her practice, she sees everyone from active military to mothers. The one thing they all have in common, she shares, is falling victim to the "daily grind pattern" and forgetting to take care of their own bodies.
"Every day, I talk with patients who have had a sore shoulder or chronic low back ache," she says. "They always say that they have been able to push through it, and sometimes it goes away, but it always comes back.  It's their last resort to come and see me.  Why?  Because people have not been taught to take care of themselves properly like they do their dental hygiene, blood pressure or cholesterol."
She warns this kind of pain will just get worse if left untreated. She finds joy in teaching people that they don't need to "push through the pain."
"They don't have to feel discomfort every day, and more importantly, they don't have to let their 'vehicle' (their body) sit out on the front grass and rust because it breaks down. They can come to the body shop and receive the right therapy to eliminate the stiffness and pain. We all deserve to feel good."
Specialized Treatments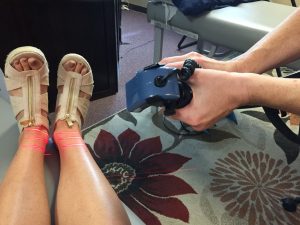 Adamson Chiropractic offers specialized, hands-on treatments for soft tissues – something that many chiropractors do not. This includes injuries such as tendonitis, pinched nerves, whiplash, muscle spasms, sciatica, sprains and strains of the knees, ankles and shoulders. "Traditional chiropractic treatment addresses the spine only," Dr. Adamson explains. "I have dedicated years of continuing education beyond graduate coursework to ensure that I can provide the most elite, hands-on treatment above all other offered modalities and focus on the body as a whole."
She received these credentials from Dr. Michael Leahy, the doctor for the Denver Broncos and her mentor. Dr. Leahy developed the specialized soft tissue approach, which has proven itself repeatedly by professional athletes, including those in the NFL, NBA and Olympics.
Dr. Adamson is flattered by her inclusion in the Trademark Women of Distinction Honors Edition, but says she does not work for awards, she works for her clients. "I am grateful to be recognized by this admirable association," Dr. Adamson says. "However, there is no greater reward than what I hear from my patients every day when they say thank you for improving their quality of life and reducing their pain. That's all that matters. I make a difference. They keep me going." It is this very sentiment that made her a perfect fit for the honor.
To make an appointment with Dr. Adamson, visit Adamson Chiropractic Inc.'s website or call 360-923-1717.
Sponsored