In Joey Brazil's favorite sport – equestrian – he faces a unique and pertinent challenge.
Besides the challenge of winning and inner drive to do his best, Brazil, a senior on Yelm High School's successful equestrian team, also faces the unique challenge of simply staying on his horse. In the barrel race, where Brazil races at top speeds on the back of his horse, that can be very difficult.
"Yeah, I've fallen off multiple times," Brazil said with a chuckle.
For Brazil, it's that risky challenge that is the lure.
"It's really fast paced," Brazil said. "I don't do performance. So it's more fast paced with a lot of adrenalin. It's a fun sport."
Fun, and Brazil admits, risky.
Brazil is one of six seniors on this year's team which is again on course to shine at the state meet in May at Moses Lake. And as he has done since his freshman year, Brazil is again headed for state. He's also the only boy on a team of 15 riders.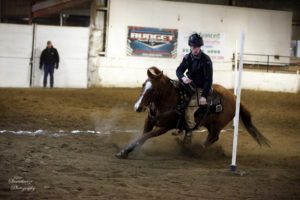 "It's not that big a deal," he said.
That's because whether you're a boy or a girl, the goals are the same. The challenge is the same. Brazil is just another team member and he doesn't feel like the odd guy out.
"Yeah. It's not that different," he said.
Like Brazil, Laurie Branham, who is in her third year as the head coach of Yelm's equestrian team, is drawn to the challenge of the sport. When her daughter, Ashlee, finished riding in high school and then in college at the University of Oregon, Branham made an important discovery.
"When she was done I wasn't done," Branham said. "I loved the competitiveness."
So, being a volunteer coach for Yelm's equestrian team scratches that competitive itch. Twice a week, Tuesdays and Sundays, Branham works with her team. They have four meets a year, which includes the state meet. Last year, 11 of 16 riders on Yelm's team qualified for state. This year, 13 have already qualified.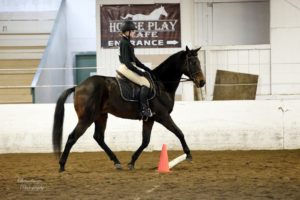 Leading the way, inspiring her teammates with her hard work and helping hand, has been Amelia Barkley, a senior who was voted team president.
Barkley is a quiet leader. "She'll step up and do whatever is asked of her," Branham said. "She has a very quiet manner about her. She'll roll up her sleeves and go to work and help someone get ready if they're running behind. She's very even keel. "
When the pressure of a meet is too much, teammates turn to Barkley.
"Kids draw from her if they're nervous or upset," Branham said. "Or if they're having a disappointing run or day they can go to Amelia and feel better. She'll give them a hug. She leads by example. She's a great competitor."
Besides Barkley and Brazil, there's another top "B" leading this team. There's Maggie Barnett, a senior, who is among the top riders on the team. And then there's Elizabeth Richards, a junior with another yer of eligibility.
All of them understand the price of success. It's hard work. It takes not only a lot of practice, but also a lot of work with their horses. The horses are owned by kids on the team.
"It's very unique when you work with an animal, especially a horse," Branham said. "You're in a partnership. You can't speak the same language. So you have to learn to communicate. They have to make sure their horses are trained and are in shape for all the events they do."
That means feeding them and working with them.
"There is very much a bond between you and your horse," Branham said. "When the season is done, you can't just put the baseball bat or the mitt or the basketball or the football in the closet and forget about it for a while."
For these kids, it's a year around sport.
"You compete nine months out of the year from September through first part of June," Branham said. "The rest of the year they are feeding them, taking care of them."
For most of the kids on the team, it's not a new sport to them. Brazil started when he was 8-years-old and involved with 4H Club.
"My sister started doing it and I was just going to all her things and I decided to do it," Brazil said.
But it's not the only sport he does. "I ride dirt bikes," Brazil said with a chuckle.
Since Brazil doesn't compete in the performance competition, where riders do four to six minute routines to music, he only goes to the Tuesday practices indoors at Steward's Arena in McKenna with the team. Brazil has learned that it's teamwork with his horse, Mouse.
"My horse has done it so many times that I could just let him go and he'd probably run the pattern himself with just a little help, telling him what to do," Brazil said.
It's that thousand-pound teammate that helps make it fun.