FASTSIGNS Lacey is in the business of making your business stand out. You can go almost anywhere and have promotional material printed, but FASTSIGNS Lacey gives you a higher quality product alongside their stellar consultation services making sure your hard-earned marketing dollars pay you back with a business boost.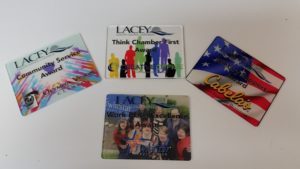 We aren't all wordsmiths or artists. Some of us have trouble pairing complementary colors or knowing the fine line between eye-catching and gaudy. Grace Kendall, owner of FASTSIGNS Lacey, and her expert staff excel at aspects of marketing and can help you with a unique way of doing business.
"We are not just a sales company," Kendall explains. "Anyone can put an order in based on what the customer tells them. That is not what we do. We are a consultant company. When a customer comes to us we start at the beginning and ask them what the project is, who their target market is, if it's temporary or permanent, etc."
Kendall's staff is trained to help people make decisions on marketing materials that will get them a better return on their investment. This includes content development, something you won't get from other printers.
"Often times customers come in and want to write a sentence on their sign," says Kendall as an example. "With our consultative approach to business, we make sure our customers understand that in most cases, their sign will only be seen for a split second. You want your message to be clear, succinct and as to the point as possible. There are a lot of different design ways to do this so the brain will segregate the information so it's read quicker."
The experts at FASTSIGNS Lacey work their word and graphic arts magic to create a promotional product that will be both seen and understood, even when your customer views it for only a fraction of a second while driving. "We are unique in this way – you tell us what you want and we will do it," she adds, explaining that if a customer wants a certain design, they will make it for them, no problem. "But we are here to help those who may need it."
In addition, FASTSIGNS Lacey can help with survey and permitting information for your signs and can even complete your permitting paperwork for you.
On The Cutting Edge
Part of ensuring clients get the best of the best is keeping up on new technology and processes that give clients more choices. Recently, Kendall brought in a Direct Color System printer which prints out layers upon layers of ink to create truly amazing, textured, 3D artwork on almost any surface including aluminum and acrylic.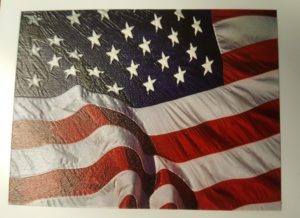 "We are really excited about this new machine and the possibilities it bring to all our clients, but especially construction and architecture clients because of its ability to create ADA compliant braille," says Kendall.
The new machine allows for full-color braille signs currently being used in a new contract for The Marq on Martin apartment complex near River Ridge High School and a JBLM project with RQ Construction. "We are continuing to grow in the construction field and this machine gives us more options for our clients," Kendall adds.
In addition to ADA signs, the Direct Color System has a plethora of uses including 3D dimensional signs and awards and promotional items such as golf balls and glass bottles. This versatility gives customers more choices than ever before.
Caring For The Community
Grace Kendall isn't just passionate about her clients, but the entire community she calls home. In her fifteen years of business, Kendall has supported countless charities and nonprofits including the Boys & Girls Club, Gateway Rotary, Lacey Chamber of Commerce, and Homeless Backpacks.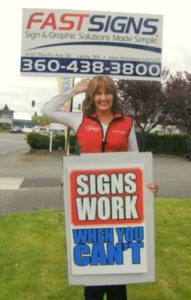 FASTSIGNS of Lacey organizes food drives for Homeless Backpacks throughout the year. And, if someone comes in and requests something less than the minimum order of $35, she asks them to give a cash donation of the difference, which she gives to Homeless Backpacks.
Her team at FASTSIGNS Lacey recently wrapped the Olympia Robotics Federation's (ORF) trailer, donating all their design time for the project.
"I enjoy doing things for the nonprofits," Kendall says "Especially when it teaches kids something in the process." With ORF, the kids engaged with FASTSIGNS themselves, learning the responsibilities of conducting business, including requesting products, getting quotes, negotiating prices and finalizing contracts.
She even donated a banner to the Lacey Chamber of Commerce when they moved locations, knowing they lacked signage in the new location. Currently, she is helping the Olympia Police Department collect diapers for those in need as EBT can't be used for diapers and wipes.
While FASTSIGNS Lacey specializes in creating custom signage and promotional material for local businesses, what Grace Kendall and her team really excel at is creating community connections.
If interested in having your business stand out, contact FASTSIGNS by calling 360-438-3800 or visiting their website. You can also follow them on Facebook.
Sponsored