There are few things better than a morning of fun and fitness while supporting a good cause, which is exactly what the WSECU Presents YMCA's 30th Annual Spring Run on May 6 is all about. This year's event promises to be bigger than ever with over 1,300 participants expected. One perk offered for the past several years to encourage teams to gather and participate together is a free pair of running shoes to the coordinator of any team consisting of at least twenty runners.
"The YMCA Spring Run started out as a state agency challenge run and we like to keep with the tradition by encouraging groups," says Jake Grater, YMCA's executive director. "Plus, it's just more fun to go running with a group of friends and co-workers!"
In 1987, the state agencies in Thurston County developed the idea for this annual run to encourage each other to get fit and stay healthy. It was a state agency-run event for the first ten years. It was then that they reached out to the YMCA and asked them to help organize the event. Eventually, the YMCA took over the entire run and it became the fundraising event it is today. True to its roots, state agency employees still make up about sixty to seventy percent of the participants from thirty-six state agencies. The run is endorsed by Governor Inslee, who sent out a letter to all agencies encouraging participation.
This year's title sponsor is the Washington State Employees Credit Union (WSECU). Other sponsors include Mixx96, Coordinated Care, South Sound Running, Olympia Federal Savings, Spin Tees, and Providence Health & Services. The YMCA Spring Run consists of three different runs – a Kid's Run (sponsored by starting at 8:30 a.m., a 10K race starting at 8:55 a.m. and a 2-mile run beginning at 9:00 a.m. All races are run/walk, allowing you to go at your own pace. The 10K is a certified course and runners can sign up for chip timing as well. In addition, all adult runners will received tech running shirts. Printing is provided by Spin Tees.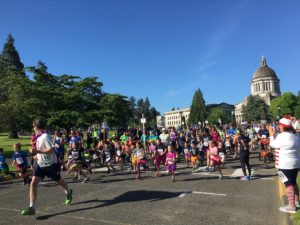 The free pair of shoes are courtesy of sponsor South Sound Running. Team leaders will receive a gift certificate to visit the store and choose any pair of shoes they like, no restrictions. "Your team can consist of runners participating in any of the three runs, including the kid's run," Jake adds. "So, an elementary school could get a group of twenty kids together for the kid's run and one of them could get a free pair of shoes."
Companies with more than twenty employees are welcome to create several teams of twenty, to qualify for a few pairs of shoes. Last year, they gave away 25 pairs of shoes to participating team leaders.
Participants and teams should not delay and send forms in soon. The deadline for team entry forms (and the free shoes!) is April 19. Individual runners and teams can enter at the early-bird rate of $30 per runner ($10 per Kids Run participant) until April 26 and register up until the day of the race for an additional $5 per runner.
Funds from the run support the YMCA's wide range of programs, all of which support their mission work. This includes water safety skills, at-risk youth summer achievement gap programs (Power Scholars), LIVESTRONG, and a wide variety of scholarships they provide. The scholarships alone amount to over $600,000 a year helping kids and families throughout Thurston County access educational, fitness and lifestyle programs to help them live their best life.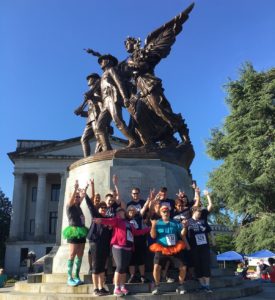 In addition to the races, the day includes plenty of fun activities for the entire family. Live music, face painting, arts and crafts, a city firetruck and more will be on-site on May 6. Teams always enjoy the Providence Spirit Row, sponsored by Providence Health & Services. Each team is allotted a 10 by 10-foot space at the finish line where non-runners can cheer on their team. "It's like tailgating – people go crazy," says Jake. "It's a lot of fun."
The YMCA also hands out three award plaques to teams for Fastest Runner, Biggest Team and Most Spirit. "It's really fun to see people go after that Spirit award," Jake adds.
To register your team and for more information, visit the YMCA's website before April 19.
Sponsored