Sometimes to get big rewards, you must take big risks. For Kelly and Rob Horn, that is nothing new. These New Jersey natives had no idea they would end up in Tumwater, WA with their own brewery. As they invite me inside the impressive new location of Triceratops Brewing Company, it is hard to believe that just a few months ago they were brewing out of their garage.

Rob's first attempt at brewing was in 1997 back in Jersey. "I got this crazy idea to make this banana ale and I was going to call it Monkey Whizz, but I didn't know what I was doing and it was terrible."
At the time, Rob was working full-time as a firefighter and Kelly as a teacher. The two knew they did not want to stay in New Jersey forever and, after a trip to visit his cousin here in the Northwest including an influential trip to North Fork Brewing, Rob was hooked. "I came out here and I didn't want to go home. I was like, 'this is the greatest place on earth,'" Rob explains. He fell in love with the outdoor opportunities and it didn't hurt that Washington has great beer. With a baby on the way, Rob began to look seriously for work out west and when a firefighting position with the Department of Defense came open at Joint Base Lewis-McChord the couple took the leap and moved across the country.
It was while working for the DOD at Stations 101 and 102 that Rob met his mentor Don "Doc" Wasson. Not only did he take him under his wing professionally, but he also taught Rob how to make good beer, becoming his surrogate family on the west coast. It did not take long for his new-found hobby to really take off. "I got to the point where I would have six or seven batches going," Rob says. Kelly chimes in, "Our garage was like a science experiment!"
After obtaining a business license, Rob was ready to start selling his beer officially as Triceratops Brewing Company. Following a success developing a strawberry blonde, sold on tap at Top Rung Brewing in Lacey, he decided to try his hand at a stout – Hawthorne Coffee Milk Stout to be precise – and Three Magnets Brewing Company put it on tap and where it quickly sold out.
Rob knew it was time to get serious. With a system consisting of freezers, blankets, space heaters and lots of heat tape, Rob was finally able to control the temperature inside his garage, crucial to consistency in brewing. "That's when the quality of the beer really started to go up and my reputation started to take off," he comments.
That was 2015. Just a few years later and Rob has a full-scale brewery operation and the first batch in the tank. Rob decided to brew full time after he realized the time he missed with his family as a firefighter. He wanted to leave his three children a legacy, as well. "This whole thing is for them. It's not for us. This is for us to be able to take care of them." Both he and Kelly know it is a gamble, but they also recognize how great the rewards can be. "We've always kind of taken risks in our marriage, in our life together. We'd rather look back on it and say we gave it our all," Kelly explains.
As Rob gives me a tour, it's obvious how much of his heart and soul have gone into this business. From special tweaks of his own invention to the style of beers he brews, Rob is giving it his all. "A lot of my brewing influence is English style, New England style IPA's, which are much different than out here. And, I think that's one of the reasons we've had such great success. I have a very traditional style," he says. Even the name itself, Triceratops Brewing Company, comes from his own family. With three children and the last name of Horn, it was a perfect fit to choose a dinosaur with three horns.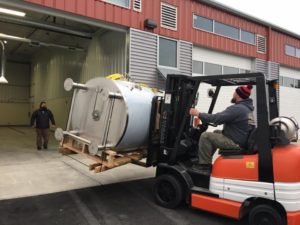 Rob and Kelly have had help along the way. Dave White, owner of Whitewood Cider, helped with everything from labels to logo designs and Dave's brother Ryan designed the elaborate piping system for the brewery. This is typical of the brewing community, Rob tells me. "It's a tide-raises-all-ships type thing and we all know it," he explains. On any given day, he can hear music at Matchless Brewing through the wall next door and they plan to work together in the future. Even the yeast for Rob's first batch of beer came from veteran Fish Brewing Company.
Currently, Triceratops has a rye IPA in the works for Rhythm and Rye and Rob and Kelly are focused on getting their tasting room open to the public in the next few months. "We want to be a brewery that reflects the neighborhood," Rob says. One unique way they are connecting with the local community is by offering Community Supported Brewery memberships before they open, similar to the CSA model used by farmers to help with initial costs.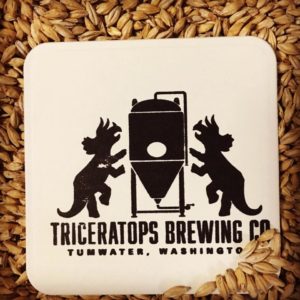 For just $175, customers will receive a t-shirt, a custom growler, early access to new beer release events and one growler fill per month (12 fills total) over 18 months. Rob hopes the community will feel invested in the brewery, helping them to open a little bit sooner, and creating a foundation of Triceratops Brewing Company fans.
"I'm not looking to take over the world, just my little piece of it," Rob laughs.
You can find Triceratops Brewing beers on tap around town at Northwest Beer Werks, Eastside Club Tavern, Three Magnets Brewing Co. and Skep & Skein.
To purchase a CSB membership, visit Triceratops Brewing Company online.