Perhaps the most unique source for voting information in last year's tumultuous election was Lancelot's Common-Sense Voting Guide. Who is Lancelot you may ask? According to Washington State Representative JT Wilcox he is an experienced bird dog with a great judge of character. This delightful sense of humor and light-heartedness is no surprise to followers of Representative JT Wilcox on social media. He regularly tweets and updates his Facebook page with current legislative news sprinkled with photos of Lancelot in his rural environment on the Wilcox Family Farm.
I sat down with Representative JT Wilcox in the wings of the house chamber during the legislative session. The first thing that surprised me about Wilcox was that he wanted to put the focus on others.
As I tried to find out more about his own life growing up on a rural farm, Wilcox wanted to talk about other great leaders including Ed Bergh, who had passed away just days before. The 2014 Washington History Teacher of the Year, Bergh taught civics to JT Wilcox and his own children at his alma mater, Yelm High School. "Ed Bergh instructed two generations of the Wilcox family," he explains. He also sang the praises of the Yelm High School wrestling coach, Gaylord Strand. (Read more about Coach Strand and the noteworthy wrestling program at Yelm High School here.)
These anecdotes illustrate the commitment that Wilcox has made to those that he represents. "I value the sense of community and the egalitarianism of the rural areas I represent," says Wilcox. He loves the fact that despite the relative young age of Washington State, many of his constituents are 4th and 5th generation residents.
"When you have four generations of roots, you understand that you are occupying a small place in history," says Wilcox. "I wish that more people had deep roots in their communities. It gives you a sense of obligation." Wilcox understands this concept in particular as it applies to the land. Wilcox grew up on his family farm in Roy, outside Yelm and adjacent to JBLM, where he still lives today.
Wilcox Family Farms is a 100-year-old homestead that sits in the shadow of Mount Rainier. Wilcox Family Farms was founded by the ancestors of JT Wilcox in 1909, Judson and Elizabeth Wilcox. Judson Wilcox was working as a clerk in Seattle when he visited a farm on Hart's Lake. He fell in love with the property and started a new life there a few months later with his wife and two young daughters.
Judson and Elizabeth began an egg business with 500 chicks. Over the years more chicken houses were constructed, and by the early 1960s there were 40,000 birds laying eggs on the farm. Judson and Elizabeth's grandchildren eventually returned to the homestead and joined the business.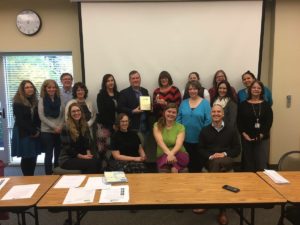 It was this generation that wanted to return to the origins of the farm and get the chickens out of the cages. Wilcox is seeing that the wave of renewed interest in value-added agriculture is resulting in a revival of the rural environment. "Young people are coming back to farming and marketing their products by creating new niches for what they sell in ways that we didn't," says Wilcox. He worked on the farm for 23 years and served as chairman of the Washington State Holstein Association and the Pacific Northwest Poultry Council.
JT Wilcox in still a farm shareholder today, sitting on the Wilcox Family Farms' board. Although he is no longer employed in an official capacity on the property, he is still very at home working the land. When he is not sitting in committee meetings at the Capitol or acting as floor leader of the House Republican leadership team, you can find him on the farm with a chainsaw in hand, working with his daughter, Katie Wilcox.
Katie has opened her own company, Hart's Lake Pioneer Lumber Company. This is a custom wood furniture company that crafts a full range of beautiful heirloom furniture from end tables to bar carts. I have my eye on a gorgeous cedar-round coffee table. A few of Katie's unique wood pieces are proudly displayed in Representative Wilcox's office in the legislative building.
JT Wilcox ran for public office because he believed that the rural values of the people in the 2nd Legislative District were not well represented. When I asked him how long he thought he would stay in the public sector, he replied, "I'll stay as long as it feels right."
JT Wilcox has also been involved as a volunteer firefighter in Roy, Pacific Education Institute and the Nisqually Land Trust. He is a member of the Yelm Lions Club, Graham Business Association and the Orting Chamber of Commerce.