It's another wrestling practice, another session of perfecting a takedown, and pinning combination.
And Gaylord Strand is bending over two wrestlers practicing their moves, giving them advice. In a room filled with 42 wrestlers at Yelm High School, the action is swift. Intense.
And Strand is in heaven, loving every minute, every second.
"I love the sport," Strand said. "I love coaching. I love wrestling."
It shows. Since 1974, back when Gerald Ford was President and gas was 45 cents a gallon, Strand has been the wrestling coach at Yelm High School. For the past 43 years, these wrestling mats have been Strand's home away from home nearly every winter afternoon.
"I get a lot more back out of it than what I put in, especially from the kids and from the parents," Strand said during a recent practice. "And the community, they've embraced me. I feel like it's home."
During his 43 years as a wrestling coach, Strand has built a dynasty, a competitive team year after year. His teams have won 14 league championships, six regional championships and a state title in 2010. He's coached 95 state placers – he's anticipating 10 more will make it this year – and 15 state champs. Additionally, he's been named the league coach of the year 12 times.
Strand's commitment and his team's accomplishments haven't gone unnoticed. He was recently inducted in the National Wrestling Hall of Fame.
"I feel very undeserving," Strand said. "You think of all of the people who are in the national hall of fame. I just don't know how I can stand up to it. It's for service to the sport of wrestling. I have put in some years. As a whole, it's very humbling."
And it's very deserving.
Back when he started coaching and teaching P.E. at Yelm, right after he graduated from Seattle Pacific University, where he wrestled (of course) and qualified for nationals three times, Strand made a plan.
"I kind of made a commitment to myself that I wanted to do it until I was 52," Strand said. "Well, 52 came really quick and I was still enjoying it. I'm just really fortunate to be healthy and to be able to get up and go to work. It really isn't work because I enjoy it, especially this year. I've been feeling very healthy. It's been a real blessing for me.
As a wrestling coach, his emphasis has always been "get better." Perfect that takedown move, learn that pinning combination. Learn to win.
But the goal to win never eclipsed having fun. Strand, who has been a bit of a prankster over the years, never forgot to have fun. He's always remembered to mix the hard work with the laughs. There was the time Josh Miller, who wrestled for Yelm in the '90s, filled Strand's office desk drawers with popcorn. Miller later put crickets in Strand's office. Strand got his payback by putting a fish in Miller's football helmet.
Strand has always loved the practical jokes and he loves passing along life lessons.
Over the years, Strand has coached the children of high schooler's he's coached. And now he's also coached their grandchildren. And there by his side have been former wrestlers who have become his assistant coaches. Tim Beaudin, who won a state wrestling title at Yelm in 1994, has been Strand's assist since 2000.
"He's a mentor to all," Beaudin said. "He lives by example, teaches and coaches by example. He has high expectations for all of his athletes."
Whether that wrestler is a contender for a state title or a first-year wrestler, Strand gives them his full attention.
"Every kid that enters his world he treats and tries to instill life skills for them," Beaudin said "It's amazing that even the average wrestler, the average kid who walks into the wrestling room he doesn't cut them, he doesn't run them off. He takes four years and devotes everything he can to make them into a better man. He's kind hearted and has high expectations of everybody."
Beaudin thinks he would be a different person today if he had never met Strand.
"I'd probably not be as competitive in nature," Beaudin said. "I would probably still have good morals because I had a father who was great. I guess the will to win, the will to improve, I think he instilled that in me."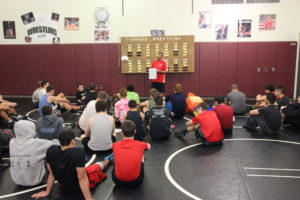 That teaching moment came when Beaudin went into Strand's office his senior year to ask to move up a weight class from 148 pounds. The kid from Fife who won that weight class at state was back.
"He said no," Beaudin said. "I think you're going to face him and let it lie where it's at. You need to face your fears."
And at the White River tournament that season Beaudin beat that kid 10-2.
"That was a huge lesson in itself for me," Beaudin said. "You need to take everything head on no matter the fear or the worry in it because you never really know the outcome. That life lesson right there I think back on. It effects everything I do in life."
Now 65, Strand will retire from teaching P.E. at the end of the school year. But he'll be back coaching next year.
"Yeah. I'll be coming back," Strand said. "I still love it. I still enjoy it. As long as they'll have me and I'm enjoying it, I think I'll stick around for awhile."
Making that decision easier has been Sarah, Strand's supportive wife for 44 years.
"She's right behind me, pushing me," Strand said with a smile. "She says you're not going to quit wrestling. I said no not yet. She said, 'Good.'"
The Strands got married when they were both attending SPU.
"She knows what she was getting into when she married me," Strand said. "She's been my #1 fan. I can't image not having that support."