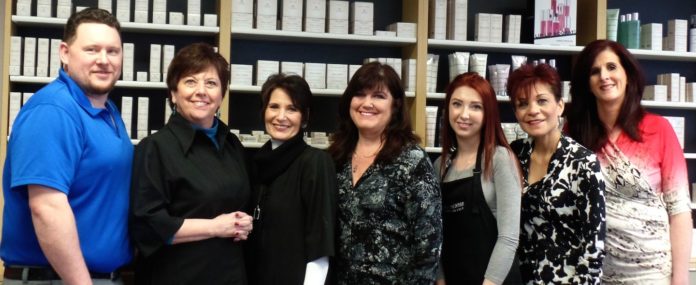 Walking through the doors of Merle Norman Cosmetics, Wigs and Day Spa, I'll admit I wasn't sure what to expect. The name sounded familiar to me as a make-up brand, but I had never visited this long-standing Olympia business. However, I was pleasantly surprised once I stepped inside and you will be, too. Owner Madelin White greeted me with a big smile and she is just like her business – not what I expected.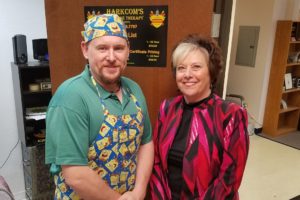 You'd never guess from White's youthful countenance that she's been in the beauty business since 1974. That right there had me wanting to learn more about her products. As she gave me the tour, I saw there was much more to her success than just make-up. "One of the things people don't know about us is that we have four hairdressers here, a massage therapist, and a manicurist.  We do anything to do with hair, waxing, tinting, manicures, pedicures. There's much more than meets the eye when you walk in."
I was lucky enough to catch Don Harkcom, her massage therapist, between clients. "A lot of kudos to him," White says, "because he's been able to help many people. In fact, he is known as one of the best in the community".
Another key component is White's wig business. White shares her huge passion for wigs, saying it's near and dear to her heart. Many of her wig customers are cancer patients and White knows all too well how difficult that can be after losing her own loved ones to the disease. But, she explains, not all wig customers are cancer patients. Other wig customers have thinning hair, a bad cut or other hair loss conditions or just wanting a new look. Many want wigs for their vacations. Regardless of why, she gets to be the one to make a difference in their lives.
Further into the store are full-service stylist stations. White says it's easy to recommend any of her stylists as she has personal experience with them all. "They are all really good at everything," she says. She has stylists who love to do color, some who've been in the business for decades and others who are just getting started. But, the key is they all share White's vision for Merle Norman Cosmetics, Wigs and Day Spa.
Owning a beauty business was never what White planned to do. "This is not my background. I was the Office Manager for the Department of Transportation. Go figure! And, here I am. I was a tomboy, grew up on Mount Adams – literally on the mountain," she shares. However, her dad believed in small business and wanted to start one for the family. "He said, 'I think there are two types of businesses that would be recession proof. The first would be a tavern. People will still want to drink but may not be able to afford liquor. Or, anything in the beauty business because women will always be vain.' And, that's how it started."
With just one full-time stylist and one part-time employee, she and her parents embarked on their journey and the rest is history. Their business grew to include over eighteen stylists when White's mother suggested adding Merle Norman Cosmetics to the mix. Founded by a woman chemist in 1931, Merle Norman provides products made in the U.S., not tested on animals and with a different vision than many cosmetic companies. "Her whole thing was try before you buy," White explains.
White opened her own Merle Norman cosmetics store in 1974 in South Sound Center, then when Capital Mall opened in 1976, her Dad built her store. Madelin remembers sitting in her store in the Mall, surrounded by Department Stores who also sold makeup, wondering how she would succeed. "I decided I had to have a point of difference. My point of difference was, is, and always will be that we give the best service of anybody in town. And, I have maintained that through the years." Her success led to the opening of two other cosmetic stores which are now consolidated to the one with the added day spa.
One way White gives great service is through free mini-facials for her customers. "It's a great service and we do free makeovers, too." White explains that she knows how often women buy a product in a store and it simply sits in a drawer at home, unused. She combats this by letting you try before you buy and customers love it.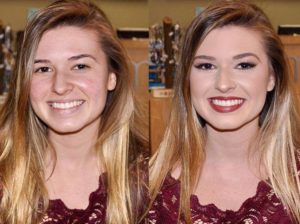 White tells me she is now working with the great-grandchildren of some of her first clients. "That's part of what keeps me going. I am extremely active in the community and I will remain active, but if I got rid of this store I would not see those people again." White has no plans for retirement yet and instead will use her "humor and orneriness" to keep moving forward.
"One thing that's always asked about me is why I smile all the time? Because I don't like grumpy people," she laughs. "And the way I look at it is, if I'm smiling it keeps people guessing what I'm up to, right?"
You can visit White and her team at Merle Norman Cosmetics, Wigs, and Day Spa, located at 3925 8th Ave. SE in Lacey.  Additional information is also available on their Facebook page and their website, www.merlenormancosmeticsolympia.com.
Sponsored