It seems the moment Joey Hawks crosses half court he is in range.
The Yelm High School sharpshooter proved just how true that statement was last year in a game at the ShoWare Center.

Failing to realize, in addition to the usual high school 3-point line which was present, the court also had the much further 22-foot NBA arc painted onto the court.
Executing the Tornados' high-octane offensive, which excels at turning turnovers into quick transition points, Hawks found himself on the wing during a fast break.
He immediately located his spot behind the 3-point line and after receiving the ball a good four feet behind the arc he pulled up.
The ball found its mark – it usually does. The play felt completely natural for Hawks.
It wasn't until he walked back to the bench during the next timeout that it was finally pointed out to him where his field goal attempt came from.
"(Assistant) Coach Gerald (Thornton) asked me if I knew where I shot from. I thought it was from the high school line. I had no idea I was that far back," Hawks said. "I guess I was just in the moment."
Hawks has rarely been out of the moment since sliding into the varsity lineup during his sophomore year three seasons ago.
The 6-foot-3 senior guard can strike from just about anywhere on the court, and in a hurry given Yelm's offensive tendencies.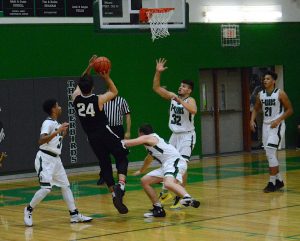 "Any shot 30 feet and in," Tornados' coach Jordan Barnes said, "I actually think he can make."
Last season Yelm made a strong postseason run led by the play of all-league selection Christian Davis, who averaged 30 points a game as a senior before heading off to play at Lewis-Clark State College in Idaho.
Hawks has been charged with filling that lofty void.
"Christian was obviously a big part of our team last year," Barnes said. "Before the season I said we need someone to step into that role, and I'm looking at you Joey. He's just been a great four-year guy for us. He's a stud athlete. He's great at football. He's great at basketball. I'm sure he'd excel at whatever sport he wanted to play."
Barnes took over the Yelm program four years ago, the same season Hawks entered the high school. He remembers being intrigued after hearing about his future player lighting up opposing junior high school teams the previous season.
"He was probably 6-1, 6-2 when he was in eighth grade and physically he was just superior to everyone else on the court," Barnes said. "I think basketball came pretty easy for him. When he arrived here as a freshman he kind of already had that swagger because of it. He was confident in what he was doing the moment he stepped on the court for us. I think he played every single minute that first year on JV."
The next season Hawks found his way into the Tornados starting lineup and hasn't left since, but that doesn't mean the transition didn't come without adjusting to a steep learning curve.
"The speed of the game was really hard to get used my sophomore year," Hawks said. "Learning our offense can be a little bit overwhelming because of how fast we go. It took a while, but I eventually adjusted to it."
And Yelm hasn't slowed down since.
After losing in the opening round of the 3A Central District tournament last year to the defending 4A champion Federal Way, the Tornados showed plenty of gumption by surviving a pair of loser-out games, defeating Jefferson (66-60) and Puyallup (72-62) in games where Hawks went for 13 and 14 points, respectively.
The season ended at the hands of Kentridge, two wins shy of reaching the regional round of the state tournament.
Now Yelm finds itself in the newly-formed 3A South Sound Conference – a league that has gained a reputation as being balanced from top to bottom, opening up the door for any team.
Hawks believes the Tornados could be that squad.
"We had to replace a lot of seniors from last year's team, but things are starting to come together for us," Hawks said. "The goal is just to continue to improve, get into the playoffs and make some noise like we did last year."