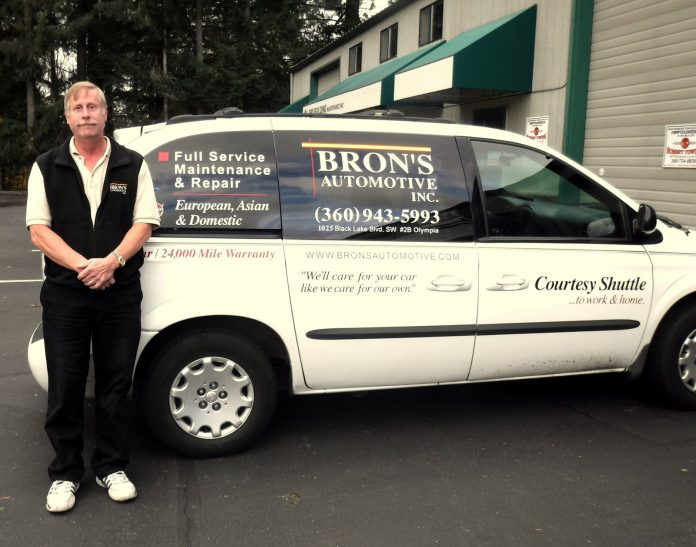 When something goes wrong with your car, it can be tempting to try to save money with less expensive parts. Don't do it, says Bron Lindgren. The owner of Bron's Automotive maintains that quality matters, to such an extent that many of the parts he offers carry a lifetime warranty. You may save money in the short term with lower quality parts, but over the long haul, the cost to operate the vehicle will be higher, he warns.
"We run into this all the time," he says. "Let's say we have a water pump for $150. A customer might say, 'But I can get a pump for $49 over at that parts store.' You can, but I need to put a part on your car that will last longer. Many of our parts have a lifetime warranty." That means that if you break an axle five years after they installed it, Bron's will put in a new one and charge only for labor.
Customers appreciate the warranty and tell their friends, he says. "They're interested in getting to the root of the problem. Usually, all they know is what the symptoms are. We'll go in and figure it out and if it turns out if there's a problem with a part that we previously installed, we stand behind the warranty. That gets a lot of word of mouth."
Along the way he educates customers about exactly where their money is going and why it matters. "If I'm going to tell you to spend $500, you're going to want to know why," he says. We'll explain what needs to be done to repair or service a system correctly. "If I'm performing a coolant flush, or transmission service, I'm using the same fluids that the factory uses. It's a match for what the engineers designed the various parts of the car for. It's a match for what the engineers designed your transmission to operate with."
For example, there are different types of transmission fluid, the least expensive of which is Dexron, also known as Mercon. Cars like Audis and BMWs require specialty fluids as do CVTs (continuously variable transmissions).
In one extreme case, a customer had to have a Saturn towed into Bron's shop after it had been serviced with the wrong transmission fluid. "It wouldn't even run and there was this horrible noise coming from the belt inside the transmission," says Lindgren. "This particular transmission has a special additive from Saturn that needs to be put in after the correct fluid is used. We had to flush the transmission twice, put the additive in there, and it went back to normal. It cost the customer more to fix than if the job had been done correctly in the first place."
The Saturn owner would undoubtedly agree with Lindgren that when it comes to parts and fluids, quality does matter.
Bron's Automotive Repair
1025 Black Lake Boulevard in Olympia
306-943-5993
Hours: Monday through Friday 7:30 a.m. to 5:00 p.m.
Sponsored