Whatever your feelings about frosty weather or holiday hustle and bustle, the long winter break means plenty of activity hunting for school-aged kids. Burn off their Christmas cookie-fueled restless energy—and stay toasty warm—at one of the South Sound YMCA's many exciting wintertime camp options.
Joey Velazquez, Program Director for the project, explains that "Families have varying needs during winter break compared to summer break. We tend to have a smaller more intimate setting during winter break camp which allows for stronger relationship building between the kids."
Hosted by the Y's Youth and Community Development department, there are two full weeks of excitement all managed through individual daily registration. Amber Wetzel, Senior Director of Youth and Teen Development, says they're proud to present "the best of the best of our summer offerings" and families can sign up for one day or all ten.
Activities are held at the Downtown and Briggs branches as well as Olympia's Horizons Elementary and Tumwater's Michael T. Simmons Elementary. Topics include H2wow! Aquatic camp, All Sports Camp, CRE8tive Kids Camp, and the all-encompassing Camp Exploration.
The two elementary-school based sessions, Camp Exploration, feature arts and crafts, STEM learning, games, robotics, and more and are state licensed to take DSHS funding. Ask about this when registering in-person or by calling the YMCA directly.
For H2wow! Wetzel laughs that "we hope to bring summer inside" as its one of their most popular year-round offerings. She recalls that "Last year we had 250 kids in our winter camps. This year with two full weeks of camp (with Christmas and New Years on the weekend) we are expecting more."
Program Director Andie Sproule echoes this popularity from staffers as well; "Winter camp is a rewarding experience as a director too because you get to see the kids reconnect with their friends from summer camp."
Registration is open now and spaces fill up quickly. You can enroll your children at either branch location or online. There will be limited drop-in availability so sign-up early to guarantee space is open on the day (or days) you require.
Camps are for children ages 6-12 and run from 7:00 a.m. until 6:00 p.m. December 19-23 and 26-30. The cost is $28 a day for Facility Members and $29 a day for Program Members. Many businesses and local employers make their employees eligible for discounted membership rates so ask at the YMCA when joining.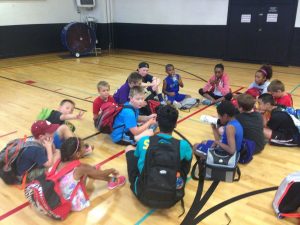 Have kids dress for indoor and outdoor fun and pack a lunch, two snacks, and water bottle to fuel their non-stop adventures.
Follow the fun with the South Sound YMCA's Facebook page where you'll find event listings, photos, reviews, and site-specific closures.
Can't wait for more opportunities to play and learn? Spring Break Camp runs April 3-8 and updates will soon be posted online.
Providing so much more than exercise classes and swimming lessons, the South Sound YMCA makes Christmas special for local families, hosts an array of on- and off-site childcare options, honors local military families, and even teaches teens and tweens everything from babysitting skills to how state government works.
Visit the Downtown location at 510 Franklin Street SE or Briggs at 1530 Yelm Highway SE. Locations are open seven days a week and staff are always happy to answer questions or help you sign up for activities. Call 360-753-6576 or 360-357-6609 with questions.
Whether your family's holiday season is booked solid or endless free time for snowball fights and winter explorations, let the South Sound YMCA fill the gaps with fun, adventure, activity, and maybe even a little break-time learning.
Sponsored