After months of sunshine, sandy toes and fingers made sticky from popsicles, summer is winding down. But even with school in session, many families use some form of additional childcare to supplement their weekdays. The National Center for Education Statistics report that 57 percent of young children receive some additional care outside the home.
Locally we're fortunate to have the South Sound YMCA as one of our premier childcare options. Kids from 4-weeks- to 12-years-old can rely on the YMCA's trained staff for play, learning and safe fun.
Children under the age of 5 are cared for at the Early Learning Center in South Puget Sound Community College (SPSCC). Here they spend their days under the guidance of teachers with at least two years of childcare experience and continuing education training.
Once in elementary school, the YMCA provides options for before and after hours care at 30 local schools. Child Development Director, Ron White, says, "We take care of more than 1,200 children a year in our licensed programs. Most of these children are with us 2 to 3 years and some have been with us for their entire elementary school experience."
Y Care provides students with "a wide variety of activities through our theme-based curriculum, with a focus on homework help, health and wellness, active games and sports, creative arts, drama and language, and science and cooking."
In most of these 30 schools, Y Care runs from 7:00 a.m. to 6:00 p.m. To use the service, families must either be facility members (if you wish to use the two local YMCA locations) or program members (for children using only Y Care or Youth Sports activities). But White stresses, "The Y doesn't turn anyone away for a lack of ability to pay for the cost of a program. Active duty Army personnel are able to get a discount through collaboration with the US Army. We also accept payment from any third party such as a Tribe or DEL/DSHS. Additionally, the Y provides direct financial assistance to any family who qualifies through our fundraised dollars."
Unlike many drop-in centers, YMCA childcare is fully licensed and all staff receives ongoing training. "Most people know that our program provides homework assistance and a themed curriculum of art and craft activities, active games and [snack time]. Until they experience it, most people don't know that our environments are set up intentionally in a station-based model that promotes a sense of belonging and develops children's personal responsibility through choices and self-determination," explains White. Because the programs are set up like this, staff members are able to act as facilitators rather than having to direct all the activities, giving the children a sense of independence in a safe and nurturing environment. "When children have the power and responsibility to have input in or choose what they will do while at Y Care, they develop their self-belief, responsibility and self-determination" says White.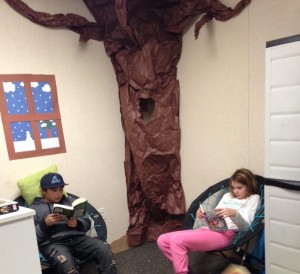 The YMCA's Child Development Office and Family Support Center is found at 108 State Avenue West in downtown Olympia. The office can be reached Monday through Friday from 8:30 a.m. to 5:30 p.m. by calling 360-705-2642. You can fill out a Child Care Information Request form online. but actual enrollment must be done in person at either branch or the above State Avenue offices.
For a map of participating elementary schools, visit the listing here. Required enrollment forms, including a Financial Aid application, are available online. Interested Army families should contact the GSA at 866-508-0371.
All parents worry about their children's education, social skills and well-being. Having a strong, consistent partner like the YMCA can smooth the inevitable transactions of childhood. And, like sneaking veggies into their dinner, they benefit without even knowing it — that's always a good thing!