By Heidi Smith

Ten minutes. That's how long 11 speakers will have to share their "ideas worth spreading" during the first ever TEDxOlympia conference on September 12.
Those ideas range from solutions to critical environmental and social issues to deeply personal stories of challenge and change. The event's theme is "The Point of No Return," and it will focus on ideas, perspectives and innovations that are uncovered when people realize there is no turning back. "I believe that we need to be asking different questions in our lives," says event organizer, Meg O'Leary. "I hope that when people leave the theater, they're asking different questions."
Since the talks began in 1984 with a focus on technology, education and design (hence TED), TED Talks have become a global phenomenon, shared in more than 100 languages. Tacoma has hosted talks since 2010, but this is the first time for Olympia. After applying for a license, O'Leary, a Fulbright scholar with a background in public involvement consulting and videography, attended TEDActive, an international conference in Vancouver, British Columbia, where she gathered information about what it takes to produce a successful event.
The first step was identifying speakers. O'Leary assembled a curation team to nominate and invite strong potentials. "I gathered a group of people with different personalities, styles and viewpoints, and a wide age range," she says. "I tried to get a broad cross-section of Olympia." From 60 submissions, the team selected a group of 20 to interview and eventually whittled the group down to 11.
While all of the speakers are knowledgeable in their areas, some had never written a speech before. That's where Paul Currington came in. The host and emcee of Fresh Ground Stories, a monthly open-mic event in Seattle, offered to coach the speakers as well as announce the event. "It has been such a joy to work with people who really care about what they're doing," he says. "They're putting in so much work in an area where a lot of them don't have experience. It's been wonderful to see how far they've come and how much work each one is willing to do to communicate their idea."
The speakers are equally appreciative of Currington. "Working with Paul has been invaluable," says Keith Edgerton, whose talk will focus on the unexpected benefits of becoming legally blind. "I'm learning to share my story in a way that connects with people."
For Stacy Flynn, the challenge was communicating the idea of a product with the potential to revolutionize the textile industry as a story rather than a pitch.  "When I work with investors or brands and retailers, it's very focused on how the system works and the financial perspective," she says. "This experience has taught me how to talk about it as a story and a relatable human idea rather than a business."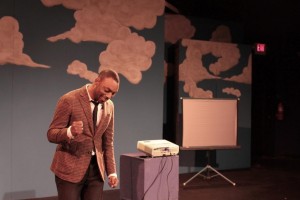 Debbie Lacy has had plenty of public speaking experience, but never with a group this big. "It feels like such a blessing to have this kind of support," she says. "Paul and Meg are always very available and the reminders for things like practicing in front of people we don't know help to keep us on track. They're both very generous with their time and energy." Lacy's talk is titled "In search of purpose and lunch." It will focus on the daily decision of what to have for lunch as practice and metaphor for what you want in life and how to get it.
In further preparation for the event, speakers also had the opportunity for a full rehearsal with feedback from O'Leary, Currington, fellow speakers and other team members. "The rehearsal really helped me prepare," says Max Brown, who will be focusing on urban planning and how to create the city that you want in the future through the decisions you make today. "All of the speakers have expertise. Often when we start to communicate, we do it as if people we're talking to have the same knowledge that we do. If you've got 1,000 people sitting in an auditorium, not all of them are going to understand what you understand. Rehearsal helped to better communicate my idea."
The speakers say they've also gained valuable insights about their topics and themselves. Several didn't realize their ideas were exceptional or unusual. "Apparently what I'm doing is not that common," says photographer Michael Maine, whose talk will focus on building true relationships with his subjects in order to address social issues — by putting down the camera.
"Whenever I explain what I'm doing, people say, 'That's really cool. I never thought about doing that.' It makes me think maybe it IS innovative."
High school senior Madeline Poultridge echoes Maine's sentiment. "I've learned that even though what I'm talking about is pretty standard information for me, it's going to be really new for a lot of people. It makes me conscious of the fact that there are people outside of where we live that are going to see this and be really excited about it," she says. Her talk focuses on using mediation skills in everyday conflicts.
Everyone involved with the event hopes that it inspires conversation and action among the audience. "I hope that people leave with a sense of curiosity," says Daniel Cherniske, whose talk is focused on aquaponics viability as a food source and its application in society. "I want them to go research what aquaponics is and how they can get involved with it."
Madeline Poultridge would like to change the way society looks at conflict, and Stacy Flynn hopes that people are inspired to look at waste in a different way — as a resource. For Keith Edgerton, the goal is simple. "I hope that my story can help each person embrace or go after something that means something to them," he says. "To reach just one person at this event would make me extremely happy."
That's a lot to accomplish in 10 minutes.
TEDxOlympia, which is sponsored by WSECU as well as a number of other local partners, is on Saturday, September 12 from 10:00 a.m. to 5:00 p.m. at the Washington Center for the Performing Arts. General admission tickets are $40 and are available online. Tickets for both the event and the reception that follows are $60.
For more information about TEDxOlympia, visit www.tedxolympia.org or visit TEDxOlympia's Facebook page.
For more information about TEDxOlympia speakers and what they'll be talking about during the event, visit TEDxOlympia's website.