Before entering high school, Max Leung-Wagner's days consisted primarily of writing and watching TV.
You could usually find him on the couch, channel surfing in his pursuit of something interesting, or at the computer, writing fiction.
He would never be working on just one novel, but a handful of stories forcing him to constantly juggle a variety of story lines, scenes and plot points inside his head until he was able to get them on the page.

When he wasn't creating fascinating stories himself, he was watching them. He was more than content with this. His mom, however, had a different take.
"She wanted me to be more active," Leung-Wagner remembers.
Actually, it was more of a demand.
So when Leung-Wagner enrolled at Olympia High School as a freshman, cross country was the activity he landed on.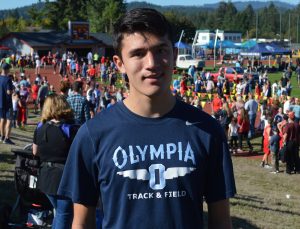 "It's actually pretty funny, I really didn't want to do cross country at first," Leung-Wagner said. "It was something that was just kind of thrown out there."
Cross country is about as far removed from the couch as you can get. During this year's Capital Invite, which traditionally kicks off the season for local high schoolers, several athletes could be seen wearing t-shirts which read: "Our sport is your sport's punishment."
Leung-Wagner didn't know what to make of it when he started, but four years later it's safe to say he made the correct choice.
"He was pretty quiet when he first joined us," Olympia coach Jesse Stevick said. "He's definitely more outgoing now. He's a good leader. He came in very quiet, but has always been a great worker. He's just always asking, 'What can I do to help? How can I make the team better?' Everything about cross country is powering through stuff. When you have an athlete who always has that kind of positive attitude, it's just a wonderful thing to see as a coach."
Leung-Wagner is coming off a 12th-place finish at the prestigious Fort Steilacoom Invite, which has evolved into one of the state's larger meets. He covered the 5,000 meters in 18 minutes, 14.1 seconds, helping the Bears finish seventh overall among 34 squads in the team standings.
Joining teammate Ian Cates-Doglio as the only seniors on the junior-dominated Olympia team, Leung-Wagner also helped the Bears capture the 130-mile Portland to Coast High School Challenge in August.
Prior to that race he competed in the Warrior Dash, a 5K race that features 12 obstacles, on July 16 in Bonney Lake. Leung-Wagner, who has participate in the Warrior Dash for four consecutive years, finished 13th overall and qualified for the World Championships. It marked the third consecutive year he has qualified for worlds in the event.
"(The Warrior Dash) is something I've done with my family the last few years," said Leung-Wagner, who did not attend this year's world championships, which were October 14-16 in Ontario, Canada, as the dates conflicted with the Bears' cross country season. "It's a lot of fun. I try to get as many people out for cross country, but for the Warrior Dash I tend to just keep it with my family. It's not for everyone."
Leung-Wagner's summer was not solely about running as his other passion – academics – also figured into the agenda.
In between the Warrior Dash and the Portland to Coast High School Challenge, he made his way to Missouri University for Science and Technology to complete a week at the American Society for Metals. Leung-Wagner was nominated for the ASM camp by Olympia teacher Brian Wright. The camp consisted of learning about metals, structural issues and engineering, in addition to learning about the newest developments in ceramics, cement and glass.
"It's something I've been interested in for a while," said Leung-Wagner, who will attend Missouri University for Science and Technology next fall. "It's definitely something I want to pursue as a career."
The Bears' cross country team will compete in the 4A South Puget Sound League championships on October 19 at Fort Steilacoom Park with the top placers advancing to the state meet on November 5 at Sun Willows Golf Course in Pasco.
"I've just tried to be a good role model for the younger runners we have on the team this season," Leung-Wagner said. "It's a little bit sad thinking this is the last time I will be running (for Olympia). It's really been a lot of fun."