Drama professor Dr. Lauren Love was drawn to the incredible facilities at South Puget Sound Community College. The Kenneth J. Minnaert Center for the Arts is a state of the art auditorium. But, it is the community that has cemented her belief that she made the right choice in coming to Olympia and the drama department at SPSCC.
Love made the move from the University of Wisconsin at Baraboo/Sauk County this past summer and is eager to take on her new role.
"This institution is invested in building the arts," Love says. "They have demonstrated there is a strong commitment and the energy to do it."
Since arriving in Olympia, Love has been encouraged by the community support she has received. "I have received numerous, unsolicited offers of support from other non-profit organizations," Love tells me. "From costumes to props there is a genuine desire from the community for us to do well."
Love has been involved in theater most of her life. She earned her Masters in Fine Art from the University of Wisconsin in Madison and spent several years as a stage actor in Chicago. After many years of performance focus, she decided to attend the University of Minnesota and earned her PhD in Theater History.
She is excited by the energy of the students at SPSCC. "Theater is a place where we can think about who we are and who we want to be," Love tells me. As head of SPSCC's drama department, Love teaches several classes including introductory and advanced level acting classes. Among her favorites are the combined level classes. As Love tells me, "You have students that are just beginning and advanced students that are starting to learn how to direct. They can learn so much from each other."
Her first production at SPSCC is a play titled "Cloud 9" which was written by British playwright Caryl Churchill. The play takes on several social issues including colonialism, race, sexuality and gender. Churchill is known for dramatizing the abuses of power. The play, which opens on November 17, challenges how power operates conventionally and gives a new perspective in a playful yet poignant way. According to Love, artistic freedom encourages us to push the envelope and be provocative. "Institutions of higher education, by their very nature, should function as a way to think differently in all classes, not just drama class," says Love.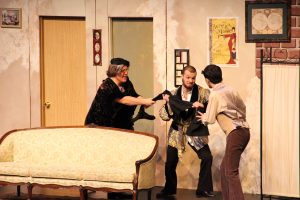 Also this season, SPSCC will do a production in the Black Box Theater titled "Neighborhood 3: Requisition of Doom. Written in 2009, the play maps teenagers who are gaming in a suburban neighborhood when virtual reality and real life collide. As Love describes the play I can see the twinkle in her eye as we both are thinking that life imitates art in this case.
The spring musical is another provocative look at social norms. "Urination" follows a group of people that rebel against leadership that is regulating water and leading in a draconian manner. If you see a theme here, you are not alone. Love is highly intrigued by theater that challenges the status quo. According to Love, "Theater opens up a space to think through our voice when we are speaking to power."
The Greeks were the first to use the theater to explore society and question their government. Love sees this as paramount to the theater experience. "Theater is a reflection of what we want our world to look like." Love goes on to say, "Theater is one of the few spaces left where we come together in a non-technologic way." In the theater we put down our cell phones and have a shared experience in real time. The good news is that, while many communities have experienced a divestment in the arts and theater, here in Thurston County, Love sees further investment.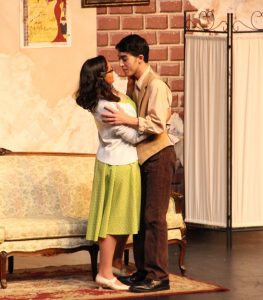 I wonder aloud what Love would most like to see in the coming months and years at SPSCC. She tells me she wants the greater community to feel welcome, not only in the audience but also, in class and on the stage. "Students learn from the community collaboration," Love shares. "When the community is involved, students learn that the arts are a part of their civic engagement." Acting 101 anyone?
Also this fall, the SPSCC Choir, SPSCC Jazz Ensemble, and South Puget Sound Orchestra will both be putting on concerts the first week of December. Student in the Film Program also have a fall film showcase in early December. See the SPSCC Entertainment Calendar for more show and ticket information.
Sponsored