Submitted by Miss Moffett's Mystical Cupcakes 
The Painted Palace, which was once known simply as a party venue for princess parties and paint & sip events, now offers all of that plus a lot more. Open seven days a week from 9:00 a.m. to 6:00 p.m., they are a full service café, offering espresso, crepes, beer and wine, snacks for kids, and now cupcakes. Mystical Cupcakes to be exact.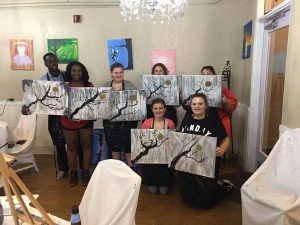 That's right, Miss Moffett's Mystical Cupcakes are now offered at The Painted Palace, but besides just cupcakes, the two businesses plan to collaborate on an even bigger scale. There are plans in the works about princess parades, cupcake paint & sip events, Cupcake Wars decorating competitions and even a winter camp for kids.
The Painted Palace is managed by Michelle O'Neill and owned by Elizabeth Shriner, who also has locations in Redmond and Lynnwood. Miss Moffett's Mystical Cupcakes is owned by Rachel Young, who appeared on Food Network's Cupcake Wars in 2013. She also has three retail locations, one inside the Capital Mall, one downtown Olympia near the Farmers Market, and one in Lacey in the Fred Meyer Complex.
For a calendar of events, visit The Painted Palace online.