Raj Manhas could be described as an accidental educator.
He was never a classroom teacher nor did he earn any advanced degrees in education. Yet, he has positively impacted thousands of local children during his tenure as North Thurston Public Schools' (NTPS) superintendent.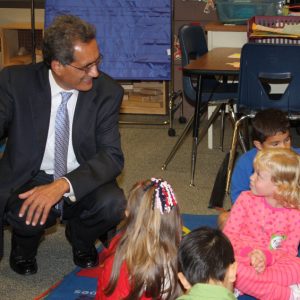 And now, families in the Lacey district say farewell to their fearless leader, ready to face the future on the strong foundation he has forged. Raj Manhas retires on June 30 after seven years in the district.
Raj grew up in a small village in northern India, close to the Himalayas. "Imagine a kid growing up in a dusty, little village," he shares. "My family was a farming family and where I grew up, the teachers in the village were an inspiration. They were the leaders of the community." He goes on to describe his family's mentality as upbeat and having a "you can do it" spirit. This foundational value is something he has carried with him all his life and something he brought to the heart of NTPS.
"Public education – in a democratic country, even a poor one like India, a country that looked to the US as an example – was extremely important. And it was in my childhood that the seed for education was planted," says Manhas.
That seed grew as Manhas attended the University of Washington and earned a master's degree in industrial engineering with a business focus. Fresh from college, he was hired by Rainier Bank and did well, working through the ranks. He transitioned from private to the public sector work after many years, serving as the head of operations for Seattle Public Utilities.
It was at this time he was recruited by Seattle Public Schools as the Chief Operating Officer, a position overseeing all things non-academic in the district. "It was my wife who inspired me this time," he recalls. "She asked me if I could see myself working in education and I replied, 'I'm not even a qualified teacher, they'd never hire me!'" he laughs. "But she knew there was an educator inside me. That seed was still there."
Manhas served as COO for 18 months in the struggling district when they asked him to step into the recently vacated role of superintendent. "I had so many colleagues with extensive backgrounds in education and I asked, 'Why not them?'" he remembers. They told Manhas he had earned their trust, admiration and support through his work as the COO and knew he could turn the district around.
"I have a deep passion for this work and we did some amazing things in Seattle. It was hard, hard work, but we stuck with it," he remembers.
After six exhausting years, "which felt more like 18 years!" he laughs, Manhas was ready for a change. He left the Seattle Public Schools with a hefty reserve in their accounts, new, effective leaders throughout the system, and a path toward a financially and educationally sound future.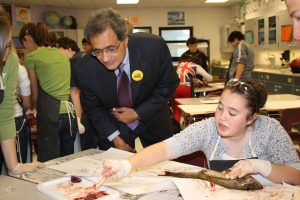 Coming to North Thurston Public Schools was a step in the right direction for the now seasoned educator. Manhas saw the district was well-run, but there was a feeling throughout the district that he picked up on right away. "It was nothing anyone said," he explains, "but there was a feeling that the district was 'lesser than' its neighbors – poorer, more transitional, bonds don't pass the first time, levies fail."
The district was doing well, but Manhas had a vision for it to be greater. He aimed to raise the reserves, bring the math and science programs to the forefront, and even-out achievement across the district's schools.
Beyond these quantifiable goals, Manhas strove to foster a culture, for staff and students, of "humility and confidence. Not arrogance, but just confidence that we can do it through hard work and asking for help," he says. In partnership with these two traits are authenticity, collaboration and compassion. Pairing these core values with relentlessly striving for student growth is what now defines North Thurston Public Schools.
Manhas is tremendously proud that through all the curriculum improvements and academic milestones marking his tenure, that the district has kept the whole child – their social and emotional development – as a focus. "If kids are struggling with whatever is going on in their lives, outside academics, it's very difficult to learn," Manhas explains. "They are all intertwined."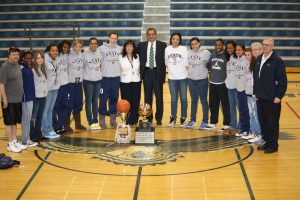 "I have a sheet of paper from 2009," he shares, "from when I interviewed with the district. On it I wrote what truly describes me, 'When intentions and actions are pure and selfless, everything else falls into its own perfect place.' I just totally believe in that."
Anyone who has met Manhas knows that he never tries to be anyone different than his true self. His self-proclaimed mantra of humility and confidence combined with pure and selfless intention are what characterizes him as a leader and a human being.
Graeme Sackrison, former Lacey mayor and past co-chair of North Thurston Citizens for Schools says, "Raj brought a unique set of skills to the District. His business sense, coupled with his commitment to the whole child, meant years of exciting progress." Graeme also serves as an acting NTPS school board member.
Coupled with that progress are Manhas' inherent values. "He has touched many lives in our community in a very positive way.  His warmth, compassion, and pursuit of excellence are contagious and inspirational," shares Greg Cuoio who serves with Manhas on the Providence St. Peter Community Board. Greg is also the former City Manager for the City of Lacey.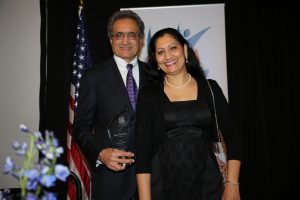 Manhas' colleague Vicky Lamoreaux, Assistant Superintendent Instructional Services agrees. "Raj has a deep passion for serving others.  He has been a courageous leader. He is not afraid to dream big dreams, but he never forgets that realistic short-term goals are the key to success."
Manhas is looking to the future, now. "I met with Deb [Debra Clemens, the new NTPS Superintendent] and said, 'Deb you are a very lucky woman to be moving into this position,' and I believe we are lucky to have her," says Manhas. "She believes in the whole child, she believes in the PBIS (Positive Behavior Interventions and Support), she believes in the compassionate community work we are doing. Plus, she has a solid background in academics which is something I never had."
Manhas says Clemens is coming into a district with teams of people, starting at the Superintendent's office, who believe in a culture of student-centered excellence and high expectations and are excited to be part of a district he believes is now leading the way in the state. "We say, it's just in our DNA – it's the North Thurston way," says Manhas. He's ready to see North Thurston Public Schools take it to the next level and knows in his heart they can.
"Raj's leadership will not only be missed in our district but our community," says Ruth Weigelt, co-chair of the North Thurston Citizens for Schools.
Even after the final bell, Manhas will likely still be a driving force in Thurston County. John Bash, Superintendent of Tumwater School District supports this saying, "Raj believes community partnerships are essential to addressing some of our greatest social challenges and I'm confident he will continue to pursue this work in retirement."
Manhas is ready for a slower pace, but is still sad to leave. "I'm so thankful to the community and the board who gave me the opportunity to finish my career here. No amount of money can buy this feeling."
Best wishes, Raj Manhas. And, thank you for sharing yourself with the children of North Thurston Public Schools, and in turn, inspiring your spirit of "humility and confidence" within each one of them.