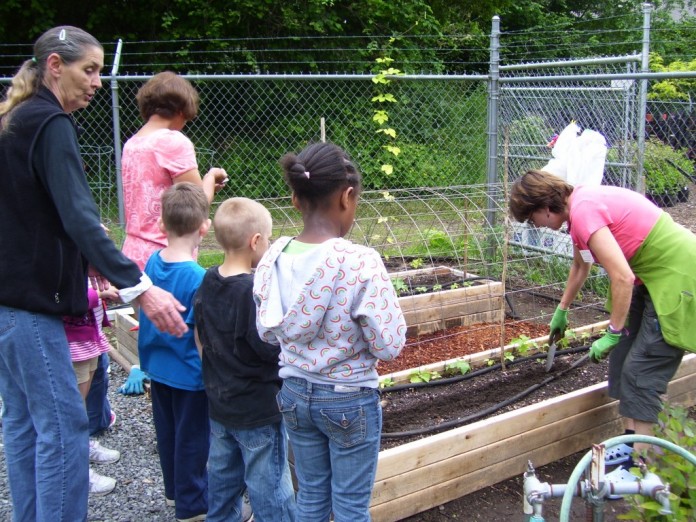 My toddler has shown a lot of interest in gardening recently. Besides getting messy in the dirt, she also enjoys harvesting berries and watching plants grow. As a treat, she received a basket stuffed with gardening tools and seeds. She was overjoyed with the plan to grow her own vegetables, but there was one problem…I didn't know where to start. That's where Thurston County Master Gardener, Cindy Cartwright, stepped in to help get my little gardner started.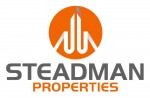 "I've been working with the Children's Garden at Dirt Works now for eight years," explains Cartwright. Dirt Works is run entirely by volunteer gardeners in our community with a focus on learning for all ages. "My kids were crawling around in the dirt since they were really little. The younger you start the better! I was really motivated by this program because I really believe that if you begin children at an early age to garden that they will have a vital skill for life."
There are a lot of options when it comes to where you should plant your seeds. "Starting kids with gardening in pots is a great idea," continues Cartwright. "It makes it easy for children to get around the area they are gardening in and pots are great for those limited to space."
"Pots should be at least six inches deep," she adds. "If you are planning to grow vegetables in a pot, black pots can very helpful because they help to keep the soil warm. Just make sure there are holes in the bottom so it can drain properly."
"Another great option is a raised bed," she says. "Square foot gardening is a big trend and a raised garden makes it easy. You want to make sure your child can reach the center of the planter so they can care for their plants."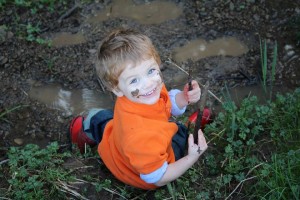 "For a child, the perfect size bed is a 3×3 that is at least 6 inches deep," says Cartwright. "If you divide that into even squares, that gives your child 9 equal square feet to plant. They can plant something different in each square. No matter what you choose, make sure your plants are in a spot where it can get 6-8 hours of sunshine each day."
When picking what to grow, get the kids involved. "Let your child pick out veggies that they would want to eat," encourages Cartwright. "Even if it isn't the right growing season for that particular item, they will have so much more invested in the process if they pick out what grows there."
To kickstart any beginners garden, skip the seeds. "If you are gardening for the first time, just buy starts instead of seeds. Some seeds can be tricky to get growing so buying starts can literally give you a jump start on growth in your garden," she suggests. "But if your child prefers to put the seeds in the soil themselves, be sure to read the instructions carefully about how many inches apart and how many seeds can go in place. This is where that square foot gardening can be very helpful in determining what to grow."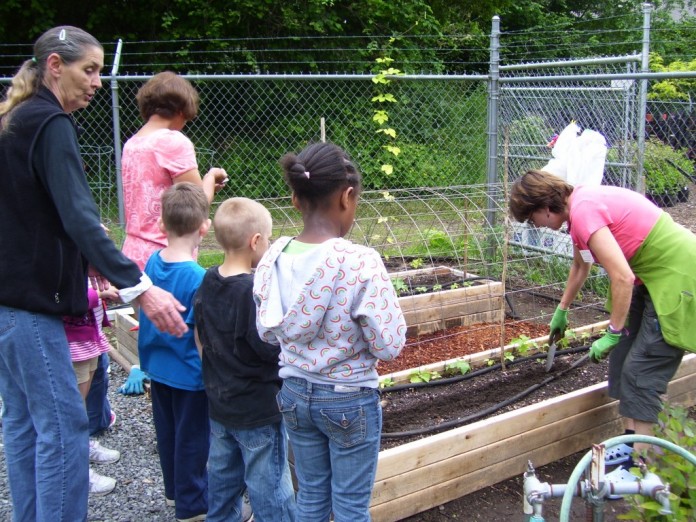 Anytime is a good time to get started with your child's garden. "Start it now! The weather is getting great! The goal is to have everything planted by Memorial Day Weekend. Cool season crops are great to grow right now."
"Gardening is such a wonderful introduction to science," explains Cartwright. "It triggers a child's imagination and teaches them a skill that they can use for the rest of their lives."
If you're still hesitant about gardening with your little one, be sure to check out Dirt Works Children's Garden. Cartwright can be found here all summer long offering free gardening programs to children ages 4-12 years old where they can learn all of the tips and tricks to becoming Master Gardeners.