It's not that Brandi Bratton and Ally Vestal aren't athletic. They just didn't know anything about tennis.
On the first day that they showed up for tennis practice at Tenino High School, they didn't just have to learn about making forehand and backhand shots. They also had to learn the basics, like how to keep score. They had never played tennis before, but these two rookies have proven to be quick studies.

Bratton, now a senior and in just her second year of playing tennis, is Tenino's #1 singles player. Vestal, a freshman who began her tennis career a few weeks ago, is already her team's #2 singles player.
For Bratton, after turning out for track her freshman and sophomore years, tennis was option two.
"The whole running thing," Bratton said with a smile. "I just wanted to try something different, but I wanted to be outside."
Bratton might be a late arrival to the game of tennis. But her athletic background – she played volleyball all four years in high school – gives her an edge.
"I really like tennis," Bratton said. "For me, it was easy to pick up."
Like Bratton, Vestal was no stranger to turning out for sports. She turned out for soccer and basketball this year.
"Ally is very athletic," said Patti Blanford, Tenino's head girls tennis coach. "She's observes well. She learns on the court. She's very coachable. She listens."
That was obvious in a recent match when Vestal was losing, 0-5. After getting some strategy advice from her coaches, Vestal rallied and nearly pulled off a comeback win, losing, 5-6. For Vestal, the hardest thing to learn was the serve, putting the ball over the net with some speed. Then there's the challenge of being your own referree. In high school tennis, players call if a shot is in or out.
"You're the ref," Vestal said with a smile. "All the other sports I've played we have refs. With tennis you have to make the decisions."
But even as a rookie still learning the game, Vestal isn't intimidated. With the support of her teammates and coaches, she feels up to the challenge.
"It just feels right," Vestal said. "I like the team. They're really supportive."
In Vestal's first match, she played against a longtime player from Charles Wright Academy and ended up losing big.
"Those kids have been playing their whole lives," said Brittainy Ryan, Tenino's assistant girls tennis coach. "But Ally has done a good job of just keeping her chin up. She understands that all these kids have a lot more experience than she does. But it's been fun."
There's been improvement in how Vestal plays. She's not just hoping to return a shot. She's placing it, looking for a winning shot.
"You can see her actually placing the ball," Ryan said. "She's thinking about what she wants to do. It's cool to see that she has that strategy already."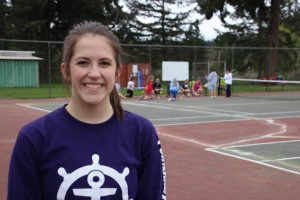 This is a learn-and-grown season for the entire team. That's because there were 12 seniors on last year's team that won the 1A Evergreen League title.
"We're really rebuilding this year," Ryan said.
Tosh Jones, a senior who started playing tennis her sophomore year, played singles for the first time after playing doubles. But tennis isn't all that she's got on her mind. She's also an ASB officer. For the second year, she's the social chairman.
"We plan the prom and keep the calendar updated with all the social stuff that's going on," Jones said during a recent tennis practice. "It's fun. I like it. It's good to be involved."
Jones, while playing #3 singles, recently picked up a win in her first singles match. She likes playing singles more than doubles because there's more running.
"That's why I like singles," Jones said. "It's just running back and forth in the back of the court instead of being up at the net. I like running back and forth."
Jones' attraction to tennis is twofold. She enjoys the challenge of beating an opponent and the opportunity to make new friends.
"It's just fun," said Jones, who will attend Washington State University next school year. "It's kind of your own sport, but you've still got a team. You make friends that you normally wouldn't."
So, for Jones and her teammates tennis is about beating the person on the other side of the net and about making friends. It's been a winning formula.