When Kyle Cronk was 15-years-old, a teacher asked him what he wanted to do for a living. "I told him I wanted to be a teacher and his great advice was, 'You should figure out if you like kids first,'" says Cronk. That teacher arranged for him to volunteer at the Y's Camp Orkila on Orcas Island, where he quickly rose to camp counselor. He's been with the Y ever since.

"The thing that I realized early on was that, there was magic at camp," Cronk explains. "It's special when 500 kids show up, not knowing each other, and leave best friends after eleven days. I was there as a fifteen-year-old and I met some of these people that I'm still friends with now, at 46. So that's powerful."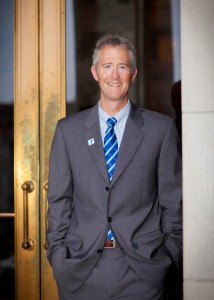 As the new President/CEO of the South Sound YMCA, Cronk brings a lifetime of involvement that has included a diverse range of roles from Youth Development Director to record-breaking fundraiser. He's worked with inner city youth, helped to pioneer programs throughout Seattle middle schools, and turned around a struggling Y in Port Angeles where they literally didn't know if they could make payroll in his first month on the job.
The South Sound YMCA is a completely different situation, he says. "This is a very strong, financially buoyant Y. [Former CEO] Mike West and the board did an amazing job to get to this rock solid foundation." As CEO, Cronk oversees all operations of South Sound YMCA, including both branches (Briggs Community and Olympia Downtown) and the Child Development unit (29 sites of before and after school care).
After working at Camp Orkila throughout high school and getting involved with a YMCA in Puyallup, Cronk became active in residence life and housing during his college years. He did a study abroad year in Australia and graduated "thinking I was going to move into higher education and work in campus life and student leadership," he says. "I got a job at a very small liberal arts college in Houghton, Michigan. It was very cold."
A break from the frigid temperatures came through a phone call from someone he'd known at Camp Orkila. "He'd been hired by the Seattle Association as a branch executive," says Cronk. "I was working with inner city kids from Chicago and Milwaukee at the time, with all kinds of diverse backgrounds. He called me one day and said, 'I need a youth development director and I need somebody with your skill set. You've got to come and work for me at this Y.'"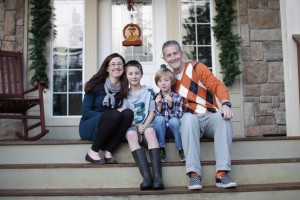 Moving back to Washington, Cronk became the Youth Development Director for the Meredith Mathews YMCA, where he was mentored by president and CEO Neil Nichol. "He told us, '"We want to make sure that Youth Development and teen work specifically is what we're known for in the Seattle Y,'" says Cronk.
During his time there, Cronk and his colleagues took that message to heart, bringing the program into schools. "We put Youth Development Directors in middle schools so they were working with the school leadership team," he says. "During the day, they were building relationships with kids and then after school, they could create programming that really wrapped around that whole school day." In the five middle schools where they worked, the results were improved student achievement and engagement.
Later, Cronk was hired by the downtown Seattle Y as the operations manager for membership and financial development. "We were the first branch to raise half a million dollars in the Seattle Association," he says.
Six years ago, Cronk and his growing family moved to Port Angeles, where he was the CEO of the Clallam County Family YMCA and his wife works as a school counselor. "We knew that we wanted to live in an outdoor mountainous region, and the Olympics were the ticket," he says. His two sons, now eight and ten, have been raised to be comfortable in the outdoors. "We had wildlife coming in and out of our yard. At one point there was a cougar right next door," he says. "That was a little scary. It was great, though."
In January, they added a new member of the family: a six-year-old foster daughter. "We're brand new foster parents," he says. "We started the foster licensing process in the summer and just received word a few weeks ago that we could come and pick her up. It's a foster-to-adopt situation."
For now, the rest of the family continues to live in Port Angeles and Cronk commutes on the weekends. "My wife, Meegan, is still a counselor, and she's going to finish the school year," he says. "My kids have really great teachers and we didn't want them to have to transition in the middle of the year." They will be joining him in the Olympia area once summer arrives.
During the first thirty days of his new role, Cronk says the community has been incredibly welcoming. "I'm getting a lot of excitement and vibrancy around the community that really, anything is possible because of the situation that we've created," he says. "I think people recognize that the Y is in a position to really do something great in this next iteration. There has been a lot of conversation around downtown revitalization and expansion into Lacey," he says. "Those are the initial conversations we're having."
The first year will be about gathering information, he says. "Mike did a great service for this organization to provide the luxury to, observe, learn and listen and then see things unfold and then say, 'Okay, now where do we want to go? Where do we want to drive this?' What kind of impact do we want to have?' There isn't a limitation in that, thanks to our solid foundation."
For more information about the South Sound YMCA, visit www.southsoundymca.org or call 360-753-6576.