Submitted by South Sound Wedding and Event Magazine 
The ninth annual South Sound Wedding Show is Saturday, January 23, 2016, from 9:30 a.m. to 3:30 p.m. at Marcus Pavilion at Saint Martin's University, 5300 Abbey Way, SE, Lacey, Wash. The show is presented by South Sound Wedding & Event magazine, a local resource guide for engaged couples planning a wedding in the South Puget Sound. 
The Wedding Report, a research company that tracks wedding statistics, estimates there will be more than 1,620 weddings in Thurston County in 2016.
Engaged couples, their families and wedding attendants are invited to attend the Olympia-area show. Couples will receive a complimentary copy of South Sound Wedding & Event magazine. Prizes will be awarded to engaged couples during the show. The latest styles in hair, makeup, bridal bouquets, jewlery, wedding gowns, bridesmaid dresses and tuxedos will be featured during fashion shows presented at 11:00 a.m. and 1:00 p.m.
"To help plan their weddings, engaged couples are invited to meet more than 70 Olympia-area wedding professionals at this stylish show," Paula Lowe, show director and publisher of South Sound Wedding & Event magazine, said. 
Couples will meet caterers, disc jockeys, wedding planners, florists, photographers and jewelry designers. They will also meet representatives from wedding and reception venues and bridal and tux shops.
Our highlighted wedding show presenters for the show are Occasions Catering, The Heritage Room, Elle's Floral Design, Weddings With Joy and Firstlight Photography.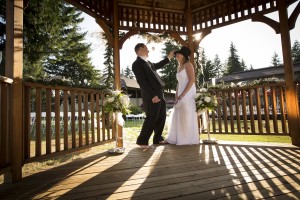 "This is the place to meet highly-skilled wedding professionals from Thurston County. They will help you create the wedding you have always imagined," Lowe said.

The show is sponsored by Olympia, Lacey, Tumwater Visitor & Convention Bureau and Mixx 96.1 KXXO. Mixx96.1 is a soft rock radio station based in Olympia. 
Discounted tickets are available online or purchase tickets for $12 at the door. Free parking. 
The show is at the Marcus Pavilion at Saint Martin's University, 5300 Abbey Way, SE, Lacey, Wash.
For information about the show,  visit www.southsoundweddingshow.com or www.weddingandeventmagazine.com.
South Sound Wedding & Event magazine is published by Expressions Media. Expressions Media produces the South Sound Wedding Show, West Sound Wedding Show and the South Sound Wedding Workshop.