Dr. Lisa Poundstone is a rare combination of skilled designer and intelligent shark scientist.
Often called the "Design Doctor" Lisa's blend of creative and scientific knowledge has been a major factor in the success of her company, Design Smart Home Staging and Redesign.
In the last seven years, more than 2,000 homeowners in the South Sound have experienced the benefits of the staging science she applies. Many clients say staging is like magic when it comes to selling a home. But, those who are aware of Lisa's background know better.
Staging Works
Lisa has a creative eye, but she also uses proven principles of biology, psychology, physiology and spatial sciences when she stages a home.
As a designer, Lisa earned the Accredited Staging Professional (ASP) certification, training directly under Barb Schwarz, the Seattle innovator who developed the popular home staging concept.
But Lisa's scientific training began at a young age when she aspired to be a shark scientist, eventually becoming one. Lisa earned her Bachelor of Science degree in Marine Biology from The Evergreen State College and then both her Masters and PhD in Organismal Biology and Anatomy at the University of Chicago.
Little did she know at that time how her doctoral study of the evolution of the movement of "batoids"—cartilaginous fish closely related to sharks, known as manta rays and stingrays—would contribute to her success as a designer.
"Batoids' motions evolved and are different among them," explains the former professor. "The highly advanced manta rays flap their pectoral fins like birds. Others move with an undulation of the fins. My dissertation, 'Evolution of Batoid Locomotion,' is about how the movement evolved through the group."
Her research took several years of analysis and observation at marine laboratories, aquariums and natural history museums throughout the United States and included a three-month tour through Europe.
"I visited natural history museums in nine European countries to study the evolutionary relationships of stingrays, measuring and x-raying specimens," explains Lisa. "I then cataloged their characteristics in a computer program that showed how they were related using the scientific discipline known as 'systematics.'"
Science Work in Design
Lisa's approach is not all that different in her company today. When asked if her scientific training works with staging homes, she says, "absolutely."
"When I step into a room and view it for staging, it is a very analytical thing," Lisa describes. "I can immediately see space proportion. I understand what colors are appealing to the eye and how things should be arranged to help the buyers move through the space and best visualize living there."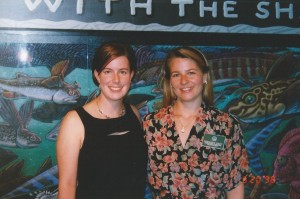 Lisa will tell you that her strengths are evenly distributed between the analysis of her left brain and creativity of her right brain.
Today that bodes well for homeowners as her background in science and research and her eye for design, work in tandem to stage homes so they sell quickly and for a higher profit.
Lisa Poundstone, PhD, is the owner of Design Smart Home Staging & Redesign, LLC.  She is an Accredited Staging Professional (ASP®) and was the 2013 and 2014 Winner of the Best of South Sound for Interior Design. Contact her at 360-480-5810 or visit her website.
Sponsored