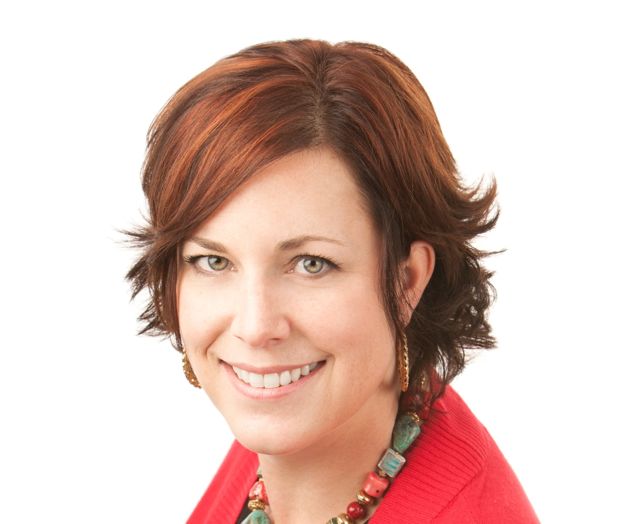 By Barb Lally

Lisa Poundstone's professional path could be seen as an unlikely combination of Discovery Channel's Shark Week and HGTV's Designed to Sell.
Sharks and their cousins known as batoids (stingrays, manta rays, skates) have always fascinated Lisa who eventually earned her PhD at the University of Chicago for her research on "The Evolution of Batoid Locomotion."
Today, she is owner of Design Smart Home Staging and Redesign, a flourishing local company that decorates homes to best showcase their features and space.
The shark path started early
Looking fashionable and relaxed on her living room couch, it is hard to imagine Lisa catching stingrays from the ocean, hauling them into flow tanks, then digitally filming their fins after inserting electrodes into their muscles—her favorite activities in grad school.
It all began at nine when she read "The Shark Lady" by Eugenie Clarke, one of the first female shark biologists.
"From then on, I wanted to study sharks," says Lisa. "I was inspired by this woman who was a pioneer in a male-dominated field."
Lisa excelled at Yelm High School and attended The Evergreen State College on a full scholarship. By her second year, she took an upper level Marine Environment course with visiting professor Dr. Dominique Didier, an expert in cartilaginous fish, who soon became her mentor and friend.
"She recognized my passion and asked me to do research with her," explains Lisa. "When Dr. Didier left to be a curator at the Academy of Natural Sciences in Philadelphia she invited me to join her for two summers. She encouraged me to attend grad school and even introduced me to my advisors at the University of Chicago."
Lisa's deep appreciation for the amazing sea creatures she researched in grad school is evident.
"Stingrays are gentle," she says. "Manta rays have brain-warming comparable to a mammal and are highly intelligent as a result."
"I studied how they evolved in the way they moved, their locomotion," Lisa continues as she extends her arms to move like a graceful bird. "The highly-evolved manta rays flap their pectoral fins like birds."
Lisa received her PhD in four and a half years when most do it in six, but decided the research scientist's life with a "publish or perish" mentality was not for her.
Two teaching positions followed. The first was at Wittenberg University in Ohio as a tenure-track professor in Comparative Anatomy of Vertebrates and Human Physiology and the next was back home at the University of Puget Sound teaching Introductory Biology.
But Lisa had little tolerance for the lack of passion for learning in her students. So she made her exit from academia and her entrance into business.
The path to a successful business
When Lisa and her husband at the time launched a business, she devoured more than 100 business and marketing books giving her what she calls "my own MBA." Though the business had national success, divorce ended her involvement after five years.
She went on to work in sales for George May International where she gleaned even more learning.
"Every day, I talked to businesses across the state about their successes and failures," says Lisa about the large business consulting firm. "I recognized things I could have done better in my first business and what to do if I ever had another."
Lisa soon met her future husband Chad (CJ) Poundstone, who today is the co-owner of Mortgage One Northwest but was on active duty with the Air Force at the time. For a while after they met, Lisa took a hiatus from work, but the question kept repeating in her mind, "What will I do next?"
And that is where her professional life took an interesting turn.
A diversion to the right brain
While teaching in Ohio she had watched every episode of TLC's "Trading Spaces" and later "Designed to Sell." The new concept of home staging intrigued her, especially since her Mom, a Realtor from Yelm, had shown her many vacant homes while she was growing up.
Studying directly under Barb Schwarz, the creator of the Home Staging® concept, Lisa then added the Accredited Staging Professional (ASP®) designation to her name, right after "PhD."
In 2009 Lisa launched Design Smart Home Staging and Redesign with an ambitious business plan and lofty goals, all of which have since been exceeded.
Design Smart is now in its fifth year, has four employees, a 7,400 square foot warehouse of home staging inventory and has staged as many as 40 vacant homes at one time. It has expanded to include home color consultations, professional organizing, and wardrobe and styling consultation.
Lisa is a wife and mother of two who says that her capable employees allow her to find time for her kids' activities and enjoying friends. She was recently invited by two print publications to be a contributing columnist on home staging and design tips.
Lisa believes everything has happened for a reason. Though her two paths seem unrelated, Lisa's past experiences and her determination have resulted in the booming business she is proud of today.
If you ever meet her she will tell you, "The investment in home staging is always less than the first price reduction." And, if you are really fortunate, she may relate a thrilling story about her experience with the amazing batoids.