By Morgan Willie

If you're looking to experience the Puget Sound like never before, head on over to Tugboat Annie's at West Bay Marina in Olympia. This waterfront restaurant offers beautiful views, quality food, and something a little out of the ordinary: kayak rentals.
For $20 – $30, you can take a kayak out for two hours and explore the sound from a different perspective. It's a great opportunity to appreciate the beauty of Olympia's oceanic environment.
My friend, Sarah Minning, and I had a few hours to spare one sunny afternoon, so we decided to pack a lunch and rent kayaks at Tugboat Annie's.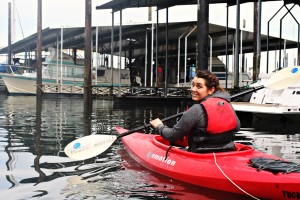 Upon arrival, we talked to one of the friendly members of the restaurant's wait staff, who gave us safety whistles and a short manual about the rental process. Then, we trotted over to the life vest and paddle shed to pick out our kayaks.
Getting into the kayak was a little challenging at first – be careful, those babies will overturn before you can say, "Help! I'm tipping!"
However, Tugboat Annie's has the dock set up so that you can position yourself securely, and check to make sure you've got all the necessities before pushing off.
Sarah and I enjoyed the stillness and tranquility of the bay. It was quiet and clear with the exception of one or two larger boats that eased into the marina. We saw gulls and jellyfish, and others have reported spotting seals as well. There's a decent view of the state capitol building and several photo-ops for those with a keen eye.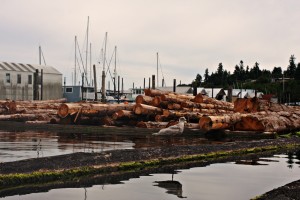 However, I would not recommend bringing an expensive or heavy camera along. I was a little paranoid to bring my DSLR into the kayak with me after almost tipping at the dock. A lighter, more compact camera with a wrist-strap would be ideal for this occasion.
I noticed that Priest Point Park wasn't too much farther than we had already gone. It would make a wonderful pit stop to settle the kayaks at Priest Point for a bit. One day, I might rent a kayak and have lunch out on the beach.
There are single and double kayaks offered and around 10 to 12 available in total. I can imagine a large family having a ball paddling around the sound for a couple hours. It would make for an excellent family outing or a date with a friend.
Plus, there are breakfast specials for renters during the weekend. A purchase of two single kayaks, two hot breakfasts, and two cups of coffee is just under $50 for the morning. This means you can fill up before you adventure out onto the water. Annie's selection of food is so great, and renting a kayak is so easy that it would be a shame to pass up such a wonderful offer.
Renting kayaks through Tugboat Annie's was a fantastic experience and Sarah and I enjoyed our time on the water immensely. Just before we returned to the dock, Sarah told me, "I think I've found a new place to relax after a bad day." I'd have to agree with her completely.
For more information on Annie's kayak rentals, click here.