By Emmett O'Connell
Priest Point Park is named for the small community of missionaries that came to Puget Sound in 1848 in hopes to convert local Indian tribes to Catholicism. The Oblates of Mary Immaculate mission only lasted 12 years, but the priests who lived there had a significant impact on Olympia.
Father Pascal Ricard , the leader of the mission, first called the site "St. Joseph of New Market" for the community at the far head of Budd Inlet where Tumwater is now. The priests cleared the land, planted a garden and built a chapel, a boarding structure for Indians and a school.
According to David Nicandri, the missionaries chose their site because it was nearby an already existing Indian village site located between tidelands and the mouth of Ellis Creek.
Ricard was eventually granted a formal land claim for the point, at which time its ownership passed on to him. He was recalled to France in 1857 and passed away in 1862, leaving the property to two Oblate members living in British Columbia. The mission was formally closed in 1860 and then sold to developers in 1867. That owner subdivided it and for years attempted to develop the property. Those plans floundered for thirty years, and in the 1890s the property was foreclosed on due to unpaid taxes.
In 1906, the current state of Priest Point Park finally came into view when civic activists in Olympia pushed for the city purchase of the park. Interest in the park sparked a political battle between the city (which wanted to buy the land) and the county (which would have rather sold it to private interests for more money). The issue was settled after Olympia sued in federal court, seeking an injunction against the county sale. Through public and volunteer efforts, the property was purchased by the city and a public park was established.
One important irony is that between the sale of the mission land claim and the purchase by the city forty years later, the only parts of the old mission that were developed (and therefore not part of modern Priest Point Park) was the mission site itself.
In the early years, the most striking feature of the park was a Swiss style chalet donated by Tumwater beer baron Leopold Schmidt. Many Thurston County residents have vivid memories of visiting the park, including Winnie Olsen, a life long Olympian.
Of the zoo, Olsen says, "We loved to visit the zoo, which was located on the south side of the park, at the foot of a slight decline. A row of wooden pens housed a variety of animals – changing from year to year. There were wolves, foxes, coyotes, raccoons, deer and several bigger animals. I believe one summer there was a live bear on exhibit."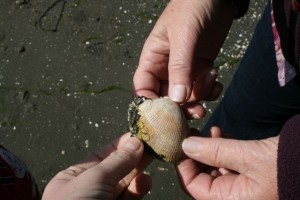 "In my grade school days (1928-30) we had several class hikes to the park from Washington School –duly chaperoned. Not chaperoned, about 8th grade, were a couple of visits to the Priest Point Park 'swimming hole.' A narrow dirt road wound off East Bay Drive to a pond created by a little creek. The water draining into the bay was dirty, dirty! There was no place to change clothes. Not brave enough to dress in the bushes or tall grass, we must have worn our swimsuits to the park. Anyway, the 'hole' didn't last long. By high school, we chose to go to the local lakes," adds Olsen.
One mayor of Olympia, E.N. Steele shares the story of how Priest Point Park was used to keep a group of depression era protesters away from the state capitol. Thousands of poor and unemployed protesters descended on Olympia.
Here is Steele writing in his  book "Letters from Granpa":
I shall never forget watching them come in. Police met them at the city limits and escorted them to the park. It seemed as though the end would never come. They came in every kind of a conveyance; cars old and new of every vintage, and trucks of all makes and kinds. Many had tents. Those who did not were able to provide in someway. They came in January so it was rather cold, but they soon had fires going.
These people were for the most part good citizens who needed food and comfort. Hunger makes men desperate. Part of them were farmers, but most of them were from Seattle, Tacoma, or other cities where industries had closed down, throwing them out of work. There was no social security in those days, but there are always radicals and at a time like this they stir things up and really make trouble. We did all we could to make them happy.
But, negotiations with the state legislature for some sort of economic relief were slow going and conditions at the park went downhill.
Sanitary conditions were especially bad. As mayor of the city it was up to me to get them out of town. I submitted the matter to the Director for the State Department of Health. He directed a letter to me, stating that they must move at once, in the interests of their own health as well as the entire city, should an epidemic break out. I wrote a letter fixing a date for their departure. It was sent out and served on the leaders. Copies were posted on the trees.
They sent word they would not leave. Some of the most radical made speeches trying to stir them to fight. Rumors were whispered around town indicating real trouble. I called a meeting of the businessmen and others. After advising them of the entire situation, I asked for volunteers to be sworn in as deputy police. Those present volunteered almost to a man. The new police were organized. None were to carry guns. Each of these hundred men were to assemble at 8:00 A.M., at the Chief's office, each wearing a badge. Each of them was given a short club to be used only in emergency. By 8:30 each was at his assigned post. There was a string of men on each side of the road the trespassers were to follow. At that time the Chief of Police entered the Park. The men and women were standing around in groups but showed no signs of moving out.
They indicated that they were not leaving and tried to get the Chief into an argument. His only comment was that he had a hundred deputies and the State Police at his disposal and that unless they were on the way by nine o'clock he had instructions from higher up to place them all under arrest. Some grumbled but some began to pack, others followed and at the appointed time they were on their way.
I failed to tell you that after a meeting about midnight a State Police Officer came to me and said there might be trouble as several of the visitors had been hanging around all evening. He took me by the arm and we went down a back way that I did not know was in existence, to the garage which is in the basement where I had my car. He rode home with me and to my surprise I found a shadow police had been on guard for the protection of my family.
That was the only time in my life that I have had to be guarded by secret police.
Today Priest Point Park is by far Olympia's largest and oldest park. The City of Olympia has continually added features throughout the decades including concerted efforts in the 1950s, 60s and 70s. The current orientation of the park — including the one way drive on the east side of the park, parking lot on the west and bridge connecting the two over East Bay Drive — was finished in 1972.
At one point, Priest Point Park was Olympia's only park. Today, the city boasts 39 parks covering almost 1,000 acres. Even now, Priest Point Park itself covers just less than a third of those total acres.
If you're interested in taking a close look at the history of Priest Point Park, the city is offering a walking tour of the park three times this summer during their "Explore Your Park Series."
Resources and additional reading
Letters from Granpa, by E.N. Steele
Memories of Priest Point Park, Olympia Historical Society
Priest Point Park Maintenance Plan, City of Olympia
Priest Point Park, Washington State Department of Archeology and Historic Preservation
Olympia's Forgotten Pioneers, David Nicandri