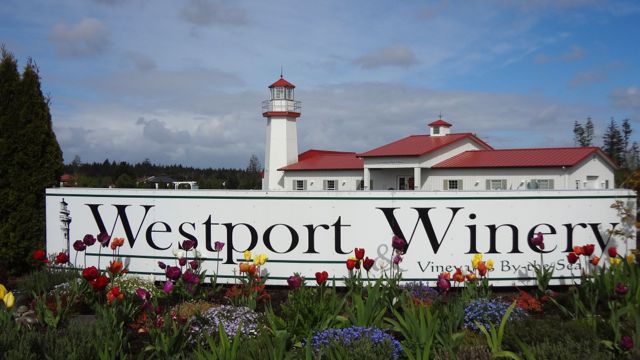 Submitted by Westport Winery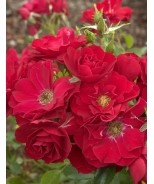 Tah Dah! The new secret garden is revealed at Westport Winery. It is a wine-themed garden with wine bottle edging, a wine barrel fountain, a bottle tree, wine barrel seating, and a planted wine press. The wine-named plants include: Merlot Coneflower, Summer Wine Daylilly, Raspberry Wine Bee Balm, Red Wine Lilac, Spilled Wine Weigela, Summer Wine Ninebark, Wine Common Periwinkle, Chardonnay Pearl Deutzia, Burgundy Lace Maple, Chateau Merlot Shrub Rose (shown), and Gallo Red Gallardia. All of these plants are also available to purchase in the nursery at Westport Winery.
Westport Winery and Vineyards By-the-Sea with the outdoor sculpture garden, grape maze, and bakery, is located on the corner of Highway 105 and South Arbor Road halfway between Aberdeen and Westport. Come see for yourself why Westport was named the 2011 Washington Winery to Watch by Wine Press Northwest, voted 2010, 2012 and 2013 Best Wine Tour by King 5 Evening Magazine viewers, and Best Wine in Grays Harbor by The Daily World.
The winery, bakery, gift shop, nursery, and restaurant open daily at 11 a.m. with lunch offered daily from 11 a.m. to 4 p.m. On Friday and Saturday, dinner is served from 4 p.m. to 8 p.m. and dinner reservations are recommended by calling 360-648-2224.
Kim Roberts
Westport Winery
1 South Arbor Road
Aberdeen, WA  98520
360-648-2224
www.WestportWinery.com
2012 Best Northwest Winery Tour King 5 Evening Magazine
2011 Washington Winery to Watch Wine Press Northwest
2010 Best Northwest Wine Destination King 5 Evening Magazine

"Filled with harmonious connections to the sea, Westport Winery is a coast traveler's dream."