By Marti Schodt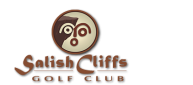 Dating can be tricky. You've got to look phenomenal, smell delectable, and speak like you've recently memorized not only the dictionary, but also the complete joke history of every comedian to ever exist. Aside from presenting the best possible version of yourself, you also have to plan a memorable date that will ensure a lifetime of happiness (or at least a couple of laughs).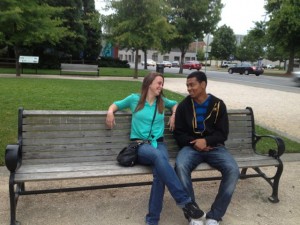 The planning of the date is arguably the most daunting aspect, especially when you're low on cash and ideas. But fear not, eager dater! For there are countless opportunities for fun and romance in your very own Thurston County!
1.  Have a picnic.  Picnics are relatively low maintenance. All you need is a blanket, some food, and the perfect grassy knoll. Sure, you might have to battle some ants and the occasional bumblebee, but it'll be worth it when you're laughing with your beau in the glorious sunshine. (Do not attempt a picnic in the rain.) Some locations to consider for operation picnic party: Priest Point Park, Capitol Lake, Tumwater Falls, or your own backyard.
2.  People watch. We all do it. An interesting person passes by and we're engrossed by their every movement, word, and gesture. While people watching is typically viewed as a time waster, something to be done at airports or in line at the grocery store, it can also make for a super fun date. Find a bench at the Olympia Farmers Market or Capital Mall and just see who walks by. Maybe make a game of naming the people and trying to guess at their backstories.
3.  Stargaze. Staring up at the heavens is one of the most romantic things to ever grace this earth. There's something just plain magical about glancing skyward and seeing millions of twinkling lights. All you need is an open field, back yard, or rooftop to be transported to another galaxy. Snuggle up and count shooting stars, or maybe bring along a laptop and watch a movie under the stars. You really can't go wrong with the cosmos on your side. Bonus points if you watch the sunset too.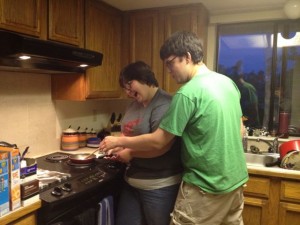 4.  Cook off. Eating is pricey, but most people require food in order to be at peak dating potential. Instead of taking your date out to eat, invite them over for a homemade feast. If you can actually cook, find a simple recipe online and have your significant other help you make it. If you can't cook cereal, try a different approach: make it a low-stakes competition. Using only the ingredients already in your home set a time limit and see who can make the best meal. Winner gets to plan the next date.
5.  Photo shoot. Taking pictures in unbelievably fun, and provided that either you or your date has some form of camera, totally free! Hit up all the local sights: Olympia Farmer's Market, the waterfront, Big Tom's, the kissing statue, the downtown Heritage Fountain, maybe even try to snag a few shots of Mt. Rainier. Take turns taking pictures of each other, take some selfies, and ask friendly passerby to get a couple shot. At the end of the day you'll have mementos to remember the awesome date.
6.  Go for a dip. With the recent stretch of warm weather, a swim is always a great and cheap date. Head out to Long Lake, Lake St. Clair, Hicks Lake, or a pool if you're feeling fancy. A swimsuit and snacks can make for hours upon hours of entertainment. If there's a lull in the conversation, you can always fall back on a cannon ball contest to ease the tension.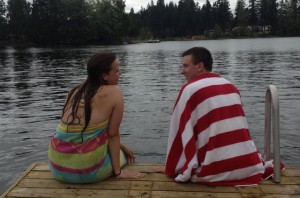 7.  Thrift shop. Although thrift shopping has been around since the beginning of the ages, it's had a recent resurgence as youth around the country eagerly pop the tags. Thurston County is no exception to the trend. Hit up any Goodwill or Value Village in the area and you will see countless young people rummaging through the racks. While thrift shopping is fun by yourself, it's fantabulous with other people, especially cute other people. Drive (or bus) your date to the local thrift shops.  If you want to avoid buying from a chain, try one of these three thrift stores in Lacey. Have a ball trying on all the goofy clothes or admiring the mountains of VHS tapes. Who knows, maybe romance will blossom in the ugly sweater aisle.
Find even more date ideas on ThurstonTalk's event calendar.