Providence St. Peter Foundation is pleased to announce that the 28th annual Christmas Forest raised $650,000 to fund life-saving programs and equipment. This annual event, sponsored by Titus Will, benefits the Mission of Providence to provide compassionate care to all, with special concern for the poor and vulnerable.
The focus of this year's fund-a-need was a new community care center—a hub for social services that will help people navigate a complex set of services, including access to behavioral health and addiction treatment, housing and many other services. Donors contributed more than $300,000 for the new center.
When the center opens, for the first time, social services agencies will be located together to work as an integrated resource. Center staff will coordinate individuals' care among multiple partner agencies. An advanced registered nurse practitioner will provide direct psychiatric health care, improving access to psychiatric medication when needed, and a case manager will support individuals in the short term while connecting them to long-term solutions.
"As someone who understands how important mental health is to a family and a community, I'm proud to support this project and think it's the right direction," says John Setterstrom, chief executive officer of Lucky Eagle Casino and Providence St. Peter Foundation board member.
Providence St. Peter Foundation Board Member, Kevin Schreiner, and his wife, Tammi, served as co-chairs for this year's event. "Tammi and I would like to personally thank all of the people who made the Christmas Forest such a booming success again this year," says Kevin, "from the amazing tree designers, to the wonderful volunteers, to all of those who made such generous donations to the fund-a-need, auction items, and sponsorships."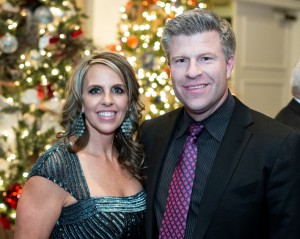 This year's raffle was sponsored by McKinney Appliance Center. The prize pool included four special items; congratulations to Sheila Brunsid, who took home the "On the First Day of Christmas" raffle tree. Sheila is a strong supporter of Providence and a resident of the Jubilee neighborhood, which provides incredible volunteer support to Providence and the entire community.
"We are so grateful to all of the attendees and donors who showed up for the Christmas Forest Gala to make it a fabulous evening," says Tammi. "What a tremendously generous community we live in!" This year's Christmas Forest was one of the most well attended to date, with thousands of community members taking part during the five-day event.