By Margo Greenman
For nearly 30 years, Providence St. Peter Foundation's largest annual fundraising event, Christmas Forest, has raised money to support Mission-driven programs and life-saving medical equipment to improve the health and well-being of people living in Thurston County.
Over the years, this five-day holiday fundraiser has helped bring everything from a Palliative Care Clinic to a Cancer Survivorship Center to the community. This year, Christmas Forest's Fund-A-Need will support a community care center designed to address the mental health and general well-being of Thurston County's most vulnerable residents.
"The purpose of the community care center is to create a single access point where very vulnerable people can come in and get access to services that will help improve their lives," says Providence St. Peter Foundation's Director of Development, Jocelyn Wood.
"When people are in need of psychiatric medicine, it can take two to three months to get that medication," explains Wood. "During that time, it's a very fast downward spiral."
To help address this problem, the community care center will be staffed by a team of psychiatric and behavioral health experts, including a nurse practitioner that can prescribe medication on-site. The center will also be led by Providence St. Peter Hospital's current Inpatient Psychiatric Unit Manager and Olympia native, TJ LaRocque.
LaRocque, who has 18 years experience as a mental health provider, says these vulnerable individuals are the most challenging patients to help. But even in the early stages of the program, LaRocque has already seen the impact a center like this can have.
"We've had some early successes collaborating a few hours a week," explains LaRocque. "We've stabilized people who were having many emergency visits a year, who were seeing law enforcement regularly, and who were kicked out of most of the services that provide food or shelter."
But providing behavioral support alone isn't enough, which is why Providence is partnering with local social services agencies to provide a full spectrum of support.
"If you are providing treatment to someone who is homeless, they fall off the cliff," says Wood. "If you provide housing but not treatment, they can also fail. But if you can provide both together, there's much faster improvement in a person's well-being."
By working together with agencies and organizations such as Behavioral Health Resources, SideWalk Homeless Services and Interfaith Works Overnight Emergency Shelter — just to name a few — Providence's goal is to provide a one-stop-shop for community members in need to get the total care and support necessary for them to get back on their feet.
In addition to benefitting the individuals who reap the services the community care center intends to offer, Wood says the new center will also have an impact on the success of downtown Olympia businesses as well.
"We know there are concerns over safety and vagrancy," says Wood. "We see this project as a way to begin helping address those concerns."
John Setterstrom, Providence St. Peter Foundation board member and chief executive officer of Lucky Eagle Casino, agrees.
"Olympia business owners are concerned about behaviors they and their customers see on the streets every day," says Setterstrom. "This project is the best answer I've seen to address the social needs in downtown. It will engage those who need help, and it's the first step for paving the way to economic development in our area."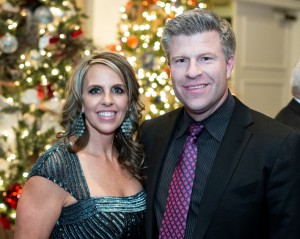 "As someone who understands how important mental health is to a family and a community, I'm proud to support this project and think it's the right direction," adds Setterstrom.
This year's Christmas Forest Fund-A-Need is different than most projects Providence has done before, but Wood says the biggest help the community can provide is by donating. You can support the community care center in a variety of ways.
The most fun way to support this need is by attending this year's Christmas Forest, which will be on display Wednesday, December 2 through Sunday, December 6 at the Red Lion Hotel in Olympia.
In addition to four days of public viewing, there are also several special events slated for the week, including Friday's Gala Dinner and Auction — Providence St. Peter Foundation's signature fundraising event. Tickets for this year's Gala Dinner and Auction — as well as tickets for other special events scheduled for the week — can be purchased online.
If you are unable to attend Christmas Forest or one of the special events coinciding with the display, you can still support the community care center by making a donation online.
For more information about this year's Christmas Forest Fund-A-Need, visit Christmas Forest online or contact the foundation by calling 360-493-7981.