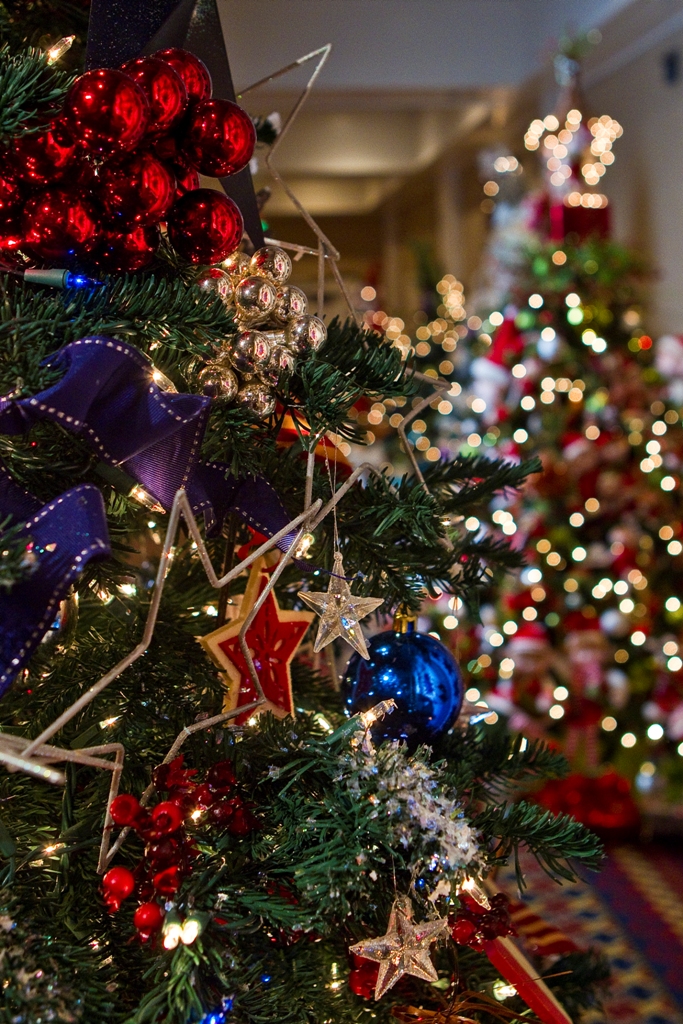 By Lisa Herrick
A reference to "The Forest" can mean something very different this time of year. Not Capitol Forest. Not the Olympia National Forest. Rather, it is the captivating Christmas Forest, a five-day holiday festival that includes opportunities to view elaborately and sometimes whimsically decorated trees, participate in special events for all ages, shop for holiday gifts and decorations, and attend a black-tie gala auction.
"Christmas Forest is truly a holiday experience for all ages and whole families. The Forest offers something for everyone to enjoy while supporting the Providence St. Peter mission," says Kelle Schalin, Special Events Manager for Providence St. Peter Foundation.
Mark your calendar for Events in the Forest: December 4-8
Christmas Forest opening day is Wednesday, December 4, 2013. This will be the first opportunity for public viewing of the trees and wreaths as well as an occasion to enjoy local musicians and dance groups performing on the public stage. Public viewing and entertainment continues throughout the five-day holiday festival with specific themes for each day. Thursday, December 5 is Senior Day Public Viewing, Saturday, December 7 is Kids' Day, and Sunday, December 8 is Family Day. Raffle tickets and gift boutique shopping will be available on each day. Click here for specific times, admissions and entertainment schedules.
Christmas Forest also offers several special events including the fun Ladies Night Out, scheduled for the evening of Wednesday, December 4. Cristina Stormans thoroughly enjoys Ladies Night Out and says, "Ladies Night Out is a wonderful way to celebrate the holiday season. The event is a perfect blend of four things I enjoy: time with close friends, good food, shopping at the booths of local merchants and most importantly, support for the mission of Providence. I have already highlighted Wednesday, December 4 on my calendar!"
Another special event is the Silver Bells Breakfast on the morning of Thursday, December 5. The champagne breakfast is sponsored by Olympia Federal Savings. Jocelyn Wood, Development and Communications Manager for Providence St. Peter Foundation says, "Olympia Federal Savings has been a long-standing and critical partner with Christmas Forest, supporting the Providence mission in every way possible." In addition to being the sponsor of Silver Bells breakfast, Olympia Federal goes above and beyond, with employees volunteering at the event and supplying the fun give-aways and beautiful centerpieces.
"Olympia Federal's generosity exemplifies the Christmas Forest spirit of giving. They are truly a significant partner to our mission," says Wood. Olympia Federal Savings recently supported a suite in St. Peter Hospital's new Critical Care Unit and through Silver Bells Breakfast is now helping raise money for stroke care.
Friday, December 6 brings the glamorous and joyous Gala Dinner & Auction. "This really is the premiere holiday event of the season," comments Schalin. "Typically gala tickets sell out quickly as there are many donors who generously support Providence while we auction the trees." During the black tie affair, guests bid on beautiful, one-of-a-kind trees, wreaths and specialty packages.
Fund-A-Need: Cancer Survivorship Clinic
Christmas Forest is Providence St. Peter Foundation's largest annual fundraising event. One of this year's goals is to raise funds to establish a permanent Cancer Survivorship Clinic, designed to promote physical, psychological, spiritual, and social well being for those diagnosed and living with cancer.
The establishment of a permanent clinic will support patients from the moment of diagnosis, through treatment and beyond. Cobie Whitten, Psycho-Oncology Consultant, believes strongly in creating survivorship services for cancer patients and their families at all points along the cancer continuum. "We have such significant unmet needs in our community for cancer survivorship. With the improvements in detection and treatment we now need to create better services to care for the quality of life for survivors," she says.
Christmas Forest has generated more than $8 million throughout its history to support the Providence mission of caring for the poor and vulnerable. Funds raised help provide life-saving medical equipment and compassionate programs such as No One Dies Alone, Hospice Respite and Comfort Care, and the Providence St. Peter Sexual Assault Clinic.
Funds from Christmas Forest also support Providence ministries in Southwest Washington including Providence St. Peter Hospital, Providence Mother Joseph Care Center, Providence Medical Group, Providence St. Francis House, and Providence SoundHomeCare and Hospice.
More than 300 community volunteers, 60 local businesses, and hundreds of individuals and professional groups have joined together to create the annual Christmas Forest.
2013 Christmas Forest Hours
Wednesday, December 4 – 10:00 am – 1:00 pm
Thursday, December 5 – 12:00 pm – 8:00 pm
Friday, December 6 (Gala Dinner and Auction) – 5:00 pm – 10:30 pm
Saturday, December 7 – 9:00 am – 5:00 pm
Sunday, December 8 – 10:00 am – 8:00 pm
All events will take place at the Red Lion Hotel at 2300 Evergreen Park Drive in Olympia.
For reservations or more information about any of the Christmas Forest events or public viewings, call 360.493.7981 or click here.