Submitted by Thurston County Prosecuting Attorney's Office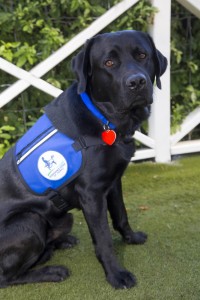 The newest member of the Thurston County Prosecuting Attorney's Office is covered in fur, walks on four legs and works for kibble and hugs. With the spirit of "aloha," we are proud to introduce Marshal, a two-year-old black lab with extensive training from the Assistance Dogs of Hawaii.
"Crime is a traumatic event for victims. As difficult as the incidents themselves can be, giving statements about what happened and navigating the criminal justice system forces a victim to relive that challenging trauma. A facility dog, like Marshal, can offer a soothing influence to make it easier for a victim to handle the stress of the justice system," said Prosecuting Attorney Jon Tunheim.
Kim Carroll, Marshal's primary handler is a senior victim advocate at the Prosecuting Attorney's Office, and will work with Marshal at the Family Support Center of South Sound (FSCSS) and the main courthouse.
Wendy Ireland, Legal Support Coordinator, will be Marshal's caretaker and secondary handler. Marshal graduated from Assistance Dogs of Hawaii program and is trained to provide companionship for many individuals by reducing their level of stress and assisting those reliving painful events.
"We are delighted to have Marshal as the newest member of our team," said Schelli Slaughter, director of FSCSS. "We know our entire community will be positively impacted."
Courthouse dogs have been in place since 2004, with 95 other facility dogs like Marshal working in 29 other states. Courthouse dogs are professionally trained canines that provide silent comfort and support to children and vulnerable victims and families. Their presence can decrease emotional trauma during stressful situations by reducing stress and anxiety.
Marshal was provided free of charge by Assistance Dogs of Hawaii. His training and placement is considered to be valued at approximately $40,000. There is no expense to the taxpayers for his services.
Find Marshal the Courthouse Dog on Facebook or follow Marshal the Courthouse Dog on Instagram.