By Mary Ellen Psaltis

Just when I am feeling the loss of summer produce, I am reminded of the saturated colors fall vegetables display. Winter greens such as mizuna and rapini, golden pumpkins and beets (both ends) invite me for a closer look. Now is the time to pull up roots and use them in all manner of soups, stews and salads. The market stalls are brimming with roots we all know – carrots and beets – and also a few we might be less familiar with – burdock and celeriac. Let's take a closer look.
I had a taste of burdock root at Wobbly Cart Farm's stall at the Olympia Farmers Market. It's mindful of carrots but earthier. Marshall Atwood was on hand to engage with shoppers and tend to the vegetables. His five years at the Wobbly Cart Farm have provided him with a wealth of experience and information. "I get to do everything," he told me. That means fixing things, driving the tractor, harvesting and answering questions from curious customers. He's likes his burdock root raw.
Burdock boasts of nutritional and medicinal power. Considered a purifier, burdock is taken to kill germs, reduce fever and increase urine flow. Known in Japan as gobo, it's also thought to help lower blood pressure and ease arthritis. You can simply eat it. Roasting will sweeten it a bit. Then it can be put into soup, stew or other casserole. It goes will with other root vegetables like turnips or rutabagas. Use sliced burdock for dipping guacamole. To reduce discoloration, put the burdock pieces into acidulated water (one tablespoon of lemon juice with one cup of water) until you're ready to use.
A fun note regarding the burdock plant: Various sources credit Swiss inventor George de Mestral with the idea of Velcro. It was those pesky burdock seeds that attached themselves to his clothes and his dog's fur. A closer look under a microscope gave a clear view of the hook-like system used by the plant to get mobile. Regardless, we appreciate Velcro for its many uses.
Another lesser know root is celeriac or celery root. Its bulbous and knobby appearance gave way to the sleek eye appeal of the celery stalks we usually see now. However, its popularity is on the rise (it was once prevalent in the U.S.) because it can be easily stored and has the variety we crave in the winter months.
Although cooked celery root is excellent in soups, stew, and other hot dishes, it can also be enjoyed raw, especially grated and tossed in salads. Raw celery root has an intense flavor that may dominate salads, so pair it with other strongly flavored fruits and vegetables. You might consider carrots, beets, and apples.
Martin and Coleen Rose's Skokomish Valley Produce array of fall vegetables looks like Thanksgiving. The Rose's have been tending to their land for 30 years. You can behold the winter squash, dry onions, garlic, carrots and beets. It all comes from their three acre garden. You'll be amazed to know that every stalk and leaf is transported in one car. The family business is located ten miles north of Shelton and is run by the Roses with occasional help from their children and grandchildren.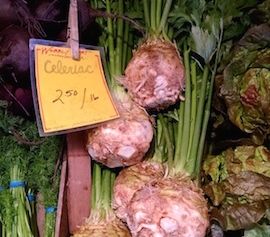 Martin Rose said that as the weather gets cooler the vegetables get sweeter. His appreciation for growing food was engendered by his grandparents, who raised him and his brother. A garden was part of life and he liked it.
Carrots are still many people's favorite go-to vegetable. The local carrots are so much sweeter and tastier than any I have found in the grocery store – organic or otherwise. Try some for yourself. It's soup time and carrots are happy to oblige. They also like being shredded into muffins and bread.
Carrot Ginger Soup 
Here's a soup that is easy to love. You can dress it differently for each bowl. The basic soup is a mixture of sautéed carrots, onions and minced ginger with vegetable or chicken broth. Puree and add liquid until it gets to the consistency you like. For variety add cream or yogurt, and spice it up with orange zest, parsley, dill or fennel. Add garlic or chives. Sprinkle with cinnamon. You get the idea.
Behold the bounties of fall produce. In addition to Wobbly Cart and Rose's Skokomish Valley Produce, discover your roots at Kirsop Farm, Pigman's Organic Produce Patch, Stoney Plains Organic Farm and Calliope Farm.  All of these produce stands are located at the Olympia Farmers Market.  Hours and directions can be found here.
Eat Well – Be Well