By Mary Ellen Psaltis

"Ever since I was a little kid I have been interested in growing things," Jan Pigman told me as we looked out over the growing fields of Pigman's Organic Produce Patch. "If you put a seed in the ground, you can get a flower or something to eat." That love has lasted her lifetime. If you could visit all the places she and her husband Dean lived during his 21 years in the Army, you would find the now mature fruit trees. She also left behind organic gardens when they moved every 2 ½ – 3 years.
At retirement, they moved to Olympia and found a lovely, fertile tract of land in the Nisqually Valley. Over a period of two years, Dean built their farmhouse. Jan started another garden. What began as a "mid-life project" has become a 26-year second career as organic farmers. Their interests blossomed into Pigman's Organic Produce Patch, which has been a part of the Olympia Farmers Market since 1990.
I am impressed that so much wonderful food can be grown in a relatively small amount of space. Their tilled 6 acres grows enough vegetables and fruits to supply seventy-five CSA farm shares (that takes about 1/3 of their abundance) and supply their stall at the Farmers Market. They grow the usual suspects – spinach, broccoli, lettuce – but the Pigmans also grow fun vegetables such as cheddar cauliflower that glows with a bold cheesy color. (Well, all vegetables can be fun when you get to know them.)
Know for sure that life on the farm is not for the faint of heart. At 6:00 a.m. the first employee arrives. Jan says she doesn't drink coffee and doesn't even have time to brew tea. I guess the sun gets her up. Dean notes that she is often in the fields until 10:00 p.m. In between all these hours a lot happens.
On our walk around the property, I noticed rows of lovely sprouts, leafy greens and vibrant veggies on the vine – and I noticed weeds. What about all those weeds, I wondered. Jan admitted that, "It's always discouraging." But we already knew that. On another note, there's a trial garden to experiment with heirloom varieties of peas (and more) and items from the Arc of Taste. The Arc of Taste, a part of Slow Food, is described as "a living catalog of delicious and distinctive foods facing extinction." Jan just likes to grow things – like okra, which according to her, no one else does.
Organic farming techniques are designed to combat weeds, bugs and disease, which are many and varied, without noxious pesticides. Jan graduated from Colorado State University after studying entomology. Enriching the soil with nutrients, such as composting tea, promotes the beneficial microbes that chew up the minerals so that the plant's tiny root hairs can absorb them. It's also essential to create environments where helpful insects will thrive. She gets to put her education to good use.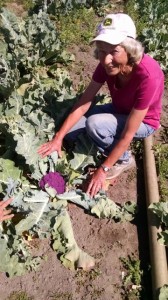 I sense the joke at the farm is that Jan and Dean are slowing down. They certainly have help, but you will still find them minding the market stall on Thursdays and Saturdays.
By my eyes, life on the farm agrees with Dean and Jan Pigman. Both eat ample amounts of fresh vegetables and spend time outside. Maybe it's just that they've been married for 47 years (to each other!).
Celeste Wade is part of their support system. She is working her second season at the farm, helping with the organizational aspects which include updating the Facebook page and website. This is where you can find the latest news, if berry picking is open and also recipe ideas. But it doesn't look like Wade spends her days in front of a computer. She's dressed to be working outside. She's checking plants and talking with other employees.
Pigman's offers internships with The Evergreen State College for students studying sustainability. They spend time learning about growing food, weeding, seeding, fertilizing, transplanting, tilling and what it's really like to be at a farm. It's also a popular place for the younger students who come for field trips and for selecting pumpkins in the fall. Others come to the farm to pick berries.
This is my memorable Jan Pigman story: When I met her many years ago, she told me that she liked the beet tops (greens) and Dean preferred the bottom. I didn't even think of eating the greens. I lopped them off and took them straight to my worm bin. Not anymore. Those fresh, sweet leaves are now one of my favorite parts of summer smoothies. I'm grateful to have expanded my vegetable experiences.
You can taste their bounty by visiting them at the Olympia Farmers Market. Check out Pigman's Organic Produce Patch Facebook page for activities at the farm.
Here's a tip: Taste the Sungold tomatoes – small yellow balls that taste of sweet sunshine. I could spend my day standing in their fields popping tomatoes and berries. I do appreciate my farm share. I get all the fruits of their labors and someone else did all the weeding!
Eat Well – Be Well