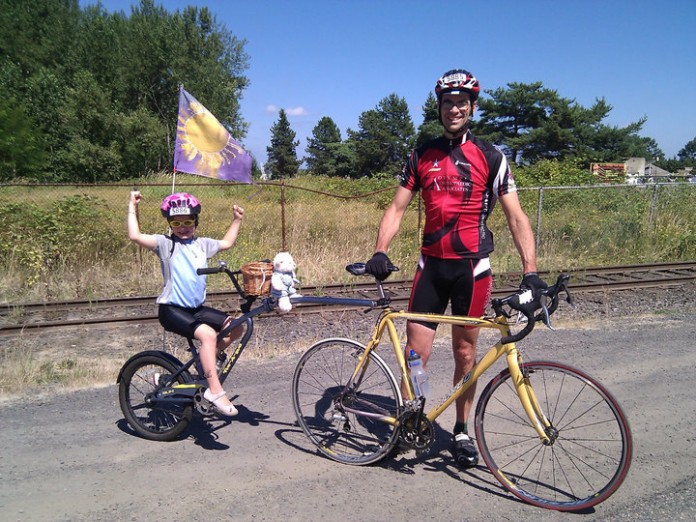 By Gail Wood

It was a unique father-daughter moment – one Andy Rosser will always treasure.
Andy, with both hands gripping the handle bars of his bicycle, was cruising along, taking in the sights. And riding along next to him was his 10-year-old daughter, Annie, pedaling mile after mile.
This wasn't just an around-the-block jaunt. Together, they were riding the 2014 Cascade Bicycle Club's Seattle to Portland Bicycle Classic. Last year, Annie's portion of the ride with her dad was about 117 miles, traveling from Seattle to Olympia. She didn't do the entire 204 miles of the STP ride. But with Andy's passion for riding, it's a good bet that day will eventually come.
"It's fun," Andy said about riding with his daughter. "It's something she wanted to do."
It wasn't the first time Annie has gone bicycling with her dad. She was riding a bike by the time she was 3, pedaling on a bike connected to her dad's bike.
"We've spent a lot of time riding together," Andy said. "She was really excited about it."
Andy, who owns Rosser Chiropractic in downtown Olympia, had completed the STP several times before Annie was even born. He figures he's done the ride about seven times, always doing it in two days. When Annie turned 6, Andy decided his daughter was ready to give the STP a try.
"I wanted her to try it out so we decided we'd do that when she was 6," Andy said.
Andy fixed up their tagalong bike. He put a wicker basket on the front of her handle bars and filled it with good stuff, like snack bars and stuffed animals.
"I wanted her to have stuff along the way to keep her entertained," Andy said. "She was pretty happy to be out there. She was part of it all."
Andy, as the proud papa, was sharing his bicycling passion with his only child.
This weekend, when the annual STP travels through Yelm, Tenino, Centralia and Chehalis enroute to Portland, Andy and Annie won't be riding. But, they will be participating. Annie, along with some friends from Rad Racing Northwest, will be cheering riders as they pass along the Chehalis Western Trail. Andy will be at a rest stop in Centralia ready to help riders adjust their bikes for a better fit, modify handle bars and seats and perform minor repairs. He'll be volunteering for the Washington State Chiropractic Association, making sure bikes fit riders properly.
"After 100 miles, someone is going to know if they need some adjustment," Andy said with a chuckle. "If someone has tingling hands or feet that are asleep or knee pains when they are riding, there are many things you can adjust on the bike to get them more comfortable."
But just because Andy, who is 43, is volunteering with bike adjustments for this year's STP, doesn't mean he's not going to do the ride again sometime in the future.
"I have no choice," Andy said with a laugh. "It's my destiny." And apparently it's his family's destiny, too. Besides Annie, Andy's wife, Juliet, has ridden the STP with him twice.
With 10,000 people doing the ride, and about 1,000 of those riders reaching Portland in one day, the roads can get a little congested with bikers. There is also a wide range of skill levels.
"I have to say it's crowded," Andy said. "I think it's so incredibly unique to see that many bikes in one place all at once, including people who are out riding for the first time and people who have done it before. It's so much fun to watch."
The STP, which was started in 1979, isn't just a two-day event. Participants log months of preparation and hours of biking. Andy likes getting in a couple of long 75- to 100-mile rides for training. But since he's bikes year round, his level of fitness is always good.
"I may ride a couple of thousand miles," Andy said about his preparation for the STP. "I tend to ride year around. But the summer time is when you start to do those longer rides."
Most of the riders will camp along the way, staying in Tenino or Centralia. In the past, a few of the more hearty bikers did a round trip – a 400-mile excursion – in two days. All of the riders will pass through Thurston County along state Route 507 from Roy to Chehalis, stopping occasionally along the way. Yelm is one of the 10 rest stops on the route. In a recent STP ride, riders from 46 states and seven countries signed up.
And for the past four years, the STP included a little girl from Olympia riding along with her daddy.