By Grant Clark

You know those people who say there aren't enough hours in a given day? Sure you do. Odds are you've uttered those words yourself on more than occasion. Your to-do list balloons so much it simply becomes so overwhelming and daunting there's no possible way you could complete every task within the 24-hour timeframe.
Yeah, those people.
Naomi Yamamoto isn't one of them.
"Her skill set is incredible," said Mark Mansfield, who was Yamamoto's golf coach the past four years at Capital High School, "but out of all the skills she possesses, her greatest one has to be her organizational skills."
It's a juggling act to say the least.
Yamamoto recently graduated from Capital High School – which is time-consuming by itself – but she graduated top of her class with a 4.0 grade point average with a full International Baccalaureate (IB) diploma. (If you're unfamiliar with IB think of it as Capital's version of AP classes. Point being they just aren't handing them out.)
Successfully tackling all of that would mean your plate was more than full.
However, apparently Yamamoto wasn't busy enough and also ordered plenty of side dishes – clarinet, piano, National Merit scholarship recognition, saddleback riding, and the aforementioned golf, just to rattle off a few.
"I guess I just like to keep busy," said Yamamoto, who also participated in cross country during her senior year at Capital. "It's always been that way for me."
She's a Swiss Army knife – if said knife was also acing all its classes while learning multiple musical instruments and participating in a complicated sport like golf, which requires equal parts technique, athleticism and patience.
"I don't know how she finds the time," Mansfield said. "Plus she's not only doing all these things, she's exceptional at them."
Mansfield has first-hand experience of what Yamamoto is capable of accomplishing on the golf course. His inaugural season as coach at Capital was her freshman year.
"It was a very senior-dominate team that year," Mansfield said about the 2012 squad. "Naomi didn't say much, just put in the work and at the end of the year she won a playoff to advance to the state tournament."
It would be the first of four trips to the state tournament for Yamamoto – a rare occurrence in the high school ranks.
"I was very scared. I was so nervous during that first trip to state," said Yamamoto, whose father introduced her to the sport in third grade. "The goal coming into my freshman year was just to make it to state. That was the big hurdle for me. I didn't make the cut after the first day, but I felt making it that far helped me the next three years."
It marked the only early exit at the state level for Yamamoto during her high school career. She would advance to the second day of state play in each of her last three seasons.
As a sophomore she finished 13th overall at the Class 2A tournament, helping the Cougars finish fourth overall as a team.
She was equally impressive her junior year, finishing 21st in state, while guiding Capital to a third-place trophy.
"She's just so mentally tough. She's not a long ball striker. She's had issues with her short game, but mentally, you're not going to find anyone tougher," Mansfield said. "A year ago at districts she wasn't playing that well. She was a couple strokes behind the girl she was matched up with. I asked her how she was doing. She calmly tells me not to worry, she's going to catch her on the back nine. And she did. She is just so confident and knows exactly what she is capable of."
During Yamamoto's senior year, Capital was once again back in the 3A ranks, facing a much deeper field of competitors.
"With the way state is scored, you usually see the eventual state champion have four or more players in the tournament," Mansfield said. "We had two."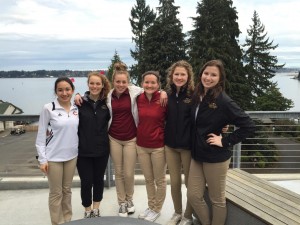 Despite advancing just two golfers – Yamamoto and junior Mica Livingston – to the state tournament, the Cougars were still able to secure their third consecutive state place, finishing sixth overall with Livingston claiming 21st and Yamamoto earning 25th.
"We did feel like underdogs going into state," Yamamoto said. "We just decided to go out there and play and try our best. I think (finishing sixth as a team) had more of an impact because we were back in 3A."
Yamamoto plans to swap from golfer to golf instructor during her summer.  She hopes to help teach the sport to youths at the Olympia Country and Golf Club before attending the University of Chicago in the fall.
"Chicago was my top school all along," said Yamamoto, who is also on the waiting list at Yale, Harvard and Brown. "I just fell in love with the campus, and their undergraduate programs are great. I haven't decided what I want to study yet. There's a lot of different things that interest me."
That has been more than proven true.