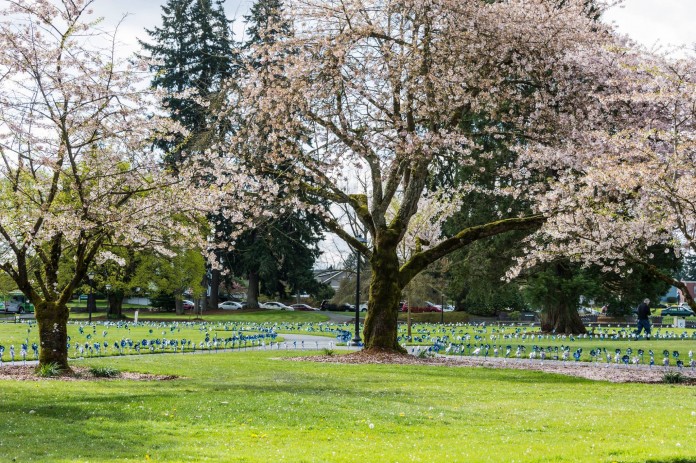 Submitted by Thurston County 
Thurston County Commissioners issued a proclamation today designating April 2015 as "Child Abuse Prevention and Awareness Month in Thurston County."
Thurston County's proclamation is part of a larger national campaign in April to raise awareness about child abuse. Since 1983, communities across the country have taken time in April to promote local efforts and programs that help prevent child abuse and neglect, support families, and strengthen communities.
"My colleagues and I have presented this proclamation each April for several years now. But it's just as important to bring attention to the issue of child abuse in our community today as it has ever been. Our work is not done," said Thurston County Commissioner Sandra Romero. Romero is also Chair of the Thurston County Board of Health, and chair of the Thurston Council for Children and Youth (TCCY), a group working to bring attention to domestic violence in our community and to identify preventative measures to reduce harm to children.
Romero continued, "We've made great strides here in Thurston County to bring resources and partners together to support children and families in crisis, and it's important that we celebrate our success and thank those public and private partners. But even one case of child abuse is too many. We have to keep working and keep improving our community support network to help families in Thurston County overcome the factors and stressors that can push parents and caregivers to the breaking point. If we want to have healthy, successful children in Thurston County, it's up to us as leaders to create a healthy community that surrounds and supports our children."
Thurston County Commission Chair Cathy Wolfe said, "Studies have shown time and again that protecting our children from abuse, neglect, and domestic violence today means they are less likely to have problems with addiction, unemployment, mental illness, or run-ins with the law later on in life. Protecting a child today ensures a better community tomorrow—that's how we all benefit from speaking out against child abuse."
"I think this is a great opportunity to remind people that child abuse, sexual assault and domestic violence aren't just city issues. Whether you live in the city, the suburbs, or out in the country, we are all impacted by these issues, and we all have a responsibility to protect our children and support our families all throughout Thurston County," said Commissioner Bud Blake.
The proclamation was accepted by Tambra Donohue, Director of Monarch Children's Justice Advocacy Center, and Monarch's facility dog named Astro. Similar to a guide dog or service dog, Astro's job at Monarch Children's Justice Advocacy Center is to assist and comfort children and their families as they cope with the stress and trauma that often occurs during the investigation, treatment and prosecution of crimes like child abuse. Monarch's mission is to reduce the incidence and impact of child abuse in our community.
"I'm still amazed at how much light and love and healing just one special dog like Astro can bring to a whole community," said Donohue. "He's been a great addition to the Monarch team, and I know he's made a difference in the lives of hundreds of children and adult survivors who have come to us for help and sometimes quite literally lean on him for support."
Donohue continued, "I'd also like to thank Monarch's community partners that are either co-located with us or provide services at the center—Astro's 'pack,' if you will. Providence Sexual Assault and Child Maltreatment Clinic, the Thurston County Prosecutor's Office Special Victims Team, SafePlace, Cielo, Child Protection Services, Community Action Council and local law enforcement agencies all make a difference every day in the lives of children in our community. Thank you so much for this recognition and for helping us raise awareness about preventing child abuse."
Do you know a child who is being abused? Call the DSHS 24-Hour Hotline:
1-866-END-HARM (1-866-363-4276)
For Parents:
Olympia Crisis Clinic 24-Hour Hotline: 1-800-627-2211
SafePlace 24-Hour Sexual Assault & Domestic Violence Hotline: (360) 754-6300 or for TTY call (360) 943-6703
For more information about Monarch Children's Justice Advocacy Center and their no-cost therapy services, advocacy services and forensic interviewing program for child abuse victims and families, visit their website.
To learn more about DSHS Child Protective Services and other DSHS programs and resources dedicated to protecting children, click here.
For a list of emergency service contacts and other resources for Thurston County families in need, go to the Thurston County website and click on the link under the heading "April is Child Abuse Prevention Month."