Submitted by Thurston County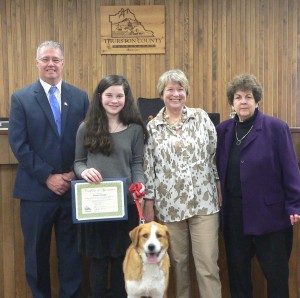 The National 4-H Council will launch its fifth annual Spring Paper Clover Campaign on Wednesday, April 22. The 4-H Paper Clover campaigns raise thousands of dollars for local 4-H programs in Thurston County and across the country.
Each year in the fall and spring, the National 4-H Council teams up with Tractor Supply Company and Del's Feed and Farm Supply stores to raise money for local 4-H programs with the sale of paper clovers for a donation of $1 or more at checkout. In Thurston County, the Del's Feed and Farm Supply stores in Olympia and Yelm will sell the paper clovers from April 22 through May 3, with 65 percent of the funds raised at the two stores going directly to fund 4-H programs in Thurston County. As in years past, 5 percent of Paper Clover proceeds raised in Thurston County will go to the statewide 4-H office in Pullman, and 30 percent will go to the National 4-H Council.
"We are so grateful for the support our friends at the Olympia Del's store and the Yelm Del's store," said Thurston County 4-H Program Coordinator Dianna Ullery. "We've partnered with them each year for our clover campaigns, and they are just so supportive of the kids and the 4-H programs. They have been instrumental in helping Thurston County 4-H offer great programs for our local youth year after year."
In 2014, The Yelm Del's Feed and Farm Supply store raised a total of $2,365 in the fall and spring fundraisers, making it sixth in the state. The Olympia Del's Feed and Farm Supply store raised a total of $1,961, coming in at tenth in the state. Together, the two stores raised more than $2,800 that went directly to the Thurston County 4-H program.
This year, Thurston County Commissioners helped kick off the Spring Paper Clover Campaign by inviting local 4-Her Fiona Cowell and her dog Daisy to the April 14 Board of County Commissioners meeting. Fiona was recently named one of Washington's top two youth volunteers of 2015 by The Prudential Spirit of Community Awards, a nationwide program honoring young people for outstanding acts of volunteerism. One of Fiona's regular volunteer activities is to take her dog Daisy to visit local nursing homes where residents can get some "pet therapy." Fiona and other members of her 4-H club have also raised money and donations for a local pet shelter, cleared vegetation that was clogging a salmon stream, cleaned animal enclosures at a wildlife rehabilitation center, stuffed stockings for children in need at Christmas, and collected food for a food bank, among other volunteer activities.
"Fiona should be an inspiration to us all—she's still four years away from having a driver's license, and look at all of the things she's accomplished! She is truly a local hero, and her national volunteerism award is proof of that," said Thurston County Commissioner Bud Blake. "I know the whole community is really proud of her."
"I am just so grateful to Fiona and her 4-H club for all of the wonderful things they have done for our community," said Commissioner Sandra Romero. "We know the 4-H program is good for our young people, but Fiona's accomplishments are proof that the 4-H program benefits our entire community."
Commission Chair Cathy Wolfe said, "Fiona and our other 4-H youth are tomorrow's civic and business leaders, and from what I can see, they are well on their way to making this a better community for all of us."
The Thurston County 4-H program is a partnership between the private, non-profit National 4-H Council, the Washington State University Extension program, and Thurston County government. What started as a handful of agricultural clubs for youth in the late 1800s and early 1900s has grown into a community of 442 members supporting 89 clubs in Thurston County, and 6 million young people across America learning about agricultural techniques, technology and research through practical "hands-on" learning.  The national 4-H organization is a unique partnership of the National 4-H Council, the U.S. Department of Agriculture (USDA), more than 100 land-grant universities across the country, and more than 3,000 county offices that form the land-grant university Cooperative Extension System.
To learn more about the Thurston County 4-H Fall Paper Clover Campaign, or to find out more about the WSU Thurston County Extension 4-H programs and membership, visit http://thurston.wsu.edu or call (360) 867-2151. WSU Extension programs and employment are available to all without discrimination.