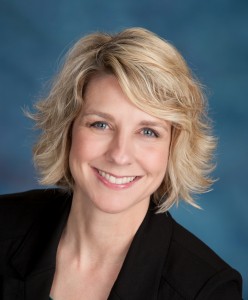 Ronelle Funk is not only the president and CEO of Ronelle Funk Insurance, one of the top insurance agencies in the South Sound, she is also a passionate supporter of community colleges and the value of student financial aid.
Her passion is fueled by her own personal experience when she sought educational opportunities soon after arriving in Thurston County about 28 years ago. Those opportunities launched her own successful career path of helping people.
"After moving to the area in September 1987, one week before classes were to start, I walked into the admissions office of South Puget Sound Community College (SPSCC) worried I couldn't enroll so late in the year," reflects Ronelle. "They said, no problem, you can start college next week."
Once in college, she knew she needed a job.
"I went to the student employment board and saw that the financial aid office was looking for a student employee and I got the job," Ronelle explains. "Then, I actually applied for financial aid and got it. Walk into school one week before to start college and then get financial aid to help with tuition. I just think it all is the greatest thing ever invented."
She was fortunate at her new job to work with women who also helped shaped her future.
"The amazing Rhonda Coats was my boss, then the Assistant Director of Financial Aid," Ronelle continues. "She is currently the Vice President of Student Services at the college and was recently recognized by the YWCA with the 'Women of Achievement' award. Rhonda's boss was Kate Bligh, then the SPSCC Director of Financial Aid and Student Employment. Both of these women were my mentors, both amazing women."
Both personally and throughout her career, Ronelle has gained and maintained a deep appreciation for the opportunities she was afforded. Her career path has led her to develop a keen awareness of student financial aid, something she says provides many options for young students but yet are often underutilized.
"I didn't have much information in high school," says Ronelle. "I would have a ten minute school counselor meeting. They would look at my record and say, 'Okay, you're on the college track,' and would send me back to my classroom. Kids in high school need more information because their view of options is often limited—they either think their choices are a four year degree or a minimum wage job."
She is passionate about the many other directions that are so readily available to our youth right here in our community.
"Only 20 percent of students will finish a four-year degree," she explains. "The majority of the kids, I call it the 'neglected majority,' need some skills training, but they are not going to get a bachelors degree. What they need is career and technical education often offered at our community college. They need to build skills."
After Ronelle transferred to University of Washington and graduated, she was the Assistant Director of Financial Aid at South Seattle Community College and the Interim Director of Financial Aid at Cascadia Community College where she launched the school's financial aid department.
She then thrived as the Student Services Specialist at the Hawks Prairie branch of SPSCC while she earned her Masters degree at Saint Martin's University in mental health and counseling. "I did admissions, advising and counseling part-time," says Ronelle. "It was fun because I was helping students all day long."
Ronelle also served as adjunct faculty in human development, career and leadership classes at SPSCC. She later became the Director of the Tech Prep program working closely with local high schools to prepare their students for the community college.
"I loved speaking to high schools about our colleges and advising them on career paths and financial aid," reflects Ronelle. "Taxpayer money goes to the government to help fund federal student aid. When that aid is grant money, like the federal Pell Grant or the federal Supplemental Education Opportunity Grant (FSEOG), it typically doesn't have to be paid back. There are also work study programs and deferred interest loans. There are so many amazing opportunities."
Ronelle's experience administering a Washington state grant also expanded her wealth of knowledge about resources available to aspiring college students.
"I worked for the Washington State Board for Community and Technical Colleges administering the multi-million dollar Opportunity Grant to 34 Washington community and technical colleges to train students for high-demand careers," she explains. "The state of Washington also has the State Need Grant, which is a very large resource."
Often, it is the financial aid that unlocks the door to attain the skills they need to succeed. With Ronelle's diverse experience and her insurance agency's core mission to treat her insurance customers like family, she offers her help wherever she can.
"I can't tell you how many parents have brought their kids into my insurance office and I helped them fill out the Free Application for Federal Student Aid (FAFSA)," Ronelle says with pride.
To learn more about Ronelle Funk, visit her website or call (360) 491-3376 for the Lacey office and (360) 458 6061 in Yelm.