By Gale Hemmann

Poetry. As someone who writes and enjoys poems, I've noticed this word can elicit a lot of interesting reactions. Many of us, understandably, may associate poetry with formal English class exercises or stiff events. However, poetry has its roots in oral storytelling, and spoken-word poetry can be lively, engaging, and thought-provoking. Whether spoken or on the page, a good poem can stick with us for life, change how we see the world, and bring us beauty that can only be expressed through this unique art form.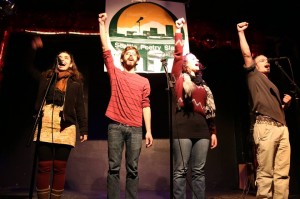 The Old Growth Poetry Collective is bringing "poetry to the people" of Olympia and beyond through their readings, workshops, and events. This performance poetry group features lively slam poetry contests, open mic nights, and "playshops" to help new poets cultivate their voices. They also organize poetry events throughout the Northwest. Influenced by the natural resources, culture, and political energy of our area, they aim to "uses performance poetry to cultivate voices of change and to create platforms for sharing stories."
If you like your poetry readings lively, I encourage you to come by one of their weekly open mic nights at Café Love. The Olympia People's Mic Night is a lively and diverse experience, with a featured poet (usually a published and experienced writer) sharing the stage with performers of all styles and experience levels, including many who are reading onstage for the first time. A recent open mic I attended included rap freestyle spoken-word, political musings, and nature poetry side-by-side. The house is always full and the audience participates, cheering the readers along. So you can definitely put aside any notions you may have as poetry as being a stuffy or formal affair and enjoy yourself.
The Old Growth Poetry Collective started at The Evergreen State College in 2011. There are four core members who organize and host the events. Olympia poet Brian McCracken has placed in a national poetry slam competition and teaches workshops for young authors. Rachel Greene is a student and peer tutor in the Writing Center at Evergreen. Daniel Georgeson, who frequently hosts the open mic nights, is a preschool teacher and former playwright and stand-up comic. And "Seattle liaison" Rebecca Shay is a bookseller who has also competed on the national slam scene.
This active group offers several regular events in Olympia for poets of all experience levels. Here's what they offer locally:
Open Mic Night: The Old Growth Poetry Collective hosts the Olympia People's Open Mic every Thursday at 7:00 p.m. at Café Love. Each week includes an open mic and a featured local or regional poet. This lively night is well-attended, so get there early if you want to read (sign-ups start at 6:30 p.m.). There is a $3-$7 sliding scale admission to provide an honorarium to the featured poets. 
Poetry Slams: If you haven't been to a poetry slam, they're a lot of fun. Slams are performance-oriented poetry competitions with a lot of energy behind them. The Old Growth Poetry Collective hosts at poetry slam every third Thursday at Café Love. Poets compete with three poems of three minutes or less. A panel of five randomly selected judges from the audience gets to choose the best performance.
Poetry Playshops: Want to hone your poetry-writing and performance skills in a supportive setting? Come to one of the free "playshops" held by the group every Sunday. These workshops provide a "fun peer-to-peer learning environment for poets in the community." The sessions alternate between "page week" and "stage week," focusing on both written and performance aspects of the craft. The playshops are held from 2:00 – 4:00 p.m. at Cafe Love in downtown Olympia. 
Poetry on Tour: The core group regularly hits the road to share their poetry and support other poets around the Northwest. They are available for booking for performances and workshops.
And keep an eye out for the group performing around town. They've given poetry performances at Olympia Arts Walk, Love Our Local Fest, and The Evergreen State College. They also collaborate with the long-standing Olympia Poetry Network, and enjoy working with them to create a vibrant local poetry scene.
The Old Growth poets have already accomplished a lot, establishing their presence in the Northwest poetry scene. They've hit the road to compete at the Portland Poetry Slam, the Seattle Poetry Slam, the University of Washington, and the National Poetry Slam in Oakland, California. They recently completed the "Cross-Pollination Tour" this fall, where they read at venues from Portland to Bellingham.
But it's not awards or prestige they're after – while they're constantly seeking to hone their skills, the Old Growth Poetry Collective is really about bringing poetry to everyone. I like this group's fresh, inclusive approach to sharing the art of poetry. And much of their work has a connection to the natural beauty of the Pacific Northwest. As their name implies, poetry always has an "old growth" element – it's what ferments and ultimately rises within us to create poems. They aim to share the tools and access to unearthing this poetry with as many new voices as possible.
The Old Growth Poetry Collective makes me think of this famous quote by the Salvadoran poet Roque Dalton: "Poetry, like bread, is for everyone."
Listen to Poetry and Share Your Voice
Have you been scribbling some words you'd like to share? Or maybe you're just looking for a new idea for a night on the town or to indulge your creative streak. Whether you're an experienced poet or just an appreciator of the spoken word, you'll enjoy the unique atmosphere of the Old Growth Poetry Collective's events.
I recommend checking out an open mic night for an evening of laid-back literary fun. If you haven't already visited Café Love, this wonderful bistro offers a perfect environment for poetry (or meeting with friends – I especially love the upstairs loft). While you're at the open mic, grab a pastry or sandwich and something to drink – their London Fog tea drink is a specialty.
To learn more about the Old Growth Poetry Collective, find them on Facebook. Or better yet, attend one of their upcoming events to see what they're all about.
Olympia People's Open Mic Night
Hosted by the Old Growth Poetry Collective
Thursdays at 7:00 p.m.
Café Love
205 4th Avenue East in downtown Olympia
$3.00-$7.00 sliding scale