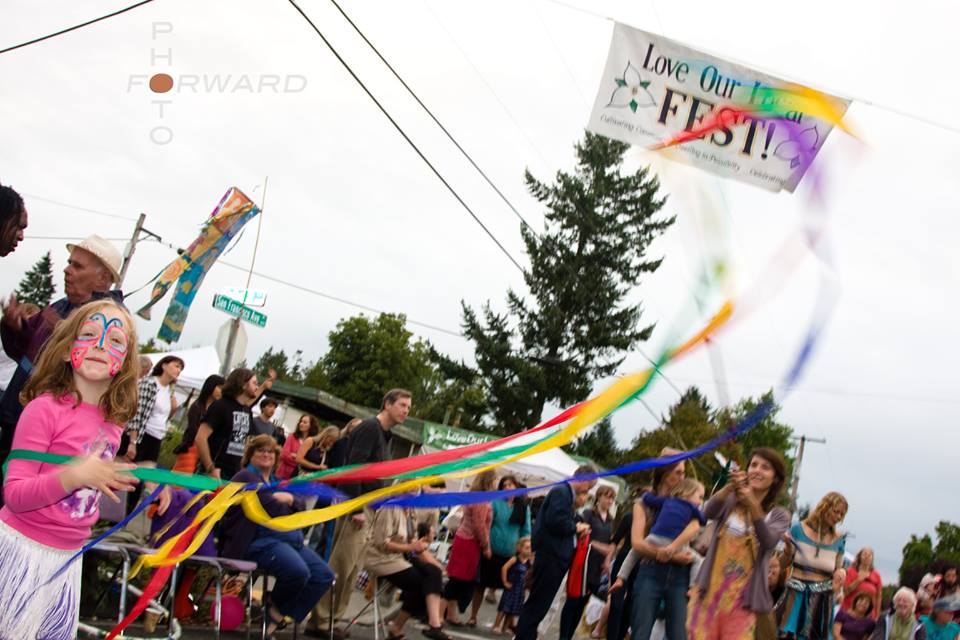 By Gale Hermann

"Rise up and share your Oly love." This is what Love Our Local Fest (or LOLFest for short) calls for the community to do each year. And so far, they've been responding.
Now in its fourth year, the annual Love Our Local Fest takes place on Sunday, August 24 from 1:00 p.m. – 9:00 p.m at the intersection of San Francisco Avenue and Bethel Street in Northeast Olympia. The festival is free and open to everyone. The goal of the day is to celebrate community and showcase what Olympia has to offer. The day features live music, an artisan marketplace, great local food, kids' activities, and much more. This year there will also be a community mural unveiling at 2:30 p.m.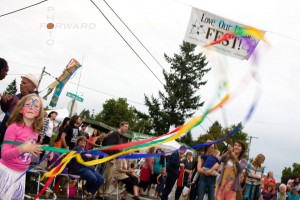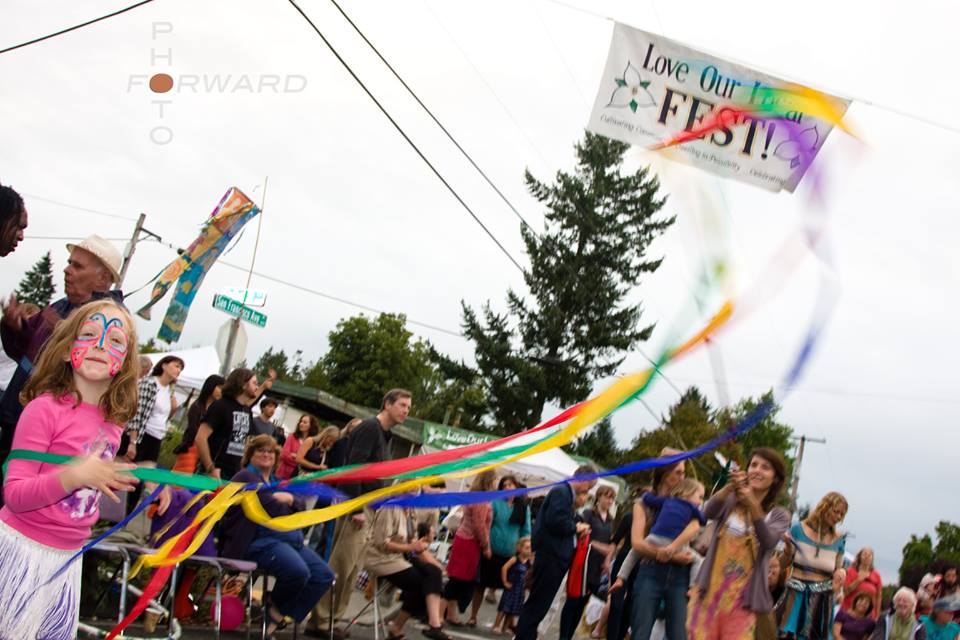 The event is definitely family-friendly, and kids will have a great time exploring it with you. There is also an annual "Kids' Dance Party" that's been a huge hit.
LOLFest's Truly Local Origins
I spoke with Olympia resident Daniel Landin, one of the festival's founders. He lives in the Northeast neighborhood, and said LOLFest grew out of neighbors' desire to have a big "block party"-style celebration. Landin said that over the years he's lived in Olympia, he's been very inspired by the Procession of the Species and wanted to build on that energy of the community coming together at its best.
Landin and Marie Poland got the festival up and going the first year, in 2011. Since that time, Landin, Poland and Shari Trnka have kept up its momentum. (Poland is on sabbatical this year.) Landin organizes the music for the festival, and plays with the "klezmer orchestra" Erev Rav, who will be playing at the festival.
I also spoke with festival co-coordinator Shari Trnka. She got involved in Love Our Local Fest its first year as a vendor, selling her unique line of clothing, Trnka. The second year she offered to organize an official Artisan Marketplace. This year, she is coordinating not only the Artisan Marketplace but the food, non-profit, and Healing Haven areas as well.
Trnka says her inspiration for the festival comes from her experience as a clothier. "I have a personal mission of making more opportunities for artisans to bring their creations to appreciators in our own community. I want folks who make cool tuff and live here to be able to sell locally,"
I asked Trnka what it was like to help organize the festival. "It's a tremendous amount of work in preparation but when the day is here, the joy in the streets is amazing with so many folks out enjoying the creative abundance. It's great to see so many friends and make new ones as well. The children are in bliss, as the adults mingle, laugh, dance and connect with other local folks making amazing creations and doing important service work."
So far, the festival has been a hit. The first year drew about 500 people, says Landin. The past couple of years have seen attendance grow to over 1,000. The number of booths has also increased, from about 15 to start to over 100 planned this year. And yet, as the festival has grown, it's maintained its hyper-local focus.
Exploring the 2014 Festival
So, what can you plan to do at the Love Our Local Fest? I learned a little about this year's highlights to share with you.
Hear Live Music: Love Our Local Fest is known for its epic music lineup. Landin notes that you can hear great, diverse live music all day long – for free. The music fills two stages at LOLFest and features eight Olympia bands. The funk-pop group The Brown Edition headlines the day. You can also catch Zimbabwean marimba with Mukana Marimba, swing and acoustic music by Chickadee, and bluegrass from the Oly Mountain Boys. You can even join in live salsa dancing hosted by DJ L-Leon and DJ Kalambre of Jalapeno Productions. (View the full music lineup here.)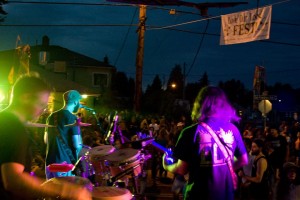 See the Community Mural: A must-see at LOLFest this year is the unveiling of the new community mural. The mural project was led by Olympia artist China Faith Star, who was selected through a juried application process. Using input provided by Northeast neighborhood residents, Star created an outline of the mural across five sheets of birch plywood. She then invited the community to come fill it in with color. Over 20 volunteers helped paint the mural during a painting party held at the Olympia Little Theatre.
Star says the collaborative nature of the project inspired her to apply to lead it. "I set up a structure for how the community could contribute freely their own ideas of patterns and color combining for the final execution of the piece." She says the results of the community effort are great. "Everyone involved added such amazing and beautiful heartfelt work to the piece, small nuances."
The mural represents over 200 hours of work by local residents and Star. She invites you to come check it out. "I just want everyone to see it for themselves, the people of our community, visitors, all of the children waiting for a school bus or skipping along in the field. I hope people find in this mural a reflection of ourselves as a community. Come to the festival for the unveiling and take a picture in front of the mural, and share it with friends and family," adds Star.
Browse the Artisan Marketplace: Local artisans of all sorts will have their handcrafted wares for sale. You can check out art, jewelry, woodwork, herbs, body care products, and much more, all made right here in Olympia. Local resident Shanty Slater, who has hosted many Make Olympia markets, will be selling her jewelry and screen-printed linens. You can also check out some of the thoughtful handmade items by Trnka. "I make one-of-a-kind clothing primarily out of upcycled natural fibers," she describes. Do some shopping and learn more about these local artisans.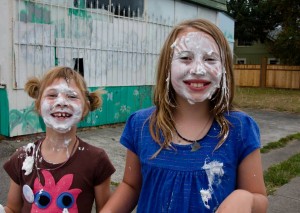 Grab a Bite: There will be many interesting local food vendors onsite, including the delicacies of the Nineveh Assyrian Food Truck (I highly recommend the deep-fried cauliflower). Eastside Big Toms, a sponsor of the event, will also have their delicious trademark burgers and veggie burgers available. There will be everything from salads to sweet treats to choose from, as well as MantRaw Kefir Soda, says Trnka. "I suggest not having lunch before coming to the festival this year."
Visit Healing Haven: The "Healing Haven," sponsored by Vibrant Health, will be staffed with local holistic healers of various practices. Come get a mini-massage, an acupuncture treatment or a tarot card reading, to name just a few options.
Learn about Nonprofits: Many nonprofit groups will have booths at the festival this year, and with a focus on hands-on activities. Stop and check out the Eco Building Guild and Fertile Ground Guesthouse.  You can also learn about the missions of SideWalk and Transition Olympia, two social transformation groups. Feline Friends, a cat rescue organization, will also have a booth with an art activity for kids.
So, grab the family or your friends, your appetite and your Olympia spirit and head to the Love Our Local Fest. No matter how long you've lived in Olympia, you'll be surprised at how many new favorites – music, food, and local goods – you'll come across. It's Olympia at its best. And you don't want to miss it.
The festival is supported by local businesses including: Rainy Day Records, the Olympia Food Coop, Ralph's and Bayview Thriftway, Eastside Big Toms, Lew Rents, Olympia Federal Savings, Trnka, KAOS Community Radio 89.3 FM, Starchild Creative, GoodTherapy.org, Morgan Hill Attorneys at Law, the Northeast Neighborhood Association and the City of Olympia.
For more information, check out their website or join them on Facebook.
4th Annual Love Our Local Fest
Sunday, August 24, 2014
At the Corner of San Francisco Ave. NE and Bethel St. NE in Olympia
Festival hours – 1:00 p.m. – 9:00 p.m.
Get complete festival information here.