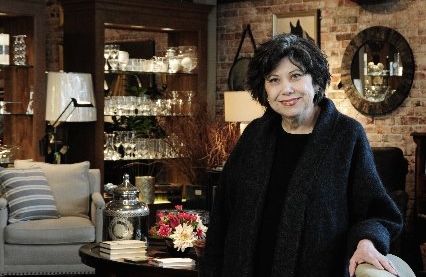 By Natasha Ashenhurst
Online shopping is convenient, relatively inexpensive and you can order those Christmas gifts in less than an hour while wearing your pajamas.
Take one step into Drees of Olympia and you'll quickly discover what online shopping lacks: Drees engages the senses. It is both a destination and an experience. You can smell those amazing hand-milled French soaps; take a seat on a beautiful, custom-made couch while browsing through a stack of books you're not likely to find anywhere else. You can feel the difference between the hand-towels or mix and match dinnerware patterns until you find a place-setting that is uniquely you. Chances are, if you browse long enough you'll be offered a taste of fudge or a sample of what is considered the best olive oil produced in the United States.
Every product has a story and every product was chosen with extreme care.
And if you think that Drees is only for shoppers with an unlimited budget, read on. Drees has something for everyone, whether it is a wonderful bar of soap, candle, children's book or a towel that will last for twenty years. Drees is especially helpful when you need a gift for someone that is difficult to buy for and loves quality over quantity.
"I will never buy an item for the store that I have not seen. I can't trust a photo to show a product's quality. I believe there are many products that people cannot make a good buying decision about without first seeing, sitting, smelling or feeling. They need to engage the senses to make a good decision," said Ruthann Goularte, owner of Drees.
Ruthann is careful to hire staff who can help anyone find what they are looking for. Long-time customers know they can turn to Drees to help 'wardrobe a table,' find just the right piece for an awkward corner of the home, or find the perfect serving dish for an upcoming Thanksgiving feast.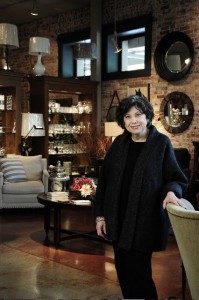 Ruthann loves helping brides create their registry. "When I register a bride, I advise them not to buy a set of anything. Instead, I tell them to imagine you have a cupboard full of things you love every time you open it  Everything in there works together, but not one element is the same. Rather it works due to a common color, shape or pattern," she said.
"My intention is that we provide products that people want to keep. Something that will endure," Ruthann continues.
It is the Drees commitment to quality, beauty and excellent service that has helped Drees thrive in Olympia for 85 years. And it is this wisdom that keeps customers coming back year after year. The things they buy at Drees last and delight over and over again.
An 85-Year Legacy in Olympia
In 1929 Jimmy Drees bought the Art and Paint store, adding framing, gifts and wallpaper. In fact, there are some homes in the South Capitol neighborhood that still boast Jimmy Drees paper on the walls, according to Ruthann.
In 1965 he sold the store to the John Cowan family, but after Mrs. Cowan became ill they looked for a buyer. Enter Ruthann.
Ruthann grew up in Olympia. She attended Saint Michael's, and walked to her father's shop, Panowicz Jewelers, every day after school. "I would visit shops as I walked to my dad's, and my favorite shop was Drees," she said.
Ruthann left Olympia to attend college and study fine arts, and ended up in Washington D.C. working as an aide at the Hirshhorn Museum. "One day my dad told me that Drees might be closing. He knew how much I loved the store. My dad asked me if I was interested in buying it," she said.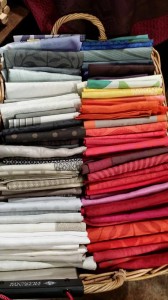 Ruthann returned to Olympia and met with Cowan's daughter. "It was one of those time and place situations where you know it is the right thing. I purchased the store in 1976," she said.
At that time, Drees was located on 5th Avenue, where Radiance now operates. Under Ruthann's ownership the store went through several transformations, including offering one of the first espresso counters in the region. "We drove to Seattle every other weekend and purchased Starbucks from the original store. We taught cooking classes. We sold a lot of kitchenware. Eventually we decided that we needed a larger space," she recounted.
They moved to their present location at the corner of Legion and Washington in 1986, and Ruthann concentrated the business on what she loved best: gifts and furnishings. In 2010 Ruthann's husband, David Bettencourt Goularte, a well-known interior designer with more than 40 years of experience, opened an interior design studio adjacent to Drees.
Secret of Success
For the past 38 years Ruthann has worked tirelessly, often not leaving the store until midnight, to make Drees the success that it is today. In the beginning, she would meet with Jimmy Drees every week to learn everything that she could from him about running the store. She said, "We both shared a love of the store. I thought he was magic because he knew so much. Jimmy would say, 'You've gotta have merchant blood. You have to love the work that comes with it. You have to enjoy the people.' I grew up in retail. You learn to create a life around your work. This is my livelihood. This work is my contribution to the community. I truly believe in the value of creating unique, creative endeavors that help make Olympia the jewel that it is."
524 Washington Street SE in downtown Olympia
360-357-7177
Hours: Monday through Friday from 10:00 a.m. – 6:00 p.m.
Saturday from 10:00 a.m. – 5:30 p.m.
Sunday from 11:00 a.m. – 4:30 p.m.