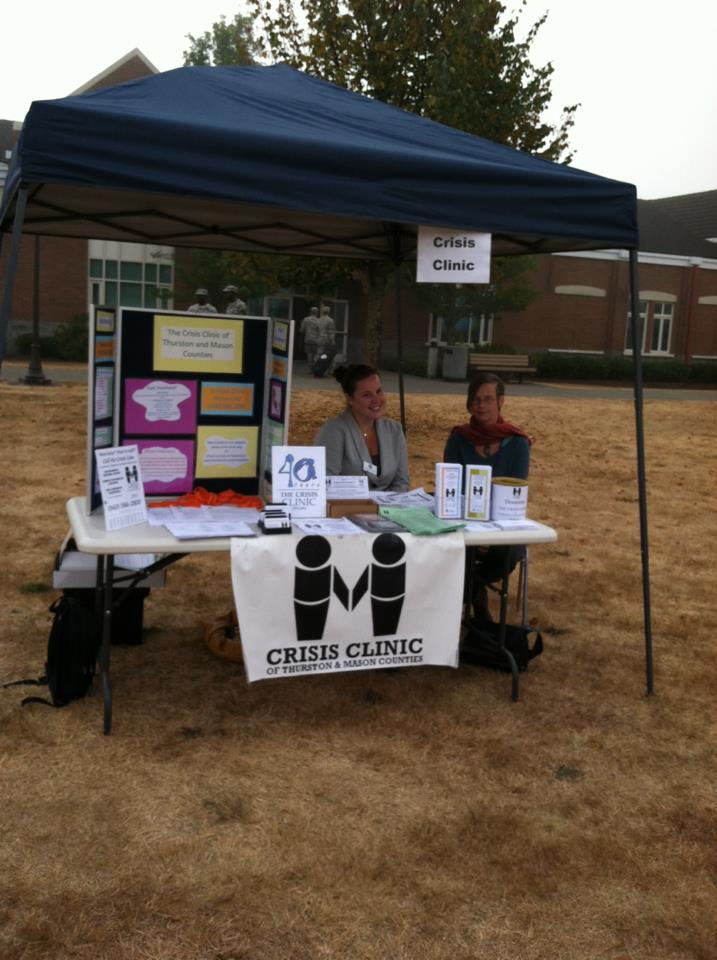 By Kathryn Millhorn
This time of year can be overwhelming.  The start of school, the death of summer, holidays, meetings, flu season, and winter darkness all weigh us down.  This often reduces our world to a smaller, more manageable size.  It's tempting to let our burdens overshadow those who may need help but Desmond Tutu once said, "do your little bit of good where you are; it's those little bits of good put together that overwhelm the world."
The Crisis Clinic of Thurston and Mason Counties does just that, one phone call at a time.  As their mission states, "we strive to empower people, especially those in crisis, through telephone intervention, and information and referral, every hour of the year.  We strengthen the community by training Clinic volunteers and educating community groups in crisis intervention skills."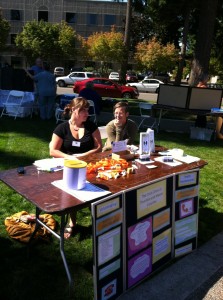 Their dedicated volunteers staff phone lines 24 hours a day, all year round, for almost any need.  Youth calls are answered seven days a week from 4:00 p.m. – midnight by youth volunteers; peers trained to offer help and guidance.  In 2013 almost 8,000 calls were answered dealing with the painful issues of stress, frustration, fear, anxiety, and difficult decision-making.
Board President Kelly Olson remembers that the Clinic "answered our first call on December 20, 1972 in a dorm room at The Evergreen State College.  The Crisis Clinic was a combining of several other community resources to create one place someone could call who was experiencing a mental or emotional crisis, as well as get information and referrals to community resources, such as assistance with food, shelter, medical, dental and other items."
"Often when I think of our callers, I think of those that are struggling to just meet their basic needs on any given day, and for many callers that is true," Olson continues.  "However, this year in particular we have been painfully reminded of how mental illness and addiction crosses all social and economic boundaries.  We recently saw our calls increase as we watched the whole world mourn for the loss of Robin Williams to suicide.  Earlier this year we lost another talented individual, Philip Seymour Hoffman to the baffling disease of addiction.  Our callers may not be Hollywood A-Listers, but their daily struggles are no different when we are talking about mental illness and addiction."
The Clinic is much more than simply a suicide hotline, though that is very much a part of their scope.  Says Olson, "the key service is providing immediate anonymous crisis intervention, helping a caller to de-escalate before their crisis escalates to something more serious.  We provide a non-judgmental listening ear to those who need to talk, and we hold space for whatever it is they are going through.  We also provide referrals to other agencies, such as emergency shelter, the food banks and where hot meals or served, low or free mental and medical assistance.  Just about anything you can think of.  We also recognize that there are very limited resources in the community and will talk with callers about the reality that there might not be a place for them to sleep tonight.  We provided 3,338 referrals to 359 different community agencies/programs."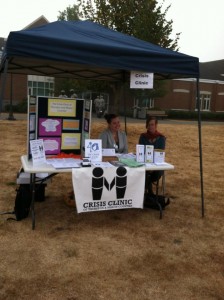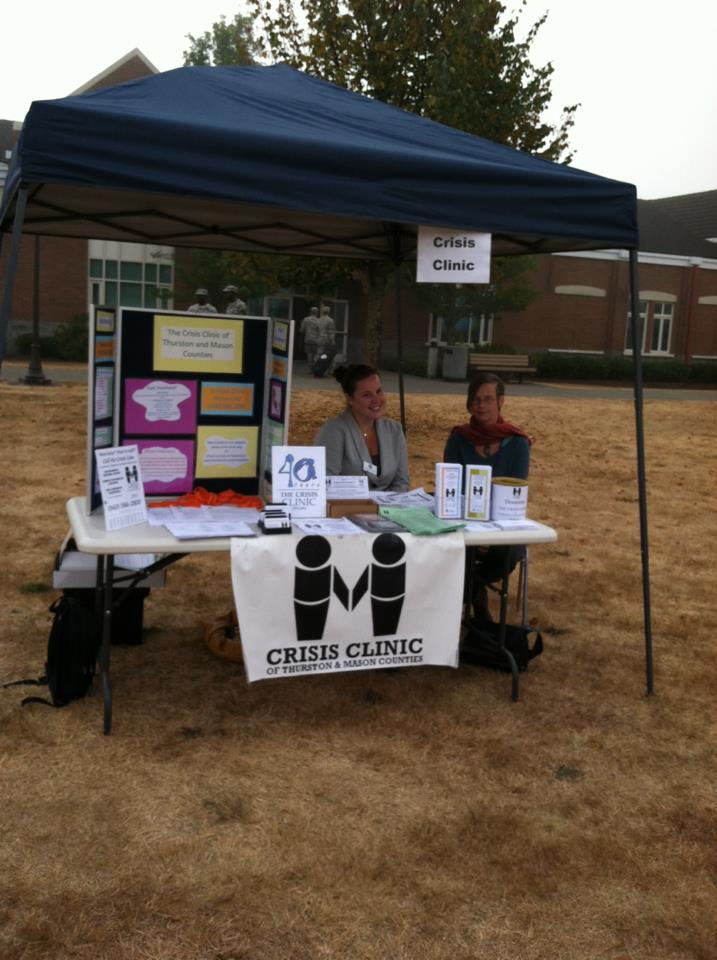 Not only are the staffers volunteers, the Board are as well.  Olson explained that in 2013 their volunteers logged 14,926 hours of service.  One dedicated volunteer is CB Bowers. "I have been a volunteer in other organizations over the past years and I have always believed in giving something back.  I decided I would be a good fit at the Crisis Clinic and started volunteering 16 years ago," explains Bowers.  "I was amazed at the abundance of resources available in the counties.  I quickly learned that the Crisis Clinic offers not only resources, but support without judgment.  I offer my ear and a caring voice and try to give the caller confirmation that they matter without giving advice.  Sometimes it is difficult because I feel like I have the answers, however I have learned it is not my call; it is the callers.  I enjoy my weekly shift and feel as though I have made a difference in someone's life."
Off the phones, the Clinic provides presentations to local middle and high schools, passes out informational literature at community events, and trains state agencies, organizations, and local businesses in communication skill-building.  They have shared at the Olympia Farmers Market, Saint Martin's University, Olympic College in Shelton, and many other locations.
How can you help?  The Crisis Clinic team offers a multitude of options.  On Friday November 14 they will be hosting their annual "Answer the Call" dinner and auction.  Tickets are available online or by calling 360-586-2888 ext 108.  This event will feature guest speakers, a salmon dinner, and fundraising auction.
Volunteers are also needed for the phone lines or to serve on the Clinic's Board.  Inquiries for this should be directed to staff director Nanci LaMusga at 360-586-2888 ext 103 or nanci@crisis-clinic.org.  Other opportunities exist for event organizers, retirees, or community outreach as well.
Follow the Crisis Clinic on Facebook or their website at www.crisis-clinic.org.
Those in need of help can call the hotline 24/7: 360-586-2800.  The youth help line is: 360-586-2777.  Share these numbers; you never know who will thank you for it someday.