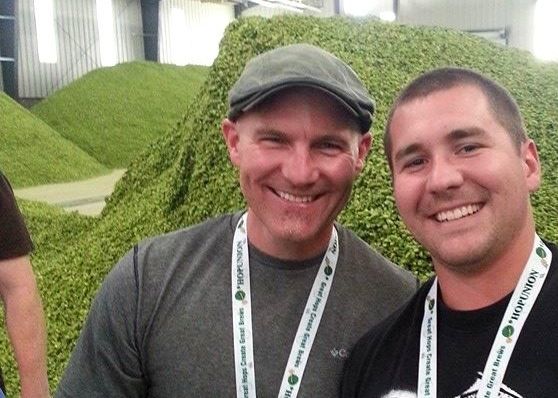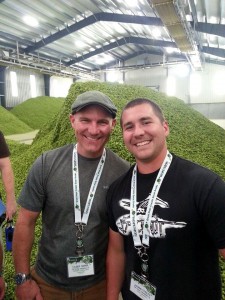 Casey Sobol and Jason Stoltz are firefighters.  However, with each passing month, the two dedicated first-responders, based at the McLane Black Lake Fire Station, are becoming something else as well:  Brewmasters.
With the six month anniversary of their Lacey-based craft brewery, Top Rung Brewing, quickly approaching, the two managing partners are busier than ever.  They maintain their commitment to community, including a partnership with local sustainable farm, The Farmstead, as well as their "day jobs" but are looking to the future of the brewery.  They have expanded their beer selection to include seasonal offerings and new recipes as well as adding to their taproom hours and events.
The cozy, family-friendly taproom opened in April 2014 on Hogum Bay Road (yep…it's right near the dump) and the response has been overwhelmingly positive.  Not only do people come for the quality brews, including rotating guest taps, but they come to gather with neighbors and friends for time together.  "Kids are welcome and dogs can join the family on our patio, too," shares Sobol.  With one of their flagship beers, My Dog Scout Stout, named for Stoltz trusty black lab it's a natural to include four-legged family members.
Since their April opening, the brewery has added "Thirsty Thursday" to their Friday and Saturday open times and beginning in October, the brewery will be open on Sundays.  "We are adjusting what we do all the time based on what's working and the feedback we get from our customers," explains Sobol.
In response to that feedback, the taproom now boasts one flat screen TV for Seattle Seahawks and Seattle Sounders FC games.  "We aren't a sports bar," Sobol is quick to explain, "but our customers want to be here with their friends and families on game day and we get that."  The TV will be off most of the time and instead, patrons can enjoy the on-site board games.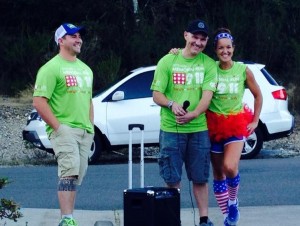 The brewery has also hosted several recent events and has plans for more.  "We hosted a 9-11 family 5K with a terrific turnout," shares Sobol of the successful event hosted in partnership with FitLife Studio honoring first-responders.  Another event is their Six Month Anniversary "Hop-tober" Event, on October 11 including live music, games, food and of course, tasty brews.
With a commitment to focusing on brewing beer, the owners have been conscientious about not offering food, beyond a few snacks, at the taproom.  However, they consistently have local food trucks at the taproom offering a variety of options from BBQ to tacos.  Patrons are also encouraged to bring their own food or order delivery (pizza anyone?) to the brewery.
But in the end, it always comes back to the beer.  Sobol and Stoltz began as avid homebrewers, winning Dick's Brewing Company's "Beer for a Cure" homebrewing competition in 2012.  They loved the creativity involved in homebrewing, testing new recipes and trying new things.  At Top Rung, they utilize their 10 barrel system to brew tried and true batches of their six standard recipes, including their newly released (360) Red.
Recently, they have introduced a pilot system to allow them to tinker a bit, getting back to the joy of experimentation that they loved so much as homebrewers.  "The pilot system is basically a mini-me of our big system," explains Sobol.  "It was built by the same manufacture as our 10 barrel system and allows us to try new things on a small scale with low risk before we brew a full batch."
One of the exciting offerings coming out of the pilot system this fall is the Heavy Irons Double IPA.  Other beers will soon be added to the "pilot series" of brews as well. On October 11 they will release Trashed Pumpkin Ale with over 60 pounds of pumpkin and spices in the recipe.  A new Imperial Stout and Black Lager is planned for the winter.
The number of craft breweries has more than doubled since 2010 and Washington State is ranked among the top states for craft brewing.  Why the sudden increase?  "People are grounded to community now more than ever," shares Sobol.  "Craft brewing is another way for people to connect with their community, supporting local business and food producers.  They want to know where the products they spend hard earned dollars on come from and that includes their beer."
Not only do people appreciate a local product but they appreciate good taste.  The guys at Top Rung are aware of this and offer easy drinking session beers, like their Hose Chaser Blonde, along with stronger craft offerings in their stouts and IPAs.
Whatever your taste, you'll find something perfect on one of Top Rung Brewing's ten taps now flowing four days a week.  You may come for the beer but you'll leave with a sense of family that is as purposefully crafted as the brews themselves.
8343 Hogum Bay Lane NE in Lacey
360-239-3043