By Kate Scriven
The Brewer's Association, a group dedicated to the promotion and support of Craft Brewers since 1942, defines a "craft brewer" as three things:  small, independent, and traditional.  These hallmarks are important and set apart a true craftsman from a larger manufacturer or corporate owned operation.
Washington ranks in the top five states in the nation for number of craft breweries (lucky us!). One of these is Top Rung Brewing, located in Lacey on Hogum Bay Lane.  The brewery started in 2010 as the natural progression from a love a homebrewing to "something more" by local friends and co-workers Casey Sobol and Jason Stoltz.  The two have been collaborating together, perfecting recipes and laying careful plans for their dream of a craft brewery and neighborhood taproom.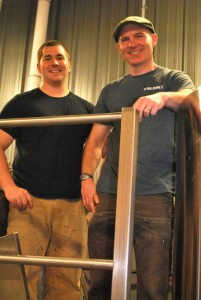 Both career firefighters with the McLane/Black Lake Fire Department, Sobol is a twenty year veteran and Captain and Stoltz has seven years with the department under his belt.  After winning the Dick's Brewing "Beer for a Cure" homebrewing contest in 2012 with their signature Hose Chaser Blonde, the two brewers began to shadow Dick's brewer Parker Penley.  "Being able to shadow with Parker gave us a closer look into commercial brewing and we were able to see where we wanted Top Run Brewing to go," shares Sobol.
The names of Top Rung's brews are a nod to Sobol and Stoltz's love of, and commitment to, firefighting.  The newly constructed taproom also reflects their roots with ladders hung from the ceiling, fire related décor, and the brewery's logo centered on the iconic fireman's shield.  Despite the strong connection to fire, the taproom isn't kitschy.  Its gleaming wood plank tables, polished concrete floors, and cozy couches are classy and inviting.
"We created this space intentionally to be very open between the taproom and the brewing facility," shares Sobol.  "It gives our visitors a full experience where they can see the brewing process, smell the fermentation, and feel a part of what we are doing."  And what they are doing is creating excellent beer.  With a focus on quality craft beer and a financially stable business, Top Rung is here to stay.
When creating their business plan, a connection to community, sustainability, and environmentally friendly practices were key.  With this in mind, the brewers created a partnership with local farmers Nick and Rachael Taylor of The Farmstead, located nearby on Johnson Point Road.  The Taylors are likewise committed to their community and are raising pastured meat (lamb and pork) and laying hens with respect and dignity.
How do these two businesses intersect?  Aside from the love of a good pint, the Taylors were in need of a consistent, high-quality source of grain for their pigs and the two businesses found they held many of the same needs and values.  "We have always been committed to reducing waste, streamlining processes, and using everything we can to the benefit of the land and the farm," explains Rachael.  "When we learned that Jason and Casey were just as committed to creating a sustainable footprint with their brewery we knew our two businesses would get along great."
The process is simple – after brewing is complete, the spent grains are transferred to clean barrels supplied by The Farmstead.  A text is sent and the Taylors arrive in the evening to pick up the grain and haul it five minutes to their farm.  Happy pigs follow.
Did the Taylors come up with this genius way to both reduce waste at the brewery and acquire high quality feed for their animals?  Not quite. "Foam to Farm isn't a new concept. The Craft Beer Movement is made up of people who, in addition to being passionate about creating delicious beer, are usually also committed to the type of environment their processes are creating," explains Taylor. "Spent grain can make up as much as 85 percent of a brewery's by-product. That has the potential to be a lot of waste. Putting it in the landfill is one option, but it's a terrible one. Instead we use it to help supplement our pigs' diet of pasture, goat milk, eggs, apples, as well as all the juice pressings from Zoe's Juice Bar in Olympia."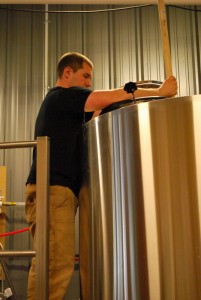 The brewery has several beers on tap with variety to suit any palette.  Hose Chaser Blonde is their lightest brew.  The Scout Stout, named after Stoltz's black lab, includes notes of chocolate and coffee.  Heavy Irons Imperial IPA, named for the set of tools essential to any firefighter, has a great hop forward flavor and will please most IPA fans.
Keeping focused on the beer is essential for Top Rung and they've consciously chosen to not serve food in their taproom.  However, visitors are encouraged to bring in their own take out or have food delivered.  The family-friendly environment includes and outdoor patio and a larger-than-life Jenga game to pass the time.
Visit the taproom between 2:00 p.m. – 9:00 p.m. on Fridays and Saturdays to enjoy a pint and celebrate a culmination of years of hard work and dedication.  Find Top Rung Brewing at the Olympia Brewfest, The Tumwater Artesian Brewfest, and the Washington State Brewers Festival.
"It's exciting seeing your vision become a reality, but there are also times of sheer terror, being a small business," shares Sobol. "But, I think we'll do really well.  The support we've gotten so far from the community has been terrific.  It's one of the great things about Thurston County.  People really want to support the local guy and that's really who we are."
That dream is a reality as Top Rung Brewing hosts their Grand Opening this Saturday, April 19, from 2:00 p.m. to 9:00 p.m.
8343 Hogum Bay Lane in Lacey
Follow Top Rung Brewing on Facebook