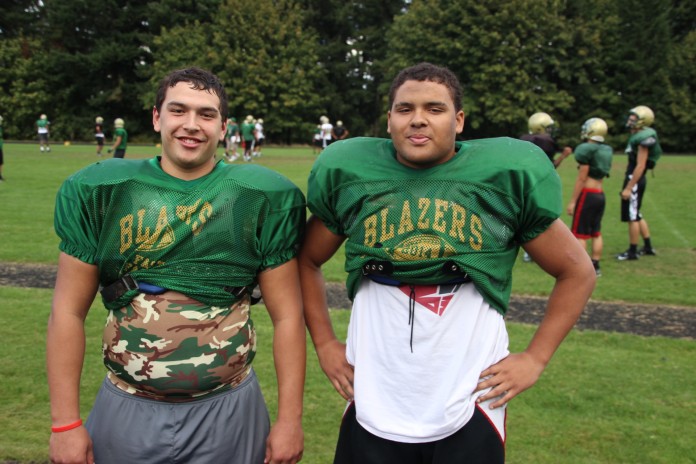 By Gail Wood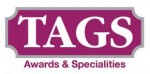 They're throwback players, two-way starters with grit.
In a day when two-platooning is vogue in football from the NFL to PeeWee, Timberline High School's Kyler Hawkins and Chris Jones start on both sides of the football. They're marathon linemen.
"They never get gassed," Timberline's coach Nick Mullen said. "They work hard in the off season. They prepare."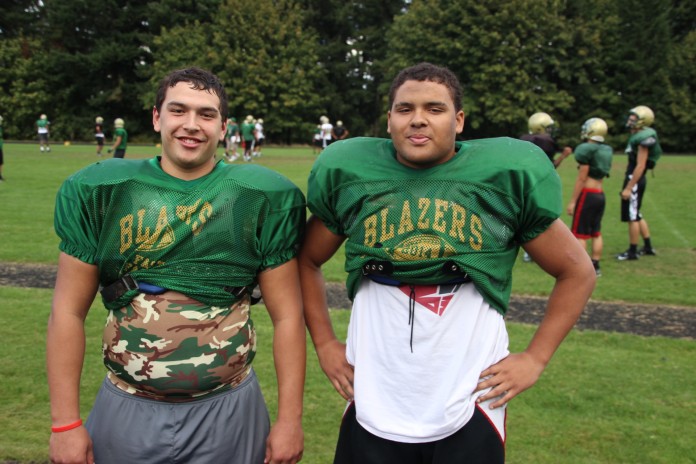 It's an encore performance. Last year as juniors, they started both ways. Jones earned first-team all-league honors at defensive end. With his speed – he runs 40 yards in 4.8 seconds – and his strength – he has bench pressed 420 pounds – Jones is a quarterback's nightmare. Hawkins earned honorable mention all-league at offensive guard.
This season they start next to each other on the offensive line – Hawkins at guard and Jones at tackle. And they both start at defensive end on a young Blazers team. A mix of muscle and speed, they're double trouble for opponents.
"They always get push," Mullen said. "They always win the point of contact on defense. They know how to read and react."
Both Jones and Hawkins got an early intro to football. They played on their first team in second grade.
"I said I wanted to play," Hawkins said. "My mom was kind of scared. I said, 'Don't worry Mom. I can do it.' I started playing and I loved it."
As two-way starters, neither Jones nor Hawkins come off the field much during a game. Last year, it took just one game for them to be confident enough to say, "Yeah, I can do this."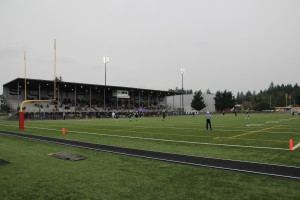 "The first game I started going both ways was against Olympia last year, our first game," Hawkins said. "It was tiring, but I got the hang of it. Conditioning through the season helped a lot."
Jones' edge is his strength. At offensive tackle, he can pop a rushing linemen with a quick extension of his arms, slowing their rush. At defensive end, he can push a lineman off balance and slip past to pressure the quarterback.
"It makes the game a lot easier," Jones said. "It makes it more enjoyable. When you're stronger you can just push them off. On run blocking you get a lot of pancakes."
As a team captain, Jones is aware of his leadership role. He knows he sets an example for his teammates with how he plays and what he says. He wants to be an inspiration, not someone pulling the team down.
"When you're in a hard game and you're down by 7 or 14 points, everybody looks at you," Jones said. "And if you're still playing hard, they'll go hard, too. If you're team captain's head is down, everyone else isn't going to go hard. You have to keep your head up and show everyone that you're not afraid."
Jones is more of a quiet leader. He leads by actions, with a big hit or with a hustle play.
"Chris is really quiet. Kyle is more loosey-goosey," Mullen said. "When they step between the two lines, they are just different beasts. They get after it. They don't mess around. They enjoy the grind. They enjoy football."
Jones is no stranger to Timberline football. He was the team's ball boy seven years ago when his brother was the team's starting quarterback.
"Timberline is in my blood," Jones said. "That makes me want to work harder because there's Coach Mullen. Every step I make on this field, he expects you to go 100 percent. I've got to make sure I do that. I don't want to let him down."
If Hawkins and Jones had to pick a favorite side of the football, they'd pick defense. Giving the hit –  making the tackle – and not receiving it as an offensive lineman has its advantages.
"It's more fun on defense because you get to lay your hat down," Jones said. "And I like the contact. I like hitting people hard."
Jones, because of his sister, has a nickname. Everyone calls him "Boola." When he was a baby, he was chubby and his mom called him a buddha baby. His sister, not able to say buddha, called him, "Boola."
"It stuck," Jones said with a smile. "Everyone calls me that."
After Timberline lost its starting tailback, Andrew Paquin, who rushed for over 1,000 yards, to an injury, Mullen said his team has a balanced offensive attack. Gabriel Gutierrez, a three-year starter, gives Mullen experience at quarterback. He's a double threat, a thrower and a runner.
"He weighs about a buck 75, but he's not afraid to stick his nose into it," Mullen said. "He's fearless."
With just four starters returning on offense and defense, Jones and Hawkins play key roles in leadership. They're both hoping to play college football.
"They're both kids with desire," Mullen said. "They both have the 'it' factor. They have talent."