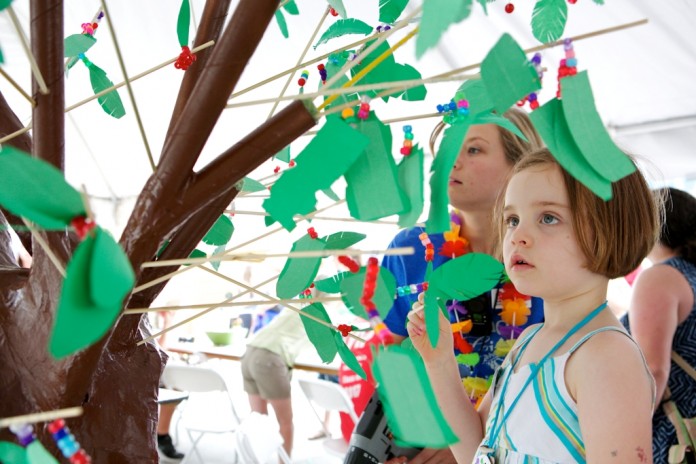 By Gale Hemmann
It's autumn in Olympia. This time of year brings us many seasonal pleasures: falling leaves, rainy day walks, and of course, Fall Arts Walk. The season wouldn't be complete without our lively celebration of the arts.
So, fellow Olympians, mark your calendars. Whether you are a seasoned Arts Walk attendee or new to the area, you definitely want to check out this year's Fall Arts Walk. Olympia's iconic arts event takes place throughout downtown Olympia on Friday, October 3 and Saturday, October 4, 2014. You can view art and take in free entertainment at 96 participating businesses. Free and open to everyone, Arts Walk is one of those quintessential Olympia events that make our town unique.
So, what can you look forward to this year? I talked to Stephanie Johnson, Arts and Events Program Manager for the City of Olympia, to see what's in store. Here is just a taste of what you can see and do this Fall Arts Walk weekend. The beauty of Arts Walk is that you can customize it to exactly what you're interested in. And, as Johnson points out, each year is totally new.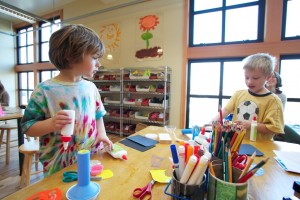 Fun and Discovery: Fall Arts Walk Highlights
Some Tips for a Great Experience
While you can certainly hit the pavement with total spontaneity, Johnson advises planning ahead. After you pick up your map, you can make a route of which stops you want to hit. Here are a few insider tips:
Make the most of your map: The beautiful, full-color maps made for Arts Walk are a keepsake many of us save for years. (This fall's cover art is a graceful fox print by Kristen Etmund.) You can pick up a map at any of the participating businesses, Olympia City Hall or the Olympia Center. You can also view a digital map here. (The digital map is in PDF format, so you can easily print it and email it to friends and family as you plan for Arts Walk.) The map includes a full schedule and provides a convenient way to plan your trip. Johnson suggests using the map to mark your route, and noted that people can also use the map to circle and make notes about artists' whose work you particularly like and want to remember.
Getting there: Johnson suggests considering walking, busing, or biking to Arts Walk if possible to avoid parking and help minimize traffic downtown. You can view Intercity Transit's user-friendly bus information here. You can also carpool and park a little further out (away from the downtown core), then walk to the hub of the activity, Johnson notes.
Grab a bite: Whether you are looking for dinner out or just a quick treat, there are plenty of tempting options downtown in all price ranges. Get a coffee and pastry at Café Love (one of my favorite stops for a late-night chat over coffee), which will be showing the work of several photographers. And for another great coffee option, Batdorf and Bronson will be showing the work of Olympia artist China Faith Star. The Mark offers an organic, refined dinner option, while the Urban Onion offers classic pub fare and a plethora of artists' works.
And, of course, it's October in Washington, so you'll want to be prepared for any weather. Throwing jackets for everyone and an umbrella or two in the car will make sure you're still set to have a great time even if it showers (thankfully, all of the art is indoors, making it a perfect event rain or shine).
In talking with Johnson, she is clearly enthusiastic about the upcoming Arts Walk. She says it's a wonderful opportunity to connect hundreds of local artists to the community. As a long-time Olympia resident, I agree that Arts Walk is a local treasure. It also connects us all to our inner artist, letting us revel in the wonderful creative spirit of our town.
Arts Walk is sponsored by the City of Olympia Parks, Arts and Recreation Department, with support from the local business community and participating artists. Major sponsors this year include Art House Designs, Capitol City Press, Washington State Employees Credit Union, and Mixx 96 FM radio.
At locations throughout Downtown Olympia
Friday, October 3, 2014 from 5:00 p.m. – 10:00 p.m.
Saturday, October 4, 2014 from 12:00 p.m. – 5:00 p.m.