By Kathryn Millhorn

Let's face it, there's a window of aging where you don't get out much.  When you're footloose and fancy free, every night is an adventure of music, movies, or activities that you put on hold while raising young children.  But once they obtain a modicum of independence, you can hire a sitter—or strong-arm a sibling—and either revisit beloved haunts or discover new ones.  If that doesn't work, do what I do: drag the little ones along!  Dates are all about splurges, whether it's treating yourself to that rare dessert or trying a new activity altogether.
Olympia has a tremendous variety of entertainment available almost any night of the week…especially during summer's long, beautiful nights.  For those of us with thrifty souls, none of what's listed here is out of reach.
Movies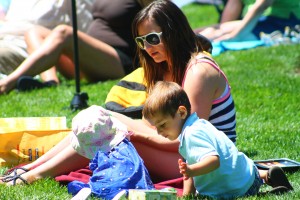 Whether indoors or out, alone or with friends, a movie can transport you just about anywhere.  If outdoors, under the stars is your thing, consider either Tumwater's Screen on the Green with Friday evening showings in August, at the Tumwater Valley Golf Course.  Admission is free, BYOB (bring your own blanket), and movies start at dusk.
If your sitter only works Saturday nights, Lacey's Outdoor Cinema Series follows the same guidelines but features a free musical concert before the show.  Movies being at 7:00 p.m. on Saturdays between July 13 to August 10.  You can find the movie schedule here.
While the Tumwater and Lacey outdoor movies are geared towards families and younger audiences, the Washington State Historical Society's Movies at the Mansion is more for lovers of Elvis Presley, Grace Kelly, Katharine Hepburn, and Kirk Douglas.  These classics run every Friday in August at the State Capital Museum at 9:00 p.m. and there is a $2 suggested donation.
The Olympia Film Society serves to fill in gaps, pick up slack, and generally be the perfect "I've got to go out TONIGHT" solution.  With show times seven days a week plus Saturday, Sunday, and Thursday matinees, and a deliciously eclectic assortment of features, there's always something playing for any and every taste.
Music
Plato said that "music gives a soul to the universe, wings to the mind, flight to the imagination and life to everything."  Both apt and poetic but in the end, it's Frank Zappa who sums it up for me: "Music is THE BEST."  And while I love to crank up the radio on long drives or sing into my shampoo bottle in the shower, I believe music is best when shared.
If free is your favorite price for a concert then try Olympia's Music in the Park concert series or enjoy foot tapping tunes at Lacey in Tune concerts.
Traditions Café and World Folk Art offers a dazzling range of performances ranging through jazz, bluegrass, acoustic, folk, and international.  Their calendar is available online and includes educational lectures, guest speakers, and even group sing-along's as well.
If the nuances of jazz are more your speed, visit the Olympia Jazz Central hub for information on shows around town, almost every night of the week, month, or year.  As they proclaim, "Sometimes Seattle is just too far to go and I-5 can be a real headache…Did you know there are about 50 Olympia based jazz musicians and vocalists who perform right here in our local community?  Come join us to create a community where the music thrives, the musicians jam and the cultured gather to support Olympia live jazz.  We are your classic jazz connection in Olympia!"  With a comprehensive calendar showcasing events at venues across the city, there's always something going on.
Miscellany
Sometimes the usual suspects just won't do.  When that restless mood hits, there are still options available for those adventurous souls.
If you're of a slightly more saltwater bent, pair a breakfast date with renting kayaks from Tugboat Annie's.  This isn't quite 'after dark' as boats must be returned by 1:00 p.m. but sometimes 'date night' is a flexible term.  Pair the outing with a weekend breakfast special for under $50.  If you really want to explore the sound rent a kayak anytime starting at 8:00 a.m. and paddle until 8:00 p.m.
To stay dry, sign up for a first Friday Pier Peer courtesy of the South Sound Estuary Association.  These take place at the Boston Harbor Marina and start between 8:00 – 9:00 p.m.  The cost is $10 and preregistration is required but with simply a flashlight and non-slip shoes, guests can explore the undersea animal life of Puget Sound.  Bring life jackets for the 6-11 crowd.  Leave the kiddos under age 5 at home.  How many dates do you know contain sea slugs and predatory worms?  Not enough, in my opinion.
Downtown, the Washington Center for the Performing Arts hosts a monthly calendar of events including "Comedy in the Box."  These shows occur on the smaller stage in a much more intimate setting and spotlight comedians from across the region.  Tickets and performer details can be found on the Center's webpage or by calling the box office at 360-753-8586 and most are geared for the 21+ crowd.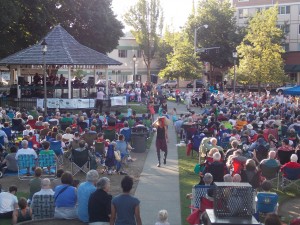 No matter how you fill your time, parents with small children can find a break thanks to the Hands On Children's Museum.  Every second Saturday of the month, from 6:00 – 9:30 p.m., children ages 4-10 can be dropped off for Parents Night Out.  Preregistration is required but can be done online or by calling 360-956-0818 extension 103.  Children will receive pizza and juice, make fabulous crafts, and have the run of the museum while you finally take a deep breath and relax.
Or take a nap, it's up to you.
For more details about what's going on around Olympia this summer, turn to our comprehensive events calendar.