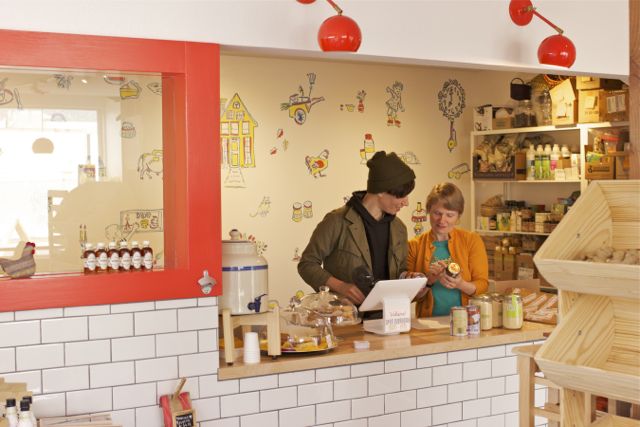 By Jennifer Crain

Kim Murillo remembers climbing down a weathered wooden staircase as a child, one that led from her family's apartment to the grocery store they operated beneath it, in hopes of getting a popsicle.
Her grandfather bought the family grocery and hardware store in the village of Silverton, on the shore of British Columbia's Slocan Lake, in the 1960s. He and his wife ran the store along with their three sons. Murillo's father returned to settle there as an adult to help run the store, her mother became the butcher, and the small scenic town became Murillo's birthplace and the source of her earliest memories as well as her work ethic.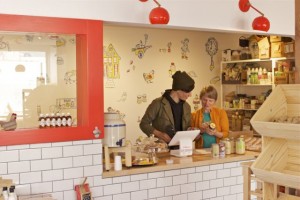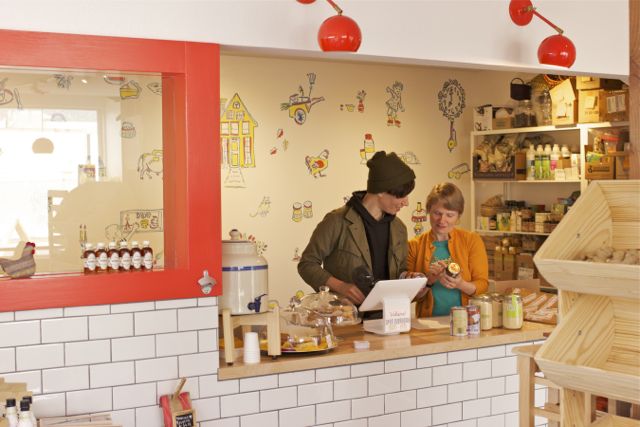 "Everybody was there and everybody took care of the work," she remembers.
Perhaps it's Murillo's early exposure to a small community's close-knit character and homespun buying habits that makes her a dream-seeker when it comes to her own retail store, Little General Food Shop, which she opened in downtown Olympia in the spring. Though she didn't want to re-create the past, Murillo says her desire to open the store was influenced by her Canadian hometown and the distinct personalities of neighborhoods she's experienced in larger cities.
"Visiting Vancouver and other places, some of the neighborhoods are more defined because people don't have to leave them to get the amenities that they need. I was sort of going for that kind of a thing," she says, adding that she thinks downtown can use a general store to serve those who work at the Capitol, visitors to the city, downtown businesses and, perhaps, become a catalyst for would-be downtown dwellers. "If you can make it more appealing and easier to live downtown, then I think people would."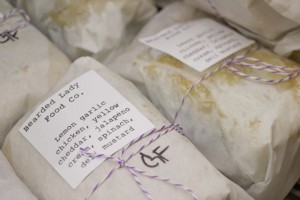 The store's open design and tempting merchandise makes it an ideal meet-up spot. Here is a place where you can browse and buy, nibble and chat, lunch and people-watch. The latter happens best while tucking into a paper-wrapped sandwich from The Bearded Lady, seated on a bright orange metal barstool at the wooden lunch counter that's nestled along a bank of windows at the front of the store. It's a neighborly place, even if you're only grabbing a solo lunch.
Murillo credits the store's welcoming vibe to local designer Roussa Cassel, who conceptualized the interior. Cassell, who also designed the Capitol Boulevard location for Olympia Coffee Roasting Company, says her role was to help Murillo figure out the flow of the space. The two decided to remove some interior walls, take out the lowered ceiling, and incorporate glass into the divider that separates the back area from the main shop. Cassel is the one who placed the counter at the windows, noting that she and Murillo prioritized "opening it up as much as possible and creating a connection between the outside and the inside."
The bright color scheme and whimsical nature of the interior is homey and sweet. The orange barstools are matched by light fixtures of the same color and the back wall is painted by Olympia artist Scott Young in William Steig-style miniature scenes. The woodwork, bins, and shelving are light maple and the store is studded with a few antique finds, such as a giant wooden spool Murillo bought from a lumber dealer in Shelton—a find she adorns with pussy willows and stacks with jams and English crackers.
As far as stocking the store, Murillo operates from a single, simple idea: to sell the kinds of foods she likes to eat. Little General's coolers contain a broad range of delicious looking finds from near and far. There are plenty of local and regional delicacies, such as Olympic Provisions charcuterie out of Portland, Flying Cow Creamery's yogurt from Adna, and Peace, Love and Raw's RawNaimo bars, made three streets over. But what makes the store a wonder, and different from other food retailers in town, is a broad selection of imported specialty foods, from the decadent (Italian buffalo milk butter, anyone?) to the quirky and fun.
"I have a weakness for coffee in a can," Murillo laughs, picking up a tiny Illy can, like the ones she drank from in Japan.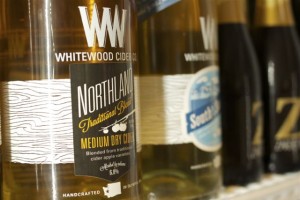 Bottles of drinking vinegar are on a shelf on the far wall, a throwback to the days before carbonation (people mixed vinegar with simple fruit syrups to make a drink that's enjoying a comeback, called a shrub). The shelves are also full of small bottles of artisanal goods, what Murillo calls "dish makers." These are the sauces and condiments that make something like sautéed vegetables into a meal with character.
There are specialty mustards from Seattle's Mustard and Co., for instance, tomato and garlic relishes, chutneys, and fine vinegars. These may cost more than the corresponding supermarket versions but they aren't meant to be everyday purchases. A little bit of honey curry mustard goes a long way.
But Little General has plenty of everyday items as well. They carry selected fruits and vegetables, cheeses and crackers, and staples such as quinoa, couscous, and masa flour. Their most popular section is the grab-and-go cooler, with a wide array of foods made in Olympia. There are sandwiches from The Bearded Lady, plenty of salads from Nineveh Assyrian, and ready-to-eat pot pies from Pockets Full of Pie. Top it off with a RawNaimo bar or one of Cobb's Treats' peanut butter cups.
Drinks are covered, too. They stock a careful selection of wines, a number of beers, and specialty drinks such as local ciders from Whitewood Cider Company.
Murillo says she's already brought in new items at the request of her customers and is working closely with businesses such as Nineveh Assysrian to customize the experience for shoppers.
"There's a really good communication channel already.  It's great to be able to have that symbiotic sort of local business relationship," she says. "It's one of the best things that's happening. I'm hoping that folks can drop in daily for a few things to lessen the need for the usual once-a-week supermarket experience."
313 Fifth Avenue SE in Olympia
360-352-3663