By Carolyn White

Mount Rainier—a Pacific Northwest icon—is the feature of many pictures, snapshots, and photos. Yet the foreground of forests, lakes, rivers, meadows, wildflowers and wildlife are frequently overlooked in their supporting role. Often, the mountain appears out of context with its natural surroundings.
What's the difference between photography and picture-taking? Photography is an art married with a technical aspect. With contemporary digital devices, such as iPhones, anyone can be an arm's length photo-taker. A picture eternalizes the moment—it communicates a slice of space and time. Will that photo leave a lasting impression, or will it be a blip in time? Does that one image convey a story of a thousand words?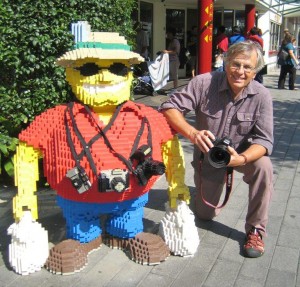 The soul of the photo that leaves a lasting impression lies in the principles of composition—the "art" elements. Whereas the artist who creates an image with brush and canvass can rearrange the landscape to suit their message, the photographer must live within the constraints of the moment as well as anticipate that moment. Armed with the technical know-how, the photographer-artist brings to bear their unique perspective of space and time.
We in the South Sound are most fortunate to have such a photographer who possesses the skills of the technician and the heart of the artist molded by an intimate relationship with nature.   An Olympia resident for over 42 years, Rollin (Rollie) Geppert has dedicated most of his life to preserving and chronicling the beauty and majesty of Nature.
In 1963, a serendipitous convergence occurred—Rollie obtained a summer job with the US Forest Service in Arizona and he purchased his first camera to chronicle this experience.  This synergy led him to pursue a major in forestry. He continued his studies, earning a Master of Science degree in forest tree physiology and plant ecology. Along the way, he developed his photographic talents and fine-tuned his skills.
During his career working in natural resources research, protection and management, Rollie kept his camera ever ready to capture the moment. His work provided opportunities to visit many places in the United States and Europe. Only fighting a forest fire could prevent Rollie from capturing the moment with his camera. He has over 50,000 photographs that chronicle his life's work and travels. Before 2007, when he started using a digital camera, all of his photos were taken with a variety of film cameras.
The quintessential photographer is always ready for the shot when the moment presents itself.  Rollie tells of a time where he and his camera were waiting in line at a coffee shop. Across the room sat a long-robbed priest clad in white tennis shoes. The image enticed Rollie to capture that moment. As he set up and adjusted his camera, a dilemma arose in his thoughts—when photographing other people, what is the balance between capturing the candid shot and violating an individual's private space? Asking permission to photograph the person often creates a staged response.  Being covert might compromise the subject's privacy. Rollie's conundrum resolved itself when the priest rose, turned away, and walked out the front door. In anticipating the moment, Rollie captured the priest's flowing robes and white shoes walking out the door while preserving the gentleman's anonymity.
This photograph, along with thirty-three others, will be part of a solo exhibit at The Hardware Store Restaurant on Vashon Island this fall. The theme is "Out of Doors," with black and white photos featuring windows and doors as transitions zones. An aluminum print of an old-growth forest highlights this exhibit, bringing to awareness Rollie's deep connection with this precious resource.
If you are hiking the backwoods in Western Washington, you might see a man carrying a ten-foot broad-based camouflage green aluminum ladder and a camera bag. That would be Rollie. To capture a unique perspective of the old-growth forests, he created this platform with a special camera mount.
Rollie shares his years of experience as a naturalist and photographer in two, one hour classes offered by South Puget Sound Community College (SPSCC). This course, Photographer's Guide to Mount Rainier, is based on Rollie's eBook  Photographer's Guide to Washington's Best Views, Volume I, Mt. Rainier.
In this course, he shares his 44 favorite locations for photographing Mt. Rainier via a one-hour slide show.  This show provides participants with the incentive and ability to locate these visual treasures of nature. Armed with information and inspiration, students can then to go on to explore with the knowledge that more special places may be just around the next bend.
These locations, selected from a 40-year collection, represent the optimum vistas—the "magic spots"—to view the mountain from within and outside Mt. Rainier National Park.  Class participants receive a handout that provides the location's name and the GPS latitude and longitude co-ordinates.
Essentially, Rollie discloses the exact spot to place your tripod for that optimum view of Mt. Rainier. All locations are within a 60 mile radius of the summit. Each site is easily accessed by automobile. Most of these locations are open to the public or by permission from the landowner.
Once you reach that "magic spot," how do you take that stunning picture?  In the second half of his class, Rollie discloses his photo-taking tips for capturing the moment.  According to Rollie, if you want to photograph the moon rising over Mt. Rainier, the optimum time is the day before the full moon. Then, the sun provides ambient light as it is still above the horizon during moon rise. The moon is full enough that it will appear "full" to the observer's eye.
Why does Rollie teach this class? If you contemplate a subject, you are engaged with that subject.  By contemplating the mountain and its foreground of forests, lakes, rivers, meadows, wildflowers and wildlife, perhaps you will develop a deeper appreciation of Mother Nature. Rollie's class inspires you to get out and observe the landscape. This greater awareness may evoke the insight that everyone  on this planet is responsible for preserving Nature for generations to come.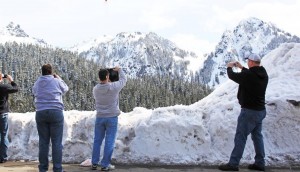 Rollie's eBook, Photographer's Guide to Washington's  Best Views Volum I, Mt. Rainier, is available from Amazon, Barnes & Noble, Apple and Sony. He has plans to release a full-color book version of Volume I. He envisions this book as a field guide to the various photo locations in the book as well as a source of information on roads, where to eat, etc.  There's also a plan to release Volume II, which will cover Mt. St. Helens. As well, you can purchase Rollie's individual digital photos from his website.
After Rollie retired in 2007, he wanted to inspire future generations to be professional stewards of the forests and land that he had protected, managed and appreciated. In 2010, he founded the Ecosystems Scholarship Fund , a component fund established through the The Community Foundation of South Puget Sound. Supported in part by the sales of Rollie's photos and eBook, this scholarship assists students pursuing careers in natural resources and land use planning.
To qualify for consideration, candidates must have declared their major in natural resources or land use planning and be sophomore status or above at either the University of Washington, Washington State University , Western Washington University— Huxley College of the Environment or The Evergreen State College. Additionally, candidates require a minimum 3.0 grade point average.
As long as recipients pursue studies in natural resources or land use planning they may apply their scholarship funds, which may be up to $5,000, for tuition to any four-year degree educational institution located in the United States.
The Ecosystems Scholarship Fund is Rollie's way of giving back to our community. Supporting future generations of natural resource custodians will help preserve nature's precious gifts, just as Rollie has preserved nature's majesty through the lens of his camera.
All photographs in this article copyright Rollin Geppert. Used by permission for this article only.  For more information, contact Rollin Geppert via email at rgeppert@comcast.net or through his website.